The Costa del Sol:
150 kilometres of coastline between the mountains and the sea
The Costa del Sol has over 150 kilometres (93 miles) of coastline in Málaga province with shores lapped by the Mediterranean Sea. Its name, the 'Sunshine Coast', couldn't be more appropriate because the Costa del Sol has over 325 sunny days a year—at least that's what the statistics say, and it's certainly the case for all the beautiful coastal towns that fall within this area.
If you travelled in a straight line from north to south through the villages on Málaga's Costa del Sol, you would start at Naro beach, in Nerja and continue on to Torrox and Vélez-Málaga. The route would then pass through Rincón de la Victoria, Torremolinos and Benalmádena, to continue southwards to Fuengirola, Mijas, Marbella, Estepona, Manilva and Casares. Some people also include San Roque and La Línea de la Concepción, in Cádiz province. Any of these towns would make the perfect destination for a dream holiday because the leisure options, starting with the beaches, are simply endless.
Costa del Sol beaches
Every town on the coast of Málaga is blessed with stunning beaches: there are 124 in total. Some beaches are lively while others are peaceful and secluded, and you'll even find unspoilt beaches with greenery, but all are equipped with excellent services. The Penibaetic System has mountains that frequently reach over 1,000 metres in altitude and runs parallel to the coast, which is why Málaga's coastal towns nestle between the mountains and the sea.
It's important to point out that the Costa del Sol in Málaga is one of the biggest tourist destinations in Spain and the world, hence there is a wide range of accommodation options, possibly the widest in Andalusia. So it'll come as no surprise to learn that there are 15 marinas and sailing clubs, golf courses, casinos and sport facilities of every kind, Michelin-starred restaurants and hundreds of leisure options.
What to see on the Costa del Sol
It would be impossible to list all the tourist attractions in all the villages and beaches that line the Costa del Sol, so below are some essential stops that you shouldn't miss if you're visiting this area of southern Spain:
Málaga, the capital of the Costa del Sol. Málaga is one of Spain's most attractive cities. It dazzles with culture thanks to important museums such as the Carmen Thyssen Museum Málaga, the Picasso Museum and the Centro Pompidou, and there are plenty of interesting traditional spaces that are worth visiting too, including the Alcazaba, Gibralfaro Castle, Calle Larios, Plaza de la Constitución, the Muelle Uno area, among others.
Nerja Caves. This official Historic and Artistic Monument is one of the great archaeological sites in Andalusia and aims to be declared a UNESCO World Heritage Site in the not-too-distant future.
Mijas. A village with steep white streets with views of the Mediterranean and an unusual donkey taxi service.
Marbella. One of the most exclusive holiday destinations in Spain that attracts the international jet set. Puerto Banús symbolises this world of luxury and some spectacular yachts are moored at the marina. However, the old town retains its original charm and the true essence of an Andalusian fishing village with narrow white streets.
What to do on the Costa del Sol
There are countless activities, excursions and leisure attractions to enjoy in an area as large as the Costa del Sol. Here are some recommendations:
Stroll along the best beaches on the Costa del Sol. Some are absolutely stunning, such as Maro, in Nerja; Playa Real de Zaragoza and Cabopino, in Marbella; and La Rada, in Estepona.
Try roasted sardines freshly caught off the beach or fried anchovies. Going out for tapas is the best way to sample and appreciate the flavours of the local cuisine.
If you're travelling to the Costa del Sol in August, join in with the celebrations at the Málaga Fair. It lasts for nine days and is one of the most unique festivities in Spain.
If you'd like a view of the Costa del Sol from the air, there's nothing better than riding the cable car in Benalmádena and reaching the top of Mount Calamorro. The views from the summit are spectacular. Once there, you can set off along numerous hiking trails or cycling routes.
Visit Benalmádena and its show and amusement park, Tívoli World, an entertaining experience and an opportunity to spend a fantastic day with family and friends. There are over 30 rides to thrill visitors of every kind: a 60-metre free-fall ride, a 9-metre free-fall ride for children, a giant Ferris wheel, a rollercoaster, mystery boat, tourist train, haunted house, go-karting track, bumper cars, etc.
Golf fans are in luck if they want to play their favourite sport while visiting tourist attractions along the coast. The fact that the Costa del Sol is also known as the Costa del Golf says it all. And Málaga province boasts one of the highest concentrations of golf courses in Europe: 21 in Marbella, 11 in Mijas, 10 in Estepona, 6 in Benahavís, 9 in San Roque, 3 in Málaga, 2 in Casares, Rincón de la Victoria and Benalmádena, and 1 in Vélez-Málaga, Fuengirola, Nerja and Manilva. There are even more to discover around the area's inland towns.
Related
plans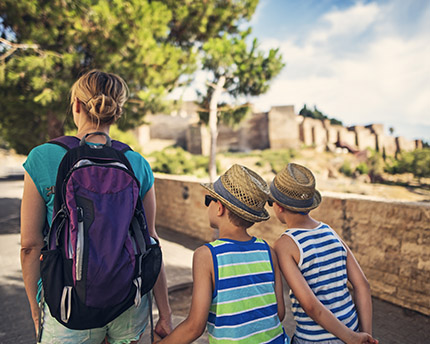 Leisure and Entertainment