Going out in Málaga:
the best plans for a fun night out
Málaga sits right in the heart of the Costa del Sol and has one of the hottest climates in Europe with warm nights almost all year round. With this setting there's simply no excuse to miss out on the city's exciting nightlife.
The historic centre, the El Palo area, Pedregalejo neighbourhood and the chance to visit other coastal towns with heaps of atmosphere such as Marbella, Torremolinos and Benalmádena make Málaga a big draw for anyone looking for some fun. Going out in Málaga at night, whether you're a tourist or local, means discovering a unique side to the city that is suitable for all ages and for lovers of every music genre.
Going out in Málaga's centre
One of the advantages of going out in Málaga's centre is how close all the most interesting places are to one another. A festive atmosphere is waiting for you around every corner, which is one of the main reasons that Málaga is one of the most popular destinations for a short break in every season.
Once the sun goes down, the hubbub found during the daytime in Calle Larios, Pasaje de Chinitas, around the cathedral, the Alcazaba and Roman Theatre moves over to a nearby area, just four minutes' walk away. A good place to start the evening is Bodega Bar El Pimpi, a place with a long tradition where you can relax with a typical glass of sweet wine from Málaga before setting off on your nocturnal adventure.
Plaza Mitjana: Plaza del Marqués del Vado del Maestre, commonly known as Plaza Mitjana, and its surroundings are hotspots for Málaga's buzzing nightlife. Numerous cocktail bars and some of the city's most famous nightclubs such as Malafama Club, Theatro Club Málaga and Sala Gold are scattered among the labyrinth of streets that lead you to another important destination for a night out in Málaga's centre: Plaza de Uncibay.
Plaza de Uncibay: This modern square was refurbished in 1989 and is presided over by an enormous column in its centre. It's another space where the young (and not so young) like to meet to kick off the night. It's mainly filled with bars and restaurant terraces and there are plenty of cocktail bars and nightclubs in the neighbouring streets too. Here you'll find discos like Andén, one of the biggest and most famous in the city and the perfect spot for party-going fans of commercial music.
Plaza de la Merced: This square is another essential stop during any night-time excursion in Málaga. Also known as Plaza del Mercado, it was the birthplace of Pablo Picasso. Walking around the square you'll see restaurants, terraces, ice cream parlours and pubs. During the weekends it's the favourite meeting point for a younger crowd who like to meet up with friends and start their night by chatting over drinks before hitting a nightclub.
Roof terraces and viewpoints to gaze out over Málaga at night
In Málaga you can enjoy outdoor terraces and rooftops all year round. Thanks to its Mediterranean climate, the city has mild winters and hot summers, making it ideal for experiencing this booming night-time leisure trend.
Rooftops are an exciting option for going out in Málaga once the sun goes down. In fact, there's nothing better than enjoying a sunset view of the city with a cocktail in your hand.
There are several options in the centre of Málaga suitable for every budget size. The terrace of the Oasis Hotel in Calle San Telmo, 14, has an international, modern vibe and reasonable prices. The rooftop terrace of Hotel Larios, located in the famous Calle Larios, has relaxing chill-out music and outstanding views of the cathedral, making it the perfect spot to unwind before a unique night out.
If you'd like to go out and party with the city's most cosmopolitan crowd, B-Heaven, the new terrace of Hotel Barceló Málaga, is the perfect destination. You could start by sampling some of its culinary delights and then carry on with cocktails in the lounge area as you watch the sun dip below Málaga's skyline.
To enjoy views of the city from a distance, put its hustle and bustle behind you and head up to the Parador de Málaga Gibralfaro where you'll find views of the bay and a terrace that is practically a balcony over the Mediterranean. It makes a great choice for anyone who'd like to see Málaga at night from a more peaceful perspective.
El Palo and Pedregalejo: going out in Málaga by the sea
Some neighbourhoods in Málaga still retain their seafaring spirit, which is a wonderful attraction for visitors who want to enjoy an authentic Mediterranean experience. These fishing quarters have also become some of the city's liveliest and most cosmopolitan areas. Going out in Málaga in El Palo or Pedregalejo is essential if you're visiting the city.
El Palo is one of the most recommended places to try fried fish and other traditional foods, such as a spit-roast, a typical way of cooking fish (especially sardines) by skewering them onto a stick and roasting them on a grill or over charcoal. After dinner the fun continues in Pedregalejo with cocktails in all the fashionable spots such as Swan, La Galerna or Bar Kali.
Going out in Málaga during its traditional festivals
They say that to discover the true essence of a city you have to live alongside its people and experience its traditions. At certain times of the year, Málaga's parties move from its bars and nightclubs out to the streets where its people merrily celebrate.
Málaga Fair: One of the most eagerly-awaited moments of the year. During the days of the Málaga Fair, the city dons its finery to gather in Calle Larios and the vicinity. During the night, the party heads to the Cortijo de Torres, better known as El Real, an 80-hectare space where the scent of the casetas (fair tents), colourful flamenco dresses and the beats of verdiales and charanga bands will delight all your senses.
And for those who have the stamina to keep going until the wee hours of the morning, on your way home drop in on Plaza de la Constitución at the heart of the city for one of Málaga's most typical and comforting breakfasts: a mollete de Antequera (a type of soft roll) drizzled with extra virgin olive oil, tomato and Serrano ham.
Semana Santa: Declared an Intangible Cultural Heritage in 2017, during Holy Week, Málaga fills with tourists and inquisitive visitors who want to experience this unusual sight first-hand. In addition to the traditional processions, Málaga's nightlife is livelier than ever and going out at night is very easy because many of the city's bars open until the early hours of the morning.
Málaga Film Festival: Málaga Film Festival in April is the city's chance to put on its glad rags, line the streets with red carpets and welcome some of the most renowned actors from the Spanish film world. Málaga's tribute to Spanish cinematographic culture converts the city into a huge open air cinema for one week each year. At night, the streets are dripping with glamour—heading out to party is almost a duty.
Related
plans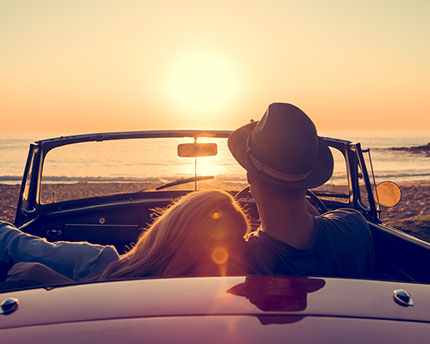 Leisure and Entertainment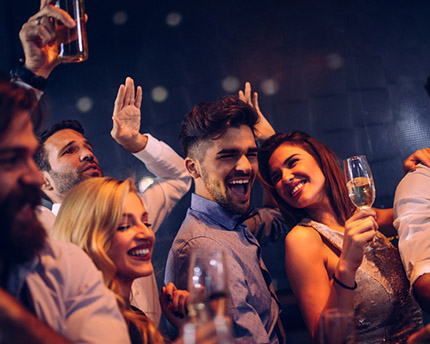 Leisure and Entertainment