A guide to enjoy shopping in Málaga
If you like shopping, you're in luck, because Málaga offers a wide range of options for shopaholics. Being one of the great capitals of Andalusia, its commercial options are many and varied, so regardless of your tastes or your budget, you will always shop in style. If you are not in a hurry to find what you are looking for, why not relax and take your time calmly window shopping at the city's traditional stores? But if you want a wide variety of products of all kinds visiting one of the many shopping centres in Málaga might be more your thing.
Either way, if you decide to spend a day shopping in Málaga, you won't be disappointed. You can choose between the most exclusive fashion boutiques, young designers' stores, craft shops, and international chains or, if you want to cover a wide range of products, you can visit one of the many big shopping centres, which are also very central.
Finding exactly the right store during your shopping getaway to Málaga will be a breeze. Whether you're looking for shoes, jewellery, decorations or gourmet products. To help you out, we have put together this guide which includes essential shopping areas so that you can enjoy the best shops in Málaga. How about it?
Shopping on Calle Larios
This pedestrian street is the most iconic shopping street in Málaga. Elegant and famous, Calle Larios is always lively and its shops and businesses bustle with sound of those following their whims and giving into temptations. At only 350 metres long and 16 metres wide, this urban artery, starting at Plaza de la Constitución and ending at Parque de la Alameda Principal, is one of the most desired commercial streets in the world. In fact, it is part of the exclusive club of the 50 most expensive streets in Europe.
Calle Larios is scattered with the most exclusive shops and the best-known commercial franchises, which now occupy the spaces once housing traditional stores. If you need a break, it also has many ice cream parlours, terraces, restaurants… and benches to sit on.
Shopping centres in Málaga
In addition to going shopping, you can also plan your day of leisure with the family at one of the many shopping centres in the city, where children and teenagers can enjoy themselves as much as adults. These covered spaces, which you can visit no matter what the weather, offer leisure activities designed for all the family throughout the year, such as Halloween activities and ice-skating rinks that are installed for the Christmas period. And if your stomach starts rumbling at the end of a hard day's shopping, you can stop off at one of the restaurants that are usually found on the upper floors. There is often a cinema too, always with new release films.
Centro Comercial Larios Centro
One of the best-known shopping centres in Málaga is the Centro Comercial Larios Centro, located very close to the city's train and bus stations, on the former site of the Larios gin distillery—hence its name—which was demolished in 1992. It is a large shopping centre totalling 99,000 square metres, spread across two floors and 153 establishments.
As expected, the Larios Centro Shopping Centre boasts a wide range of fashion stores, including brands such as Zara, Stradivarius, Massimo Dutti, Worten, Primark, Amichi, Décimas, and Springfield, among many others, as well as restaurants, such as Pans & Company, Burger King and 100 Montaditos. There are also gift shops and home decoration stores, shoe stores and hairdressers.
There also other smaller shopping centres in Málaga, such as Málaga Plaza—a stone's throw from El Corte Inglés—which houses well-known shops such as FNAC, Imaginarium, Primor and MoviStar, and has a large 1,200-square-metre gym.
For its part, the Centro Comercial Rosaleda has been located since 1992 over a former rose plantation, hence its name. It has two floors of commercial space and three floors of underground parking, while its main galleries are covered by a large glass dome, flooding the complex with natural light.
Centro Comercial Vialia
The Vialia Shopping Centre can be found inside the same building the Málaga María Zambrano train station is located. Here you can find deals at stores such as Mediamarkt, H&M, Mercadona, Swarovski, Intimissimi, Calzedonia, Burger King and McDonalds, or watch new release films in one of the 13 screening rooms at Yelmo Cines. Inside this complex is also the iconic Barceló Málaga hotel and a bowling alley.
Centro Comercial Plaza
We find the Plaza Mayor Shopping Centre on the Málaga and Torremolinos border. It is located very close to the airport and has a Cercanías commuter train station, which is an advantage. It is a favourite hang-out for young people as it boasts a wide open space divided into two different sections: leisure and entertainment on one side, and the shopping centre itself on the other. And so, while stores close on Sundays, the leisure area doesn't, remaining open every day of the week.
Also very close to the airport is the Parque Comercial Málaga Nostrum, one of the largest shopping complexes in Málaga. It was opened in 2005 and is currently 82,000 square metres large and has 3,000 free parking spaces.
In addition, it has two other leisure centres for shopping and entertainment: the Factory Outlet Málaga [Málaga Factory Outlet] and the Centro Comercial Málaga Ocio [Málaga Leisure Shopping Centre]. The Málaga Factory Outlet hosts the outlet stores of leading fashion brands, such as Levi's, Desigual or Mango, at bargain prices, and the Málaga Leisure Shopping Centre offers a wide culinary offering at restaurants such as VIPS, Ginos or 100 Montaditos, as well as leisure activities such as bowling, cinemas and the Altitude Trampoline Park.
New trends at El Corte Inglés
Lastly, the best option for those who prefer a more traditional shopping experience is El Corte Inglés, a comfortable shopping centre that never disappoints. Located on Avenida de Andalucía, its offer is categorised per floor and includes latest fashion brands, accessories, electronics, beauty products, jewellery, etc.
To top off your day out shopping in Málaga, why not have an aperitif in one of the terraces on Plaza de la Merced, facing Picasso's childhood home, or at the top of a high-rise hotel, while taking in the spectacular views of the city.
Information of interest
In Málaga, business hours vary depending on the area and the type of commercial establishment. As a general rule, shops are open to the public from 10:00 AM to 8:30 PM in the areas with the greatest number of tourists (up to 10:00 PM in large shopping centres) and close on Sundays, except special public holidays. Some traditional stores close during a couple of hours at lunch to rest.
Related
plans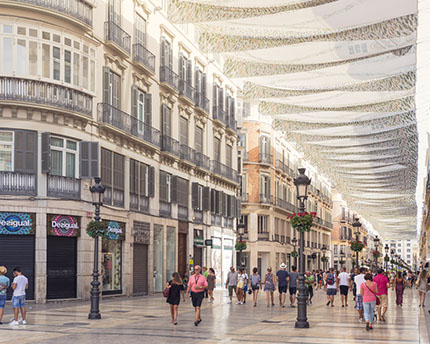 Places of Interest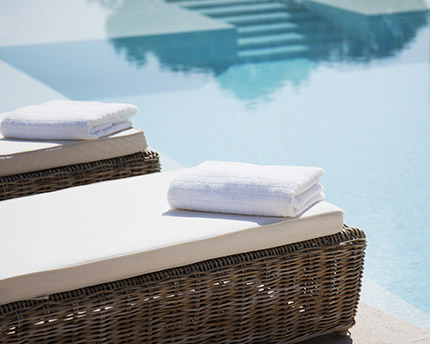 Health and Wellness