Alcúdia: beaches, history, art...
and great entertainment
Beaches, history, art, food… and great entertainment. Alcúdia is one of the most attractive destinations in the island of Majorca. There are many reasons for this. This walled city, with human remains dating from the 6th century BC, has extraordinary heritage monuments. The Romans passed through this territory and founded Alcúdia (Pollentia) and Palma. The Vandals and Arabs also passed, until the Catalan conquest took place in 1229 and the walled medieval city began construction.
That is why the visitor's first impression when reaching Alcúdia is that of its impressive walls, which began construction during the reign of King James II of Majorca and ended during the period of Peter III of Aragon in 1362. The medieval walls have an irregular shape, formed by 26 towers and 4 main gates: Porta de Mallorca (or Sant Sebastià), Portal del Moll (or Xara), Porta de la Vila Roja and Portella. The entire perimeter can be walked around, either using the Camí de Ronda route or the upper part, from where we can enjoy a spectacular view of the Bay of Pollença.
Things to see in Alcúdia
Alcúdia has much more to offer than the walls. What can we see in Alcúdia? There are so many interesting places in the city that we will only refer to the must-sees so that travellers can have a clearer picture of Alcúdia, which was declared a historical and artistic site in 1974 and has over 30 kilometres of coastline, with the consequent variety of beaches and coves, all with a unique beauty.
Alcúdia has two wonderful bays: the Bays of Pollença and Alcúdia. It has a wild and uneven coastline, so there are many cliffs on this area of the island. However, as we go northwards, the terrain becomes more even and we find long and straight sandy beaches. This is the case of Alcúdia beach, with over 7 kilometres of fine white sand, where there are sections with virgin vegetation, pine groves and dunes. It is the city's largest and most accessible beach and provides many leisure activities and a high degree of safety.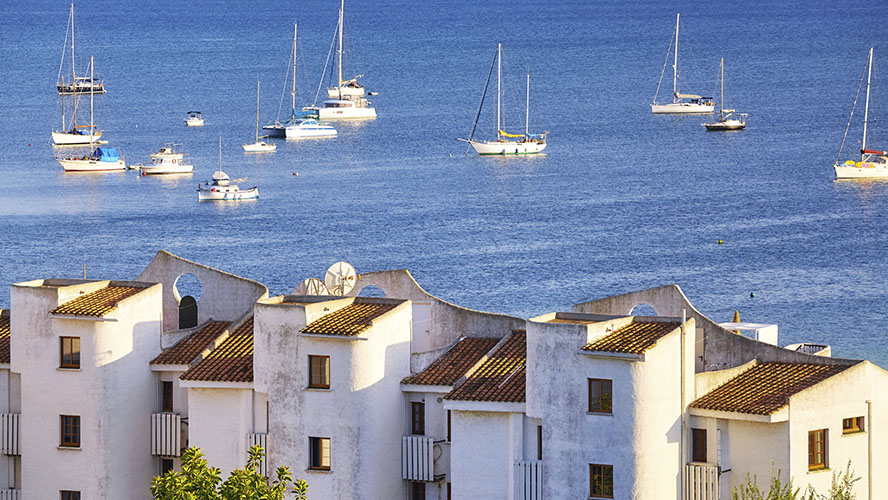 Alcúdia and Muro beaches
Alcúdia beach can be divided into two sections. The first section starts in the marina and provides a pleasant promenade which leads us to the second section. The second part starts in Ciudad Blanca and ends in Muro beach. Both areas have numerous leisure services and infrastructure, both in the water and on the sand, as well as refreshment stands, public toilets and showers, giant slides, sunbeds, parasols, etc.
As we already stated, Alcúdia beach ends with the start of the spectacular Muro beach, which is considered to be one of the best in Majorca. It has more than 5 kilometres and is suitable for children and families since it is a shallow beach and has fine golden sand. The beach has been acknowledged as a Natural Area of Special Interest thanks to the transparency of its waters and it has Blue Flag certification. It is ideal for aquatic and nautical sports.
Leisure activities at Hidropark Alcúdia
If you are a water fanatic, you can visit Hidropark Alcúdia, an ideal water park to spend the day with the family, especially if there are small children and social butterflies. It has 40,000 square metres and numerous attractions for all ages.
There are different types (and sizes) of slides, a new area called 'Neptuno', a minipark in the pool, a wave pool, a refreshment stand and attractive giant walk-on-water balloons. The latter activity makes children go wild. The Hidropark also has bars and restaurants with a large offering, from cold and hot dishes to barbecue and fast food.
A market next to the walls
Another place to visit in Alcúdia of the many must-sees is its large traditional market. Known as Alcúdia Market, it is one of the largest on the island and is located next to the medieval walls.
If you are hungry by now, just go to Elionor and taste the typical cocarrois (vegetable pasties) or the robiols (homemade jam or spaghetti squash jam pasties). You can also go to Ca'n Torres if you love a good ensaimada. This could simply be an appetizer before thinking about eating a good lunch or supper at any of the numerous and good restaurants in Alcúdia.
Restaurants in Alcúdia
If you want to enjoy a nice and elegant restaurant, you can go to Jardín, Bistró del Jardín, Sa Romana or La Terraza. If you decide to go local and traditional, you will not be disappointed with Los Patos, Blue Saphire, Como en Casa or Alcanada 35. There are many eateries which provide set menus for inexpensive prices with more than acceptable dishes. They include Indian Fusion, Sa Roqueta, Smith's, Himalaya Indian Nepalese, Lloyd's Chippy, The Foxes Arms, Tratoria Italiana S'Espiga and Paco's Bar Funny Bunny.
We must not forget, by any means, the many attractive monuments in Alcúdia, whose name, by the way, comes from the Arabic 'Al-Kudia' (on the hill). Remember to visit the Sant Jaume parish church. Why? Because it has an exceptional altarpiece called 'Our Lady with Saint Sebastian and Saint Bernard', which is on display in the parish museum.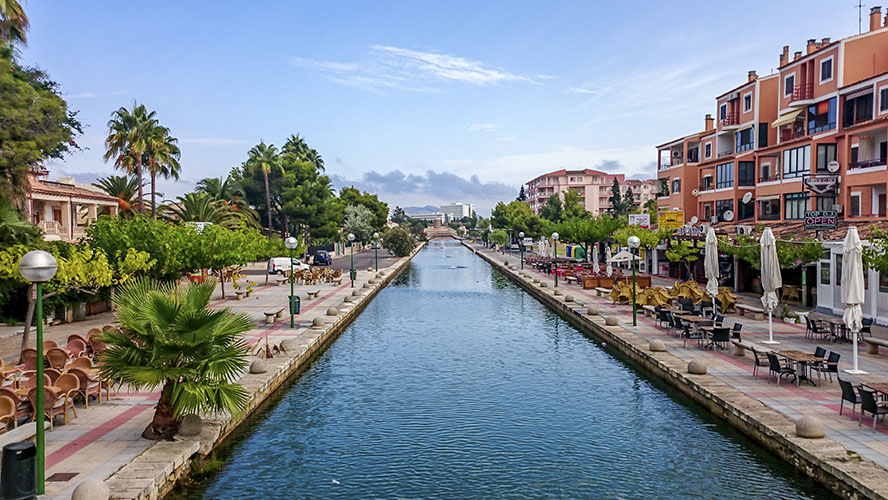 Museums and Roman theatre
We must also visit the Roman City Museum in Pollensa, the Yannick & Ben Jacober Arts Foundation in Sa Bassa Blanca and the Arts & Culture Centre in Can Fondo. Also worthy of a visit are the town hall, the Santa Anna church, the Victoria chapel, the manors and Renaissance homes, the high tower and the Pollentia archaeological site and its Roman theatre.
In short, there are many ways to enjoy Alcúdia, for both sea and beach lovers and for art and culture lovers.
Related
plans