Es Baluard, from bastion to
contemporary art museum of Palma
Es Baluard, the large modern and contemporary art museum of the Balearic Islands, is a must-see when visiting Palma de Mallorca, especially for art and culture lovers. Its main building, located on the city's ancient walls, at number 10 of Porta de Santa Catalina, was inaugurated on 30 January 2004. Its total surface area extends over 5,000 square metres, half of which is devoted to exhibitions. The building has simple and diaphanous lines and it is distributed over three storeys, connected via ramps, skylights and large interior windows.
Made of concrete and glass, Palma's Es Baluard Museu d'Art Modern i Contemporani contains a collection of over 700 works, most of which are from the late 19th century to the present day. Many of these works have been received from institutions that are trustees of the museum: Fundació d'Art Serra, the Palma City Hall, the Council of Majorca and the government of the Balearic Islands. It also receives donations from artists, private collectors and other public entities.
The Es Baluard museum, top figures of the art world
The Es Baluard collection contains works by such renowned artists from the late 19th century until the 1930s as Joaquim Mir, Santiago Rusiñol, Hermen Anglada-Camarasa, Joaquín Sorolla, Antonio Gelabert and Tito Cittadini, as well as two artists who today are almost unheard of but who were well-known in their era, Pilar Montaner de Sureda and Norah Borges. Of the 20th century artists represented in the museum, we find unique and gifted artists such as María Blanchard, Wifredo Lam, Fernand Léger, Roberto Matta, Joan Miró, Picasso, Robert Motherwell, Jorge Oteiza and Antoni Tàpies, among others.
The latest trends and new schools of contemporary art have also been included in the Es Baluard collection, which contains works of new figuration, pop art, minimalism and conceptual art. Thus, we can also see works by Joan Brossa, Juan Genovés, Hans Hartung, Pablo Palazuelo, Antonio Saura, etc., as well as Miquel Barceló, José Manuel Broto, Luis Gordillo and Juan Uslé.
Paintings, sculptures, photography and other arts
The Es Baluard collection consists mainly of paintings, but other artistic expressions are also included, such as sculpture, photography, video, installations and works on paper.
Since its opening in 2004, Es Baluard has organised exhibitions of such pioneering artists as Rebecca Horn, Fabrizio Plessi, Picasso, Jaume Plensa, Andy Warhol, Joan Miró, Santiago Rusiñol, Anselm Kiefer, Robert Mappelthorpe, Joana Vasconcelos, Juan Uslé, Alberto García-Alix, Eduardo Arroyo and Christian Boltanski.
In addition to the main museum, Es Baluard also contains other interesting spaces that provide additional life to this cultural institution. For example, in the large central patio, cultural animation events are held, with numerous groups participating, presenting stimulating and innovative proposals.
An ancient water cistern from 1640
In the basement, we find the Aljub, a unique space in Es Baluard. This former rectangular freshwater cistern dates back to 1640 and has been transformed into a museum exhibition space. The water that it stored was used to supply the nearby Puig de Sant Pere neighbourhood and the boats that arrived at the port. This water came from the fountain of La Vila and entered the city from the gate of Santa Margalida until reaching the cistern my means of an aqueduct-channel. When the bastion fell into disuse, the cistern was converted into a rubbish dump. Luckily, with the museum's construction, it was rediscovered and incorporated into Es Baluard. It is currently used for a variety of purposes, hosting exhibitions, concerts and avant-garde music, dance, theatre, performance art, sound poetry and circus shows.
In the outdoor space known as Les Arcs, collectives and social entities come together to exchange opinions, share works and spread ideas in line with the museum's philosophy.
Visits to the cathedral and the maritime promenade
Another interesting outdoor space of Es Baluard is the Mirador or Viewpoint, which offers an incredible view of the cathedral, the maritime promenade and the Puig de Sant Pere neighbourhood.
The inauguration of Es Baluard added considerable value to the San Pere neighbourhood, which dates back to the Arab period, although its maximum splendour was achieved during Renaissance times.
Es Baluard also hosts a tower in the city wall and a spectacular open-air terrace, over the ancient Aljub, which ends in a splendid balcony that overlooks the quay and the Bay of Palma, from where it is possible to view the cathedral and the Bellver castle. It is the perfect place for all sorts of open-air events.
The Es Baluard restaurant
Lovers of a good meal will appreciate the Es Baluard restaurant and terrace which opens daily from 10.00 until midnight. Here, it is possible to enjoy delicious food that is related to art. The restaurant is located on the city wall and offers lovely views of the Palma Bay.
Information of interest
The Es Baluard is open from Tuesday to Saturday, from 10.00 until 20.00. On Sundays it closes at 15.00. The Cultural Complex, however, opens daily from 8.00 to midnight. The restaurant also opens daily, from 10.00 to midnight.
The museum's general admission fee is 6 Euros and a visit to the temporary exhibitions costs 4 Euros. If you come by bike, you only pay 2 Euros.  On Fridays, 'you decide what you pay', with a minimum payment of 10 cents.
How to arrive
By bus: Lines 1, 2, 3, 5, 7, 20, 46 and 50. Also by the Tourist Bus.
Related
plans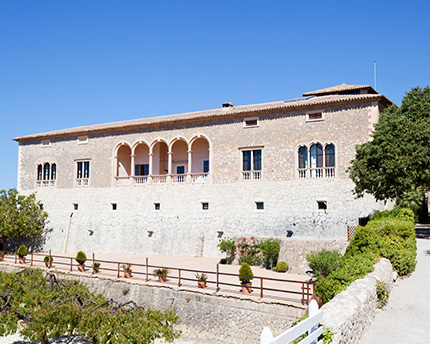 Places of Interest