Cala Mitjana: a haven of
peace and turquoise waters in the south of Minorca
If you're thinking about going to Minorca on holiday, no doubt the first image that comes to mind is of a small unspoilt cove with white sand and turquoise waters, surrounded by white limestone cliffs and silent pine forests. This is what most people come looking for in the most distant of the Balearic Islands, and we know a place that lives up to that fantasy: Cala Mitjana. Situated in the central part of the island's southern coast, right where the eponymous ravine meets the sea, the beach is a haven of peace where you can disconnect from the world for a few hours and focus on sunbathing, swimming, jumping into the water from the cliffs, and hiking through the beautiful forests and ravines in the surrounding area. Due to its central location—halfway between Mahón and Ciutadella—and given that it is easy to access, the beach can often get very busy. However, it is wide enough to be able to find a spot without any problems, even if it's somewhat far-off from the shore in the shade of the pine trees.
Discover Cala Mitjana and its little sister, Cala Mitjaneta
Squeezed in between the white cliffs that are so typical of the south of Minorca, Cala Mitjana is a beach with a wide expanse of white sand—although it is relatively narrow—that spreads all the way back to the pine trees that pepper the ravine. Therefore, you can choose between sitting right on the beachfront or in the picnic area shaded by the pine trees, which has benches and tables so you can bring your own food. It's important to bear in mind that it's a beach that is better to come to in the morning and only until early afternoon, as it faces south and is covered by shade two hours before sunset.
In addition to sunbathing and swimming in its crystal-clear waters, Cala Mitjana offers many different ways for the most adventurous to amuse themselves. One such thing is plunging into the water from one of the cliffs on the eastern side of the beach from a height of six or seven metres, which is completely safe. You'll know which one it is when you arrive, as you'll see other tourists jumping. Another great idea is to head, by foot or by swimming, to the neighbouring Cala Mitjaneta, a tiny cove situated to the right that has space for just four or five towels. In case there is no space, you can also lay down your towels on the low cliffs next to it.
Arriving by foot: a lovely walk from Cala Galdana
Cala Mitjana has free parking just 100 metres away, so coming by car is no problem. However, a more interesting way to get there is via a pleasant 1-kilometre walk (some 20 minutes) from the nearby Cala Galdana, where you can also leave your car in a free car park. The walk follows a slightly downhill path that runs through a holm oak forest passing various vestiges of the area's logging past: lime kilns, coal cellars, and huts where livestock were kept, all with respective information boards.
Excursions at Cala Mitjana in Minorca
Stage 14 of the beautiful Camí de Cavalls, a historic trail that covers 185 kilometres of beaches, pine groves and cliffs along Minorca's coastline, passes through Cala Mitjana. Its name—meaning Horse Path in Catalan—is derived from the strange requirement that King Jaume II imposed in 1330 for Christian settlers: to have an armoured horse in order to defend the island from attacks and to use it to watch over the coast from this path. The former defensive path was renovated and reopened to the public in 2010, and included in the European long-distance paths network (GR233).
This stage starts from the Sa Punta viewpoint, at Cala Galdana, and once at Cala Mitjana you can continue towards the final destination, Sant Tomàs Beach. The trail takes you through a wooded inland area, where, by crossing various ravines, you will pass by the unspoilt Cala Trebalúger, Cala Fustam and Cala Escorxada (the furthest and most inaccessible of them all).
From the eastern side of Cala Mitjana, you can also take a different path that will take you to Cala Trebalúger along the coastline in around 30 minutes. Along the path you will come across a former bunker with views of the bay.
If that's left you wanting more, discover more beaches and coves in Minorca.
Information of interest
How to arrive at Cala Mitjana
By bus: Routes 51 (from Mahón), 52 (from Ciutadella), and 53 (from Ferreries).
By car: From both Ciutadella and Mahón, take the Me-1 road all the way to the outskirts of Ferrerías and follow the signs for Cala Galdana.
Related
plans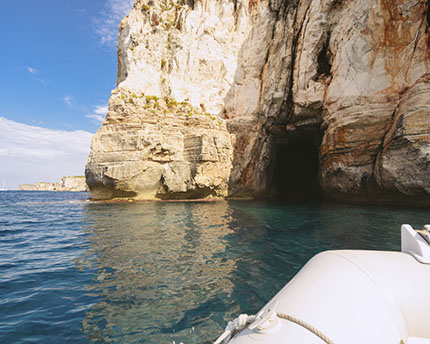 Sports and Adventure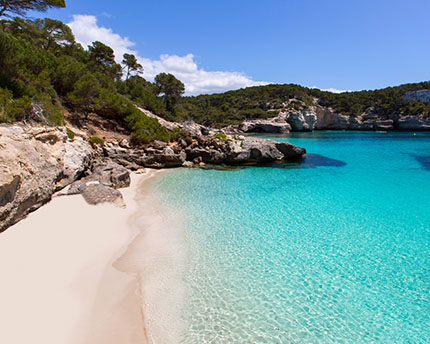 Sea and Beaches