Cala Galdana:
turquoise waters and nautical activities
Located in the southern municipality of Ferreries, Cala Galdana is very easily reached by car or bus. While the best way of getting around Minorca is by renting a car, this cove, one of the most popular on the island, can also be accessed by public transport.
Renting a boat and other activities in Cala Galdana
It is perfect for families travelling with small children, owing to its small size, lack of swell, closed-off shape, fine sands and crystal-clear waters. For this reason, we recommend getting there early and securing a good position on the beach. You could also make use of the sunbeds and parasols, which are available to rent at a reasonable price, ensuring your day at the beach is a comfortable one.
The beach also offers a complete range of services—including a life guard, a Red Cross station, public showers, restaurants, access for people with disabilities, etc.—helping to make your family day at the beach even better.
More adventurous visitors to Cala Galdana are also able to enjoy it from a more active approach. There is a wide variety of nautical activities, including:
Motorboats
Do you want to explore the island by boat? Motorboats, which are rented for the whole day, allow you to discover the island from the helm, with no need for a licence. Easy to control and with all the features you could need (including a table and a fridge), motorboats allow you to discover the island from a different perspective, ensuring that your day will be an unforgettable one.
Pedal boats
The mild swell of Cala Galdana makes it perfect for pedal boats—a great way to spend time with adventurous children who are no longer interested in making sand castles. Furthermore, there's no reason why you can't combine these with relaxing spells on a sunbed, under a parasol. However, before peddling out into the turquoise waters, remember to bring plenty of water, sun cream, a hat and sunglasses.
Kayaks
Exploring Minorca by kayak is one of the most popular tourist activities. Travelling in this manner allows you to go snorkelling in caves and at unspoilt beaches. You can also visit secluded coves that are inaccessible by foot or car. Whether for one or two people, kayak rental represents a great combination of fun and sport.
Paragliding
Cala Galdana also has options for authentic adrenaline junkies. Many local adventure companies offer this service with a qualified monitor, providing the weather conditions are favourable. If you're not scared of heights, this is a fantastic opportunity to discover the island from the skies.
Restaurants at Cala Galdana
With a diverse culinary offering, you'll find a wide range of restaurants in close proximity to Cala Galdana. Here are some of our favourites.
Very close to the beach, in the Cala Galdana residential area, is the Cala Mitjana restaurant, famed for its typical Mediterranean cuisine. Here you'll find great fish and seafood dishes, ranging from seafood paella to traditional Minorcan lobster stews. You can also try some of the house specialities, such as sea bass with goat cheese or monkfish cooked in fines herbes.
At Cala Galdana, many establishments fuse together local and international cuisines. The Sa Lluna pizzeria-restaurant, located within the Alta Galdana apartment complex, serves Italian and Mediterranean dishes. Pizzas, meat and fish are the order of the day in this restaurant which is often packed with tourists and locals during high season. Another option worth considering is Delit, famous for its exquisite seafood paella and Minorcan sobrassada and honey pizzas.
If you don't want to stray too far from the beach, you can always have a bite to eat at one of the seafront beach bars. At the Cape Nao Beach Club, you can have lunch, dinner or a delicious cocktail as you soak up magnificent views of the sea. With a diverse and cutting-edge menu, you'll be able to choose from informal dishes, such as sandwiches and burgers, to more elaborate meals such as rice and noodle dishes, meats, fish and freshly caught seafood. You could also sample the house speciality: Minorcan lobster stew.
Take a stroll to some other beaches
The heat of a Minorcan summer isn't enough to put off locals and tourists alike from walking the length of the Camí de Cavalls, a trail which loops the entire island, connecting practically all of its most beautiful spots.
Cala Mitjana and Cala Mitjaneta
The closest cove to Cala Galdana, located only one kilometre away, is Cala Mitjaneta, a tiny, secluded beach which, if you're lucky enough to go there when it's empty or manage to find a spot on the sand, will make you want to stay there all day. If you don't manage to secure a spot, you can go to the slightly larger Cala Mitjana awash with blue, green and golden tones.
Cala Macarella
2 kilometres from Cala Galdana (a half-an-hour walk of medium difficulty) lies the peaceful Cala Macarella. This tranquil oasis is notable for its fresh atmosphere which attracts young crowds.
Cala Turqueta
Slightly further away, lying almost 4 km from Cala Galdana, is Cala Turqueta, one of the island's must-visit coves. Made famous by the television adverts that were shot there, we recommend walking through the pine trees as you make your way to the beach along its steep coastline. Its deep turquoise waters, reminiscent of the Caribbean, justify its name: Turqueta [Turquoise, in English].
Information of interest
How to reach Cala Galdana:
By car. Whether you're travelling from Ciutadella or Mahón, upon arrival in Ferreries you'll need to take the turnoff towards Santa Galdana.
By bus. The company TMSA, which provides public transport services on the island, runs two different bus routes during the hottest months of the year (from 1 July to 30 September): Route 52 (Ciutadella – Cala Galdana), which takes around 35 minutes; or Route 51 (Mahón – Cala Galdana), which takes 50 minutes.
Related
plans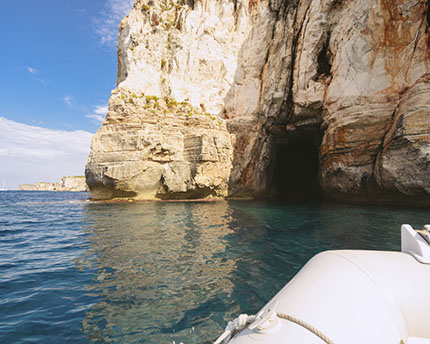 Sports and Adventure