Cala pregonda,
a red paradise in northern Minorca
When talking about Minorca, the first things that come to mind are the iconic coves dotted throughout the island. We think of small beaches with fine sand, where the turquoise colour of their water is so intense that it does not seem real. Cala Galdana, Cala Mitjana and Cala Macarella should be on your must-do list if you are thinking about visiting this Balearic island.
One of the most peculiar gems in Minorca is Cala Pregonda since it has features which make it unique and different from all the others. Do you want to know all the secrets awaiting for you there?
Cala Pregonda, isolated from the world
Before going to this beach, there are some interesting details which you will appreciate knowing. Cala Pregonda is a practically unspoilt cove; there are only a few houses nearby. There are no services and it is completely isolated. This means that it is one of the most incredible and natural coves on the entire island, scarcely touched by human intervention. All the area is protected and forms part of Minorca's Natural Areas of Special Interest.
It is a very special and very different corner since fewer people go to the coves in the north than to those in the south. One of the main singularities of Cala Pregonda is its geological wealth. The area's sand has become reddish as a result of the large presence of the pedra vermella (red stone). Between the cliffs, the crystal-clear water contrasts with the reddish tones.
The cove is quite protected from strong waves because there are several islets, so the sea tends to be calm. If you are looking for a romantic location to go with your partner, this may be one of the most spectacular places in Minorca. Although it is becoming increasingly popular, you can still find a quiet spot for relaxation.
The various areas in Cala Pregonda
The beach boasts three completely different sections:
Firstly, you will see a group of small rocky coves, formed by the characteristic red stones. This tends to be a less frequented area, which is ideal if you are interested in snorkelling. The seabed is extraordinarily beautiful and there is a large variety of small fish species.
Past those small coves, you will find a larger beach with a circular shape, where the fine sand is still burgundy. Although there are usually more people in this area, it is the perfect place if you want to spend the day sunbathing.
You will find a small third beach in the last section, on the biggest islet opposite the cove. You will have to swim or go on some type of boat to get there. Backwaters and natural pools are formed on that islet. You can also go cliff jumping if you are a thrill-seeker.
How to reach Cala Pregonda
One of the reasons why this cove in northern Minorca is not packed with people is that it does not have a direct access. The usual way to get there is by car. From Es Mercadal, take the road towards Fornells, and then turn off when you see the signs for Cavallería beach.
You will then reach a path whose signs will guide you to Binimel·là, where you can leave your vehicle at a free car park. From then on, you will have to walk since Cala Pregonda can only be reached on foot.
The walk is around 35 minutes on the famous Camí de Cavalls route and, although it may be somewhat difficult, with different slopes, it is also one of the most spectacular walks along the way. You must go well-prepared because the path is quite rocky and there is no shade from the sun. The recommendation is to go early in the morning or late in the afternoon, when there is less heat. After the hike, your reward will be reaching this picture-postcard cove.
Another way to reach Cala Pregonda is to take a boat trip. This wonderful experience will provide several advantages. Firstly, you will not have to walk, especially if the day temperature is higher than expected. Secondly, it is much easier to carry the necessary equipment such as parasols, fridges and rucksacks. Remember that there are no services or beach bars, so you will have to bring your own food and drinks if you plan to spend the day there.
Regardless of the way you get there, your reward will be spending an unforgettable day surrounded by this unparalleled natural landscape. It is such a beautiful cove that it left Mike Oldfield speechless: it became the cover for his fourth album, Incantations.
Cala Pregonda is the ideal place to forget about everything, while beholding the Cavallería lighthouse in the distance. You will not regret going to one of the most surprising corners of Minorca.
Information of interest
Remember that you are in a protected environment, in terms of both the sea floor and the natural landscape.
The sun tends to shine on your back because of the cove's position. Therefore, you should be well-prepared and bring sunscreen.
Check the weather beforehand. Although Cala Pregonda is protected by its islets, if the northern wind blows, the waves may be stronger.
Related
plans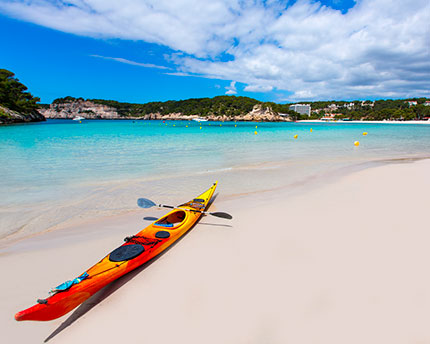 Sea and Beaches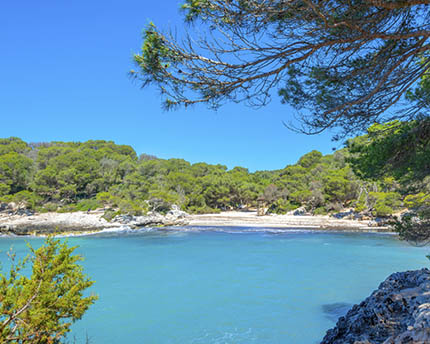 Sea and Beaches