Street markets in Minorca,
the island's hippy side
The street markets in Minorca are one of the island's greatest charms. This Balearic island does not only have picture-perfect coves and secret corners of outstanding natural beauty. Many of this small land's villages and towns boast stunning locations and their markets are a great way to discover Minorca's hippy side.
While many of these markets are held all year round, summer street markets in Minorca proliferate during the hottest months. Both in Mahón, the capital, and in many other inland areas you'll be astonished by the wide range of typical products, hand-crafted goods and other items on sale that are sure to make a big impression. If you're wondering what to buy in Minorca, these unusual shopping destinations are just the ticket for admiring original and attractive items of every kind.
Why not visit some of the most popular street markets after an afternoon of touring Ciutadella? Or how about making the most of your return journey from a visit to Mount Toro and stopping off at Es Mercadal to discover the charms of its street market? Just make sure you check the calendar beforehand so you know where to go each day of the week. This is important, because many of the street markets in Minorca have been allocated a specific day and you need to know when they are held so you don't miss a thing.
Summer street markets in Minorca
Hippy Minorca has no reason to envy ever-popular Ibiza. In fact, the opposite is true: it can proudly offer visitors a seemingly endless number of summer street markets in Minorca that are quieter than those of its neighbour and just as attractive.
You'll find a little of everything among the stalls that are set up in some of the island's most iconic streets and places: Minorcan tradition and culture, a fun atmosphere and perhaps some entertainment to make your visit yet more enjoyable.
Even if you're only visiting the island for a few days, you can easily find some spare time to take a stroll among stands selling avarcas (sandals), locally-grown produce and spectacular handicrafts that demonstrate their creators' skill. If you don't know where to begin, here's a good selection of some of the most popular summer street markets in Minorca:
Mahón market: The historic and commercial centre of Minorca's capital is home to one of Mahón's most important summer markets. The Mercat de Nit is held every Tuesday (from 8:00 PM to 11:00 PM) in July and August and is an essential stop during your visit to the island. The market coincides with the traditional festival Nits de música al carrer and visitors are welcomed into an atmosphere where music and diverse products perfectly blend together to create a unique shopping experience.
Ciutadella markets: However, if there's one place that defines the 'hippy Minorca' and comes alive every summer, it's Ciutadella. This port city on the north-western coast of the island proudly hosts one of the most popular summer street markets in Minorca: the Firac. But there are plenty more markets in Ciutadella—all the details are below so you don't miss a single one.
Capllonc market
The first of the summer street markets in Minorca, held in Ciutadella. From the beginning of June to the end of September the steps of the port make way for stands of all types that open every day from 5:00 PM to midnight and on weekends (Friday to Sunday and public holidays) from 5:00 PM to 2:00 AM.
Firac
Ciutadella's hippy market par excellence is called the Firac. Its stands are veritable showcases for local craftsmanship and can be visited from Monday to Saturday from 8:00 PM to midnight. If you're travelling to the island between 15 June and the end of September, stopping by this market in Costa Marina is highly recommended.
Craft market in Plaça de la Catedral
The craft market in Plaça de la Catedral is quieter but equally attractive, and is the perfect option for people who prefer to avoid big crowds. It's held every Monday in August and September from 7:00 PM to midnight.
Es Mercadal: The village of Es Mercadal is the start of the route to Mount Toro, the highest hill on the island, and it also has its own delightful summer craft market every Thursday from the end of June until October, from 7:00 PM to 10:30 PM.
Alaior: Another essential summer street market in Minorca is held in Alaior every year. This inland village turns its central streets of Forn, Mayor, La Sala, Es Vergeret and Es Callejón into a picturesque landscape of paintings, jewellery and macramé with further items on sale along Carrer des Ramal.
And if that weren't enough, the Mercat de Nit de Alaior has even more to offer: music, storytellers, food tasting and shows add to the fun of this market, which you can visit every Wednesday in July and August between 7:00 PM and 11:00 PM.
Other hippy and summer street markets in Minorca
It's certainly true that the summer street markets in Minorca have their own special charm, but your options aren't limited to summer alone. In fact, there are some attractive markets held across the island all year round. For example, Ferreries holds a craft and agro-food market every Saturday in Plaça d'Espanya from 9:00 AM to 1:00 PM. Es Castell also hosts a travelling market in Plaça de s'Esplanada on Mondays and Wednesday from 8:00 AM to 1:00 PM).
However, if there is one place you should visit to experience the enchanting street markets in Minorca it's the capital: Mahón. Agromaó is greenest and healthiest market, which opens its doors every Sunday from 9:00 AM to 2:00 PM. Here you'll find farmers selling their most traditional products. Also very typical to Minorca is the Mercat Des Claustre (Plaça del Carmen, no number, from Monday to Friday, shopping hours). This market is especially attractive not only thanks to its products but also because of the fact that it is housed in an old eighteenth-century Carmelite convent.
Still wondering what to buy in Minorca? Take a stroll through the island's street markets and you're sure to find the perfect souvenir of your holiday.
Related
plans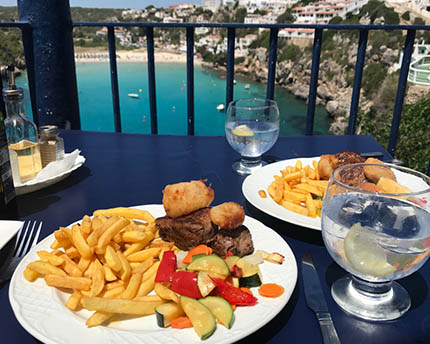 Food and Drinks