What to buy in Minorca for
an unforgettable journey
Deciding what to buy in Minorca is never easy. After having spent a few days enjoying its dream beaches and its delicious cuisine, choosing something, or a few things, to remind you of your holiday might be tricky.
How can you possibly cram the incredible feeling of submerging yourself in the underwater world surrounding the island into just one object? What should you buy for someone who's never been to Minorca? Is it better to opt for something artisanal bought from one of the multiple markets, or an evocative souvenir? The first thing to focus on is, of course, enjoying visiting the island. And then, trying to find something to buy that inspires you. Getting lost amongst the market stalls and shops in Minorca is an experience in itself and will make it easier for you to decide what to buy in Minorca.
But it's also worth knowing in advance what the typical products or items are so that you don't just end up buying the classic souvenirs. Are you more of a fridge magnet person, or would you prefer a pair of Minorcan sandals, or avarcas? There's something for everyone!
Typical Minorcan products and shops
One of the most pleasurable experiences that you can have during your holiday is sampling typical produce. And Minorcan food is one of the best things you can take home with you, as this Balearic island offers something for all tastes. Mediterranean-style recipes, spirits, sweet treats… There's such a wide range here that you won't struggle to find something to buy in Minorca to evoke the flavours of the island when you have to go back to reality.
Mahón-Menorca cheese
This is one of the stars of the shops in Minorca that specialise in food products. In fact, the fame of Minorcan cheese covered by the Mahón-Menorca designation of origin has transcended borders. A bite of this delicacy gives you a taste of all the island's flavours. Discover the traditional cheese production and curing process which is part of Minorca's idiosyncrasy.
Minorcan sobrassada
The sobrassada is a raw, cured sausage, and another one of the typical Minorcan products that you can't miss out on. Its flavour is just as delicious as its equivalent made in Majorca, and it's the perfect thing to buy in Minorca for a throwback to your holiday when you're back at home. In Minorca's shops you'll also find a wide selection of artisan sausages such as the carnixua, the botifarró, and the camot or cuixot, all of which are great options to complete an interesting shopping basket.
Xoriguer Gin and Biniarbolla liqueurs
If you're looking for souvenirs in Minorca, you can also opt to buy some of the spirits that have a long tradition on the island. Gin Xoriguer (also known as Mahón Gin or Menorca Gin) is one of the most popular gins there is. This drink, which came to Minorca with the British, who were present on the island in the eighteenth century, has an unparalleled aroma thanks to the distillation of juniper berries.
The digestifs aren't bad either. As far as typical Minorcan products are concerned, liqueurs have a long history, the result of which is the artisanal distilling of fruit and herb liqueurs of all kinds.
Sweet treats
Everyone loves a sweet treat, so if you're deciding what to buy in Minorca, then confectionery is a great option for spoiling yourself a little. Although the ensaimada pastries are the most popular Minorcan treat (which is also true in Majorca and Ibiza), there are lots of other tempting recipes.
In fact, typical Minorcan confectionery is strongly linked to its local celebrations. Expect formatjades or meat pies at Easter, bunyols with Minorcan honey on All Saints, and greixeres or cheese pastries during Carnival.
What to buy in Minorca: inspiration
Enjoy a relaxed afternoon shopping in Ciutadella or visit some of the island's famous street markets. Every visitor will find their favourite spot for figuring out what to buy in Minorca, but to help you out, here are a few ideas for the most interesting options.
Minorcan avarcas and leatherwork
Flat, comfortable and perfect for an afternoon of shopping in Ciutadella or anywhere else on the island. Avarcas sandals are a great souvenir to put on your shopping list. In fact, the island has a long tradition of leather products, whether these famous shoes or other accessories.
Craft markets
In addition to shops in Minorca, traditional street markets pop up all over the island throughout the year, and even more so in summer. From north to south and east to west, villages and towns dedicate one day, a few days, or even months to these stalls. At these markets, you'll find practically everything. From souvenirs to handcrafted items, jewellery and antiques—anyone who trawls the stalls will find some attractive things to buy in Minorca.
Experiences
Although buying a souvenir of Minorca sounds tempting, the best thing to take home from the island is memories, so there's no better way to round off a holiday than making a few extra special ones to treasure. Why not solve the dilemma of what to buy in Minorca by opting for an experience instead?
The island offers all kinds of options that, as you can imagine, focus around hiking routes in Minorca, water activities, etc. But, if you want to discover the island's essence, it's best to opt for something to do with its traditions and gastronomy.
Pay a visit to the multiple avarcas or leatherwork items factories that are open to the public. Discover the famous cheese production process under the Mahón-Menorca designation of origin by visiting the Ilocs, or uncover the secrets behind the distillation of Xoriguer Gin. These are just a few suggestions for alternatives to the most typical souvenirs. If you prefer, you can simply enjoy a lobster stew, the recipe for which is one of the island's best kept secrets. Does that sound good to you?
Related
plans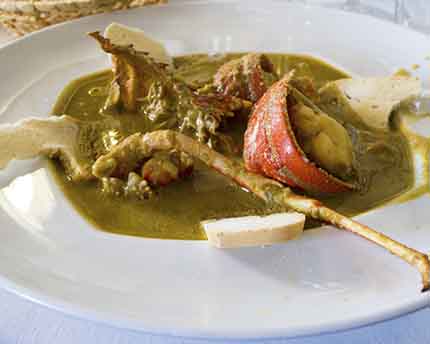 Food and Drinks