Traditional Minorcan cuisine:
the sea on a plate
While the best-known traditional Minorcan cuisine speciality, caldereta de langosta (lobster stew), may be delicious, it is far from being the only dish cooked in the island's restaurants and households. There is, without question, an extensive range of local fare, with the accent almost invariably on fish and seafood.
Along with the dishes based on fish and shellfish caught in the Mediterranean Sea, traditional Minorcan cuisine offers plenty more succulent treats. One of the most outstanding is the sobrasada (cured pork sausage), which is somewhat different from the sobrasada produced on Majorca. One of the key elements in its delicate flavour is the type of paprika used in preparing it.
And, of course, there is the Mahón-Menorca cheese, which has a Designation of Origin and is, without a doubt, one of the best-tasting of all the cheeses produced in Spain.
What is traditional Minorcan cuisine like?
The distinguishing characteristic of traditional Minorcan cuisine is its insularity. Being an island, Minorca lived for many years almost exclusively on what was caught in its seas or grown in its fields.
Traditional recipes have been passed down by word of mouth from one generation to the next, and almost always from grandmother to daughter and on to granddaughter. It is interesting to note that one of the world's best-known sauces, mayonnaise [mahonesa in Spanish], originated here. To begin with, it was made using only egg and olive oil, and has been used by the local farm workers and fishermen from time immemorial to add flavour to other ingredients.
It was the French troops who took this sauce back to their own country, and it was also they who gave it the name of "mahonaise"; it was known to the inhabitants of Minorca as 'alioli bo'. From France, mayonnaise became popular in kitchens throughout the world.
Lobster Stew
If there is one dish that defines traditional Minorcan cuisine, it is caldereta de langosta (lobster stew). A simply prepared dish, like any number of Mediterranean stews, but with a robust, unforgettable flavour.
The key, no doubt, is that the lobster needs to have been caught in the seas around the island. The place to head for to try this culinary delicacy is the fishing town of Fornells. There, many restaurants breed and "fatten up" the lobster for weeks before it is actually cooked.
The taste of the lobster is brought out by the vegetable sautée based on ripe tomatoes, onion, garlic and peppers. The dish is eaten with a spoon and accompanied by slices of delicious rustic bread, which is used to soak up the stock in which the rest of the ingredients have been cooked.
Mahón-Menorca cheese
The local cheese is another of the stars of traditional Minorcan cuisine. And it's not just any old cheese, of course. The Mahón-Menorca Designation of Origin applies to two varieties, both prepared using exclusively milk from Minorcan cows.
This is a soft cheese made in small and medium-sized centres of production following a process handed down through generations. Under this method of production, the cheese requires frequent turning, and the pieces are spread with olive oil and paprika. The result is two of the most delicious varieties of cheese in the country.
Mahón-Menorca cheese. This cheese is based on milk that has been processed in some way (for example, pasteurised), and a mould may be used to give it its shape.
This same cheese can be made using an artisan method, i.e. from raw milk from the farm's own cows. A cotton cloth called a fogasser is used to shape it.
Other typical Minorcan dishes
Traditional Minorcan cuisine is, as we have already said, fish and seafood based. But it also draws on agricultural produce and, essentially, on locally-produced ingredients. Apart from lobster stew and cheese, these are some of the other typical dishes:
Oliaigua: A tomato soup, which can be eaten warm or at room temperature. It is normally accompanied by slices of melon of fig and slices of day-old bread.
Perol de ratjada: A type of Mediterranean-style stew with potatoes and, most importantly, skate as the main ingredients. Skate is a white fish, with a cartilaginous texture and an amazing flavour, although it is not to everyone's liking. The dish is cooked in the oven in a perol (clay pot).
Arroz moro [Moorish rice]: Also known as arroz de la tierra [rice of the earth]; the strange thing is that the base is not really rice, but wheat semolina. Although this dish is of Muslim origin, it is customary to add different pork cuts during cooking.
Palangrana de be: Also known as bandeja de cordero [lamb platter]. As in many other Mediterranean cooking traditions, in Minorca roast lamb dishes are also extremely popular. In particular, roast leg of lamb which, with its crispy skin, is a real delicacy.
Cuscussó: A dessert, also of Muslim origin, which is mostly eaten at Christmas. This is made with lard or beef fat, bread, almonds, sugar, pine-nuts and various fruits.
Minorcan wine
As with cheeses, Minorcan wines are a very important aspect of the island's traditional fare. And they have their own Designation of Origin:
Vi de la terra Illa de Menorca.
Most sought after are the red wines, based on the merlot and cabernet sauvignon grapes. These varieties contribute rounded and well-balanced flavours to the various labels produced on the island. Added to these grapes, particularly in the production of coupages, are native grape varieties such as monastrell or tempranillo.
Although the reds are outstanding, it is also true that more and more wineries are producing white wines. Especially from the chardonnay and malvasia grape varieties. The malvasia grapes are in a class of their own, and are grown in the area of the s'Albufera des Grau Natural Park.
This is a wine-growing Designation of Origin with a fairly limited production, as there are barely seven wineries involved. This explains the high prices charged for certain wines in Minorca's restaurants. Furthermore, the best labels of local wines often sell out quickly.
Now that you know what to order, we suggest you consult our recommendations on the best restaurants.
Related
plans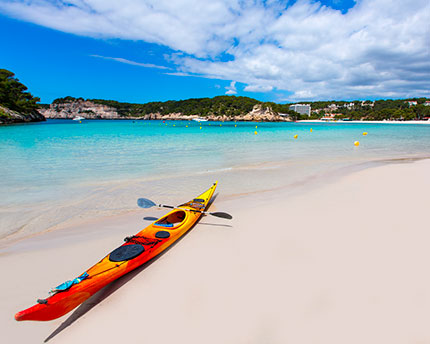 Sea and Beaches