Ondarreta:
a beach amid gardens
Donostia-San Sebastián positively oozes charm wherever in the town you are, but if there's one thing you definitely shouldn't miss it's the unique atmosphere on the local beaches. Ondarreta is perhaps the least well-known of the town's three sandy stretches. Despite being overshadowed by the famous Playa de la Concha, it's just as delightful.
Playa de Ondarreta is the perfect place for family fun, water sports or simply relaxing at the water's edge. The beach sits below the Palacio de Miramar, right in front of Monte Igueldo and looks out onto La Concha Bay, making for a spectacular backdrop. What more could you ask for?
Ondarreta: a beach for all the family
Playa de Ondarreta is the least crowded of San Sebastián's beaches. It's more than 500 metres long and has a children's playpark right on the sand.
If you want a safe place to swim, look no further. You can even swim out to the famous Isla de Santa Clara, a beautiful craggy island sitting slap bang in the middle of the bay. The calm, clear waters and the island's charm will make the swim worth the effort. For a less ambitious venture, make your way out to one of the platforms anchored in the bay where you can have fun on the diving boards and slides.
At Ondarreta you can also try your hand at kayaking, SUP or a game of volleyball or football on the fine golden sand.
Free cancellation
A well-equipped beach in a perfect setting
If you need your creature comforts, you'll be quite at home on Playa de Ondarreta. There are toilets and showers, and two beach bars for when you need a bite to eat or refreshment.
As you'll discover, Ondarreta is much more than just a beach. The promenade backs onto large gardens where you can sit and take in the beauty of nature. Art enthusiasts will enjoy a short walk to the famous Peine del Viento or Comb of the Wind, a set of three sculptures by Eduardo Chillida. There's also a sculpture dedicated to Queen María Cristina of Austria and the modern art piece by Juan Ramón Anda titled Zeharki (first prize winner at the San Sebastián International Culture Biennial).
If you get hungry, try the restaurant in the Real Club de Tenis at the foot of Monte Igueldo.  Rest and refuel with some great cuisine before continuing to explore the area.
Artwork at Ondarreta: the Peine del Viento
Eduardo Chillida's Peine del Viento or Comb of the Wind is probably the most famous of Ondarreta's sculptures and is a sight to behold against a magical Donostia sunset. The site is hugely popular with tourists and locals alike – on stormy days you can really appreciate the raw power of the sea as it crashes against the rugged shoreline.
The entire work comprises various granite terraces leading to three steel sculptures which are secured to the rocks. The place makes a picture-postcard backdrop for your holiday snaps. Don't forget your camera!
Hidden charms near Playa de Ondarreta
There's plenty to see and explore near Playa de Ondarreta, including the Palacio de Miramar. Built in the 19th century, this palace is nestled between the gardens at Ondarreta to the north and the busy Paseo de Pío Baroja to the south. The palace together with its gardens and outbuildings covers almost 35,000 m2 and was originally the summer residence of the Spanish royal family.
A stroll through Antiguo
The area around Ondarreta and Igueldo is one of the oldest (and most charming) neighbourhoods in San Sebastián, hence its name in Spanish: Antiguo. Make sure to wander around its streets and traditional shops. A visit to Antiguo is also a chance to sample the world-famous Basque cuisine (foodies will be interested to know that San Sebastián is home to several Michelin star restaurants).
Calle Matia is one of Antiguo's most bustling streets and a good place to try pintxo pote night, when local bars offer a pintxo (a small snack typically served in bars in northern Spain) and drink at a special price.
Live beach views with Camaramar Ondarreta
Camaramar is a high-tech and safe way to see what's going on at the beach. It provides up-to-date information about the wind, the tides and other factors affecting surfers, windsurfers or fishing enthusiasts.
As you might have gathered, it's hard to get bored at Playa de Ondarreta! What with the cuisine, sports, beach life and good atmosphere on offer, Antiguo is a truly special and unique area of San Sebastián. What are you waiting for?
Related
plans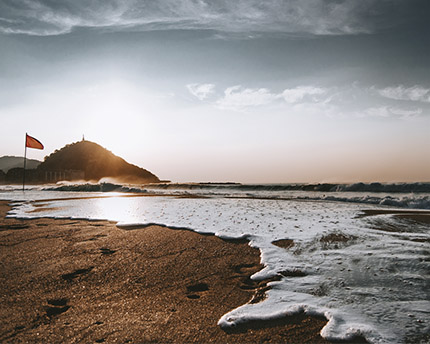 Sea and Beaches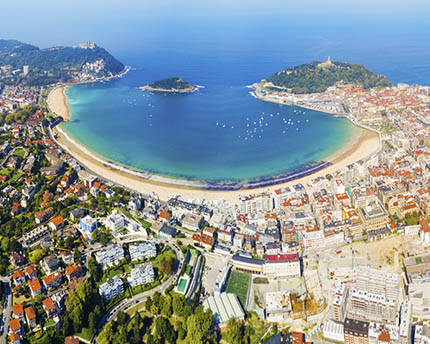 Sea and Beaches