Where to eat in San Sebastián:
from pintxos to Michelin stars
Travelling to the Basque Country means succumbing to the region's history, landscapes and, of course, its cuisine. The food in San Sebastián is one of the main pulls in this northern region, and the plethora of grillhouses, caseríos, sidrerías, pintxo bars and Michelin star restaurants have turned eating out in San Sebastián into a real treat.
The province of Gipuzkoa boasts almost twenty Michelin stars, several of them awarded to establishments in Donostia. The gastronomy here is truly an art form and is now the world-famous hallmark of the town. From lovingly crafted recipes with an authentic grill taste to miniature haute cuisine and creations worthy of top accolades, San Sebastián's restaurants have much to offer.
Sidrerías in San Sebastián
Eating out in San Sebastián is a feast for the senses. To really get into the spirit, you need to select a worthy accompaniment. Cider is the local drink par excellence, and there's no better way to find out why than by visiting one of the town's many sidrerías or cider houses. The sidrerías in Astigarraga, Hernani, Urnieta and Usurbil are particularly renowned though there's no shortage in San Sebastián.
The oldest places still keep the tradition alive of drinking their cider while standing. Make sure you're wrapped up warm if visiting one – traditional sidrerías can be chilly. However, there are now several more modern climate-controlled sidrerías in which diners eat and drink on large communal tables.
Free cancellation
In San Sebastián's old town, for example, you'll find Sidrería Beharri (Narrika, 22). It offers a variety of pintxos and a good selection of typical Basque dishes in addition to the typical sidrería menu.
La Txirrita Sagardotegia (San Bartolomé, 32) is very close to Playa de la Concha. Its charm lies not only in the variety of ciders on offer but in the fact that the entire place pays tribute to Basque culture.
Pintxos in San Sebastián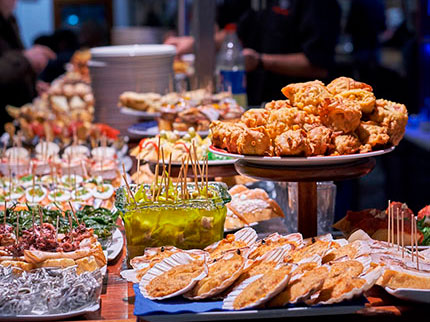 When it comes to food, San Sebastián's pintxos are in a league of their own. Pintxos are small snacks typically served in bars in northern Spain and are considered one of the best culinary experiences the world has to offer. They embody the painstaking care taken by local restaurateurs in their recipes, and are a visual display of the passion that goes into making them. Make sure you try this miniature haute cuisine during your visit to San Sebastián.
The town is peppered with pintxo bars, though the Parte Vieja, Centro and Gros neighbourhoods have some of the most reliable joints in town. El Bergara (Calle General Artetxe, 8), La Cuchara de San Telmo (31 de Agosto, 28), Borda Berri (Fermín Calbeton Kalea, 12) and La Espiga (San Marcial, 48) are considered some of the best.
The best restaurants in San Sebastián
San Sebastián's restaurants have secured a hard-won place among the best in the world. Of course, the most coveted recognition of culinary excellence is the Michelin star. Several of the 18 stars awarded to restaurateurs in Gipuzkoa have been bestowed upon just three establishments within a 25 km radius in San Sebastián.
Restaurante Akelarre (Padre Orkolaga Ibilbidea, 56). Three Michelin stars are testament to the expertise of this establishment. Its large windows look out over the Cantabrian Sea from the slopes of Monte Igueldo. Head Chef Pedro Subijana brings his own particular vision to the dining experience and his unceasing innovation has enabled the restaurant to reach the heights of the gastronomy world.
Restaurante Arzak (Alcalde J. Elosegi Hiribidea, 273). More than a century in the business and four generations of the Arzak family have placed this restaurant among the most popular in San Sebastián. With a signature cuisine that's constantly evolving – paired with the essence of Basque cuisine, research and cutting-edge culinary techniques – it's no wonder that Arzak has three Michelin stars.
Restaurante Martín Berasategui  (Loidi Kalea, 4 – Lasarte-Oria). Helmed by Martín Berasategui, this three-Michelin-starred restaurant serves exquisite, innovative haute cuisine. A combination of signature creations, packed with freshness and natural flavours, delivers a memorable culinary experience.
Cheap eats in San Sebastián
Donostia isn't exactly famed for its low prices. Nevertheless, it's still possible to find reasonably-priced food that won't blow your budget. Whether you're heading out for pintxos or a sit-down meal, the town has some of the best affordable food you'll find anywhere.
La Mejillonera (Calle del Puerto, 15). Salty sea air blends with the kitchen aromas of this mussel bar near the Port of San Sebastián. Renowned for its selection of mussel-based pintxos served with an array of sauces and accompaniments, as well as its calamari and patatas bravas, it's the perfect place for sharing a few dishes among friends.
Rojo y Negro (San Marcial, 52). This pintxo bar-cum-restaurant is just a few minutes from Playa de la Concha and another place where you can eat on a shoestring. It serves both cold and hot pintxos as well as typical Basque dishes such as txangurro a la donostiarra (a local crab dish) or txipirones a la plancha (fried baby squid).
Grillhouses and caseríos in San Sebastián
The origins of the Basque caserío – a stone-built country house – date back to Medieval times. Once closely tied to agriculture and livestock, many now operate as rural lodgings and grillhouses and add another layer of charm to the San Sebastián dining scene.
Caseríos are generally on the outskirts of the town and many offer the chance to enjoy a typical cider house menu of cod tortilla, fried cod with peppers and immense grilled steak, followed by Idiazabal cheese, quince jelly and fresh walnuts. If you're feeling lazy, you can still find a good flame-grilled steak without leaving San Sebastián.
Related
plans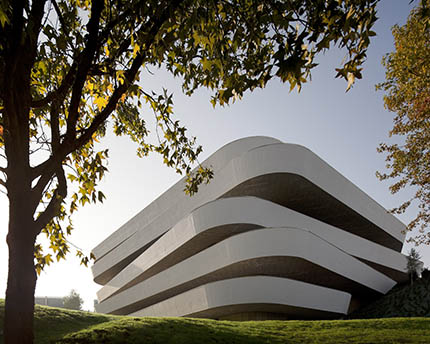 Food and Drinks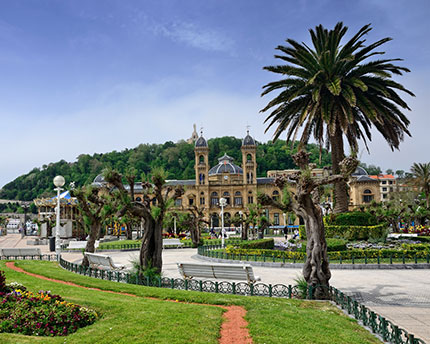 Places of Interest