Tenerife with friends,
four group plans that will never disappoint
Maybe Mark Twain was over-exaggerating a bit when he said that thing about the best way to figure out if we like or hate somebody being to travel with them. But maybe not. In any case, there are destinations that, thanks to their obvious beauty, their hidden treasures or their welcoming atmosphere, are capable of smoothing out the rough patches that are part and parcel of any trip. Without doubt, Tenerife, the largest of the seven Canary Islands, is one of them. Its most popular nickname, 'the island of the eternal spring', gives us a clue as to why it's such a fantastic destination.
Tenerife has thousands of options to offer people of all ages, with all tastes. Both Spaniards and foreigners rock up on its shores every year in search of black sand beaches and unspoilt coves, coastal party strips, historic villages with plenty of culture, and a land covered in protected natural spaces. If the nineteenth-century writer from Missouri offered a very sceptical view on travelling with company, the contemporary writer from Tennessee, Tim Cahill, is pure optimism, remarking that a journey should be measured in friends, not miles. Below, you'll find four ideas for activities to do as a group in Tenerife.
Climb Mount Teide, take a journey above the clouds
Let's not beat about the bush. When it comes to things to do in Tenerife, this is most probably the least original idea, but that's because it's one of the most recommended: ascending the Teide volcano, Spain's highest 'viewpoint', standing at 3,718 metres. The fact that Mount Teide National Park is the most visited in Europe, and that it was declared a World Heritage Site in 2007, means that everyone is sure to fall in love with this natural area. Whether on foot—following the magnificent Montaña Blanca trail—or by cable car, ascending Mount Teide is a unique experience that makes for great team bonding.
Views out to other islands in the archipelago and the vast volcanic landscapes of Tenerife at your feet are the rewards that Mount Teide has to offer the brave hikers who decide to summit the volcano. But it's important to bear in mind that the final 163 metres of the hike, from the La Rambleta platform to the peak, require a prior permit. It's free and can be easily requested from the National Park's website.
If you want to enjoy the landscape up here for longer, at 3,260 metres you'll find the Altavista Mountain Refuge. You can only spend one night here, but on the other hand, it stays open all year round—except when weather conditions are extremely poor.
Papagayo Club Beach, unforgettable sunsets to the rhythm of house music
Broadly speaking, anyone who knows the island even a little would say that the north and south are two worlds in one. The north is more historic, calm and windy, and the south is more open to tourism and has the characteristic bustle of seaside resorts. Costa Adeje, Playa de Las Américas and Los Cristianos are three tourist hotspots located in the coastal area of the southwest of the island. Here, in less than 21 square kilometres, is where you'll find the best parties in Tenerife, and that's where our next idea for group fun takes us.
The Papagayo Beach Club, a popular spot for drinks and electronic music in Tenerife, can be found, specifically, in the Las Verónicas shopping centre, in Playa de Las Américas. This place is open all day long, offering delicious breakfasts in the morning, and high-quality lunches and dinners; it also puts on one of the island's best parties at night. Its fame is largely down to its terrace, as it has unbeatable views of the Tenerife sunset, with the islands of El Hierro, La Palma and La Gomera in the foreground. In any case, a visit here is the perfect excuse for getting a feel for the vibe in the area and, when the time is right, heading for neighbouring clubs.
A 'guachinche' crawl
Be careful! If you're going to Tenerife, try not to confuse the word 'Guanches' with 'guachinches', as they've got nothing to do with one another. The first are the original inhabitants of the Canary Islands, who went extinct following the arrival in the archipelago of the Spanish conquerors in the late fifteenth century. The latter are typical Tenerife taverns that have strong links to the island's traditional winemaking, which you can still find hidden away in inland villages and towns.
In fact, local history tells us that the origin of these establishments was a small room in a family home, where the wife of the winemaker served up homemade dishes to guests. That's why a typical guachinche is still a rustic place, far from the comforts of a restaurant, but specialising in the island's traditional cuisine—such as grilled cheese, papas con mojo ('wrinkled' potatoes with a spicy sauce), ropa vieja (literally, 'old clothes'; traditionally made using up leftovers—cooking stock, chick peas, potatoes, and shredded beef) or carne de fiesta (meat marinated with different spices and white wine)—and, of course, local wines.
They're most common in the north of the island, and there's no better way of tracking them down than to ask the locals. But if you're shy (or very high-tech) you can also find them on a mobile app called Guachapp. Both El Ramal and La Cueva Caprichosa tick all the right boxes to be considered guachinches, and you'll find them right in the centre of Santa Cruz de Tenerife.
Siam Water Park
It might not be Spain's best known one, but the Siam Water Park, located in the southern municipality of Costa Adeje, has been chosen as the best water park in the world by a big travel review website for five years running. Covering 185,000 square metres with a multitude of slides of all shapes and sizes, and a careful Thai aesthetic, the Siam Water Park promises anyone who visits it plenty of adrenaline and fun.
The Tower of Power, a 28-metre-long slide that crosses a pool with sharks in it, or the giant swimming pool with artificial waves that reach 3.8 metres in height, help to consolidate the originality that characterises the park. It was designed to delight both children and adults.
Related
plans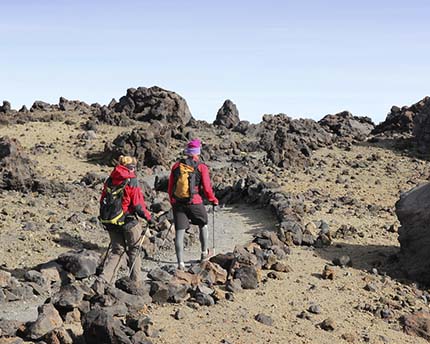 Leisure and Entertainment