Istiklal Avenue,
the liveliest street in Istanbul
Istiklal Avenue is a centrally located, lively, bustling and festive pedestrian street. It is one of Istanbul's thoroughfares (internal link: qué ver) designed for enjoyment. Leisure is assured since there are many things to choose from: the best stores, the film premières, the most famous theatres, the most tempting restaurants, the quaintest cafés, etc. Remember to stroll along this bustling avenue closed to traffic.
History of Istiklal Avenue in Istanbul
Istiklal Avenue is clearly one of the most famous and liveliest streets in Istanbul. It is located in the historic Beyoğlu district and is one of the streets most visited by travellers to the Turkish city. However, Istiklal Avenue did not always have this name. In the Byzantine period, it was called Grand Avenue of Pera because it was located in a district where the Venetian and Genoese traders met.
The avenue is over 2 kilometres long and, in addition to the boutiques, it also has libraries, cafés, historical patisseries and nightclubs. It goes from the medieval Genoese quarter, near Galata Tower (internal link), to the famous Taksim Square (internal link).
Istiklal Avenue (Istiklal Cadessi in Turkish) is surrounded by sophisticated buildings dating back to the 19th or early 20th centuries which include Neo-Gothic, Neoclassical and Art Nouveau architecture. It is clearly the place to enjoy architecture from the early years of the Turkish Republic.
Istiklal Avenue at present
Nowadays, Istiklal Avenue is still the focus of tourist attention and, because of its size, it can accommodate over three million visitors in a single day.
It is a very cosmopolitan and multicultural avenue, which also includes the Catholic churches of St Mary and St Anthony of Padua and other temples of diverse religions such as Orthodox and Muslim, so there are many temples and synagogues which show Istanbul's religious and cultural tolerance.
Things to see and do on Istiklal Avenue
Visitors are offered so much entertainment on Istiklal Avenue that it is impossible to list everything. However, here are a few essentials: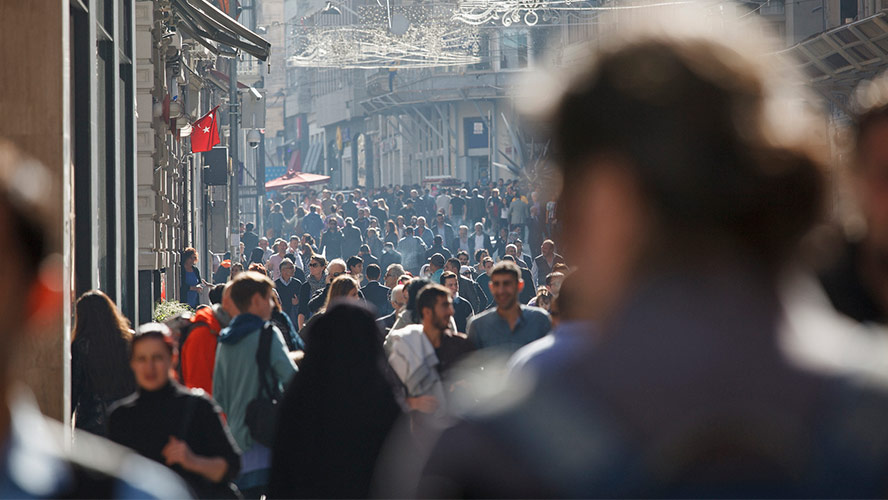 Avenida Istiklal
Flower Passage or Cicek Pasaji
It is one of the most sophisticated and unique areas on Istiklal Avenue. It takes travellers back in time, to the 19th century, through a beautiful and luxurious shopping arcade that stands out thanks to its spectacular glass cupola and its French-inspired statues.
In the past, the Flower Passage, also known as Cicek Pasaji, was used for both commercial and residential purposes and some Turkish nobles used to live there. At present it houses several restaurants where you can enjoy the best and most varied Turkish cuisine (internal link: comida típica). On one side of the Passage there is also the famous fish market Balik Pazari.
Theatres and cinemas
Istiklal Avenue has numerous theatres and cinemas and, although many still survive such as the Elhamra and Alkazar cinemas, many others have already disappeared such as the spectacular Emek movie theatre.
Atlas Passage
It is one of the most visited places on the avenue. It dates from 1871 and is located near the Atlas Sinemasi cinema. It currently houses several restaurants and a theatre. Every year it hosts the Istanbul Film Festival. If you love shopping, you will have a great time in its shops buying antiques, rugs and second-hand products.
Suriye Passage
It was built in 1880 and originally had homes and a shopping centre on the ground floor. The first silent movie theatre was opened in this arcade. If you love vintage clothes, you cannot miss out on the famous Retro store inside.
Red tram
It is one of the main tourist attractions for young and old alike. It is also known as the nostalgic tram and was opened in 1990. It runs nearly two kilometres, between Taksim and Tünel, along Istiklal Avenue. This famous tram operates from 7 to 21 hours. Its price? 1 Turkish lira and this will not increase by much.
Things to see near Istiklal Avenue
Istiklal Avenue offers so many ways to have fun that you can spend a whole day exploring nearby arcades and streets and enjoying places where you can breathe in genuine Turkish life. There are many interesting places near Istiklal Avenue such as:
Taksim Square
In 1732, it became Istanbul's water distribution centre. Over the years, Taksim Square (internal link) has become the modern part of the city. It has numerous bars and restaurants, in addition to the Monument to the Water Carrier and the Republic Monument. It is one of the places preferred by the Turks for gatherings and demonstrations.
Galata Tower
It is one of Istanbul's icons. Galata Tower (internal link) was built in wood in AD 528 and reconstructed in 1348 by the Genoese, who called it the Tower of Christ. There are incredible views of Istanbul from the tower.
Restaurants specialising in Turkish cuisine on Istiklal Avenue
Istiklal Avenue is one of the city's trendy areas where you will find numerous cafés and restaurants for the most demanding palates. Our recommendation is to visit any of them, for example:
1924 Istanbul. This restaurant founded by Russians has a peculiar history since the likes of Agatha Christie, Hemingway and Mata Hari have eaten there. With an impeccable and warm décor, the restaurant will surprise you.
Gálata Restaurant & Bar. This is an ideal place for relaxing and enjoying the intense flavours of Turkish cuisine while listening to live traditional music. The menu has a good quality-price ratio.
Information of interest
How to get to Istiklal Avenue
Istanbul is a well-connected city, so it is easy to get to Istiklal Avenue.
By bus. 129 T, Otobüs – 54E, Otobüs – 73, Otobüs – 92 T
By train. Marmaray
By underground. Line M2.
By tram: Line T1.
By minibus. Dolmuş – Kadiköy – Taksim
Related
plans