Warm places to go for New Year's Eve: Top family-favorite picks
Daydreams do come true. Celebrate the new year in one of these warm winter destinations
Just like birds fly south for the winter, you too can escape the cold and dark for your holidays. As the thermostat drops, it is easy to daydream about warmer climates. From the sun-drenched Caribbean beaches of the Dominican Republic to the volcanic, rugged coastline of the Canary Islands, there are plenty of places where you can avoid getting frostbite this festive season. If you are looking for warm places to go for new years, be inspired by our hotlist of sun-baked destinations that will allow you to welcome in the new year from the beach or the comfort of your all-inclusive hotel in the sun.
Looking for warm places to go for new years? The Dominican Republic has it all
Around 50 years ago, Punta Cana was nothing more than a bumpy dirt road that opened out onto pristine white sand beaches lined with coconut palm trees. Singer Julio Iglesias and fashion designer Oscar de la Renta were among the trendsetters who put this paradise on the map. Today, you can visit the 5-mile-long coastline and swim in its crystal clear waters thanks to the array of fancy 5* hotels that attract crowds with their luxury all-inclusive offerings. What's more, this hot destination for new year lends itself perfectly to a romantic escape without the little ones in tow as well as a full-on, family-friendly bonanza. With so many kids' clubs, watersports, and adventures to go on, kids will be occupied for hours leaving parents the ideal chance to catch up on some well-deserved rest and relaxation.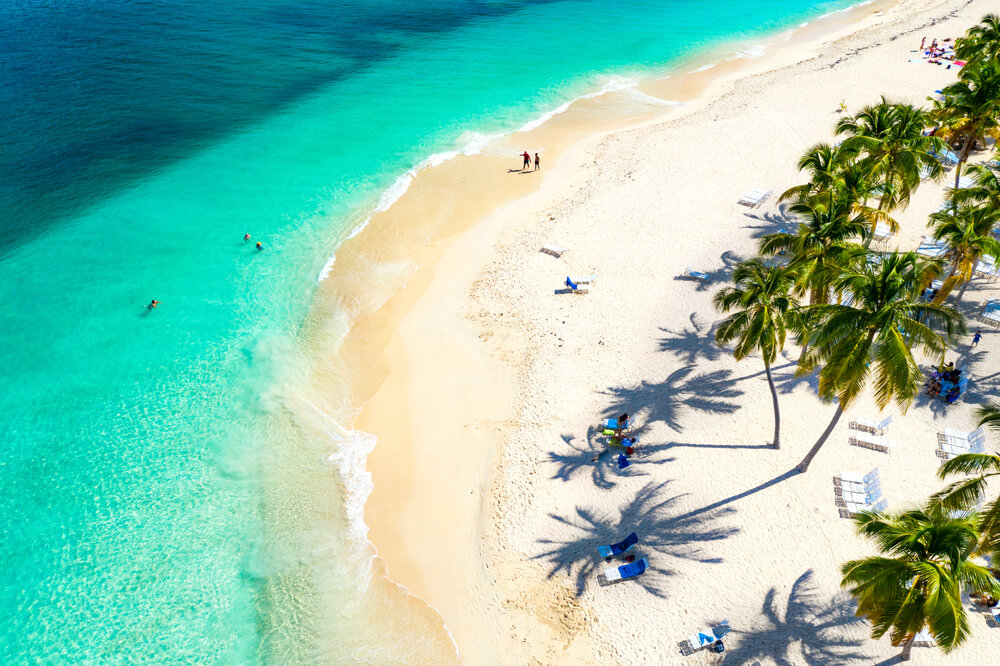 White sand, turquoise sea, and the sound of palm trees swaying in the wind. Is there a better place to spend new years than Punta Cana? 
Warm NYE destinations to add to the list: Cancun
Thanks to its close proximity to major US airports, Cancun is a fabulous New Year's Eve warm destination. Not only is it home to white sand beaches that stretch out as far as the eye can see, but it is also home to some picturesque diving spots. Plus to get you in the party mood, the all-inclusive Cancun beach resorts are likely to put on a celebration to welcome in the new year. If you have kids in tow, a trip to the activity park Xel-Ha is a must.
If you have kids in tow, a trip to the activity park Xel-Ha is a must
Explore the tropical flora and fauna as you walk around the park and if you are hungry for an adventure take to the sky and fly above the treetops on a zipline. History lovers will be able to admire ancient Mayan ruins up close and don't miss out on a trip to the UNESCO World Heritage site Chichen Itza, an ancient Mayan settlement. When you have had your full dose of adventure, rest and relax by the pool or hit the beach to catch your last rays of sunshine of the year.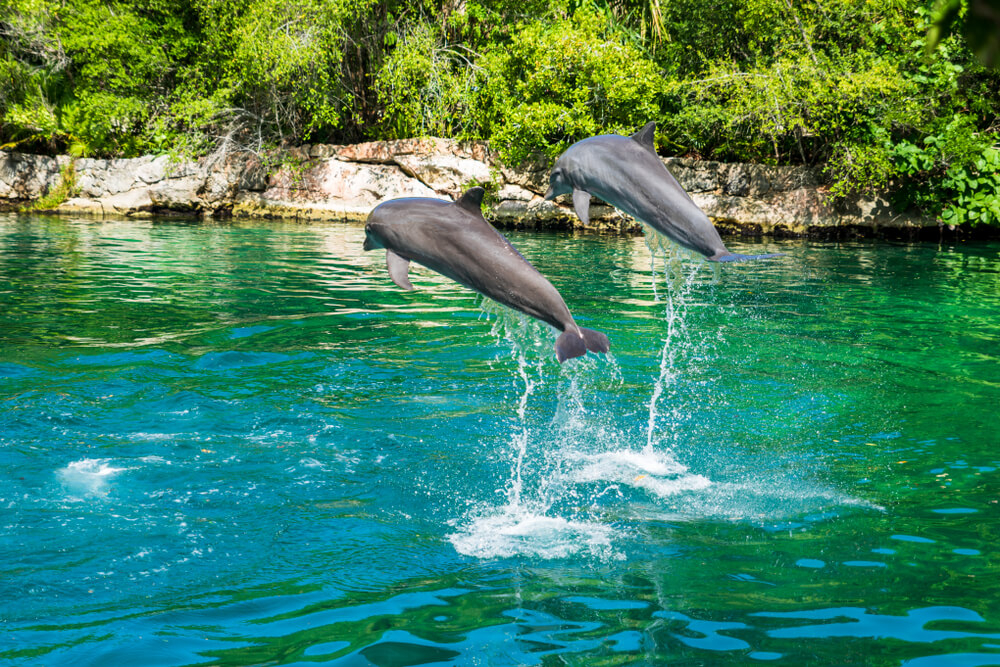 Add Xel-Ha to your list for a fun place to learn about the flora and fauna of Cancun
Warm new year's destinations to explore in Costa Rica
If you are dreaming of warm places to go for new years, then Costa Rica should be on your list. Its balmy temperatures remain high providing a tropical escape for those keen to get away from it all. Yet what makes this one of the best warm places to travel to for new years is the impressive natural scenery. From the take-your-breath-away waves on Playa Tamarindo to the luscious jungle full of exotic flora and fauna, this country invites travelers to embrace their wild side. The best places to stay in Costa Rica for families are by the coast so that little ones can enjoy fun and games on the long stretches of sandy shoreline. Yet, the capital, San José is a hedonistic hideaway for couples wanting to ring in the new year in style. 
The Canary Islands - One of the best warm places to spend new year's in Europe
Located just a stone's throw off the Eastern shores of Africa lies the small group of islands known as the Canary Islands. Boasting a temperate climate that often feels like eternal springtime, these islands are one of the best warm new year's destinations for winter sun holidays. So if you are looking for warm vacation spots for new years, the Canary Islands offers seven idyllic island getaways to choose from. 
So if you are looking for warm vacation spots for new years, the Canary Islands offers seven idyllic island getaways to choose from
Whether it is the cosmic volcanic landscapes of Lanzarote or the sun-kissed shores of Tenerife that catch your attention, this volcanic corner of the world offers a wealth of memories to be made with your family and loved ones. The best time to visit the Canary Islands is during the springtime just before the intense summer season or between September to March when the crowds have left the beach but the sun still sits high in the sky.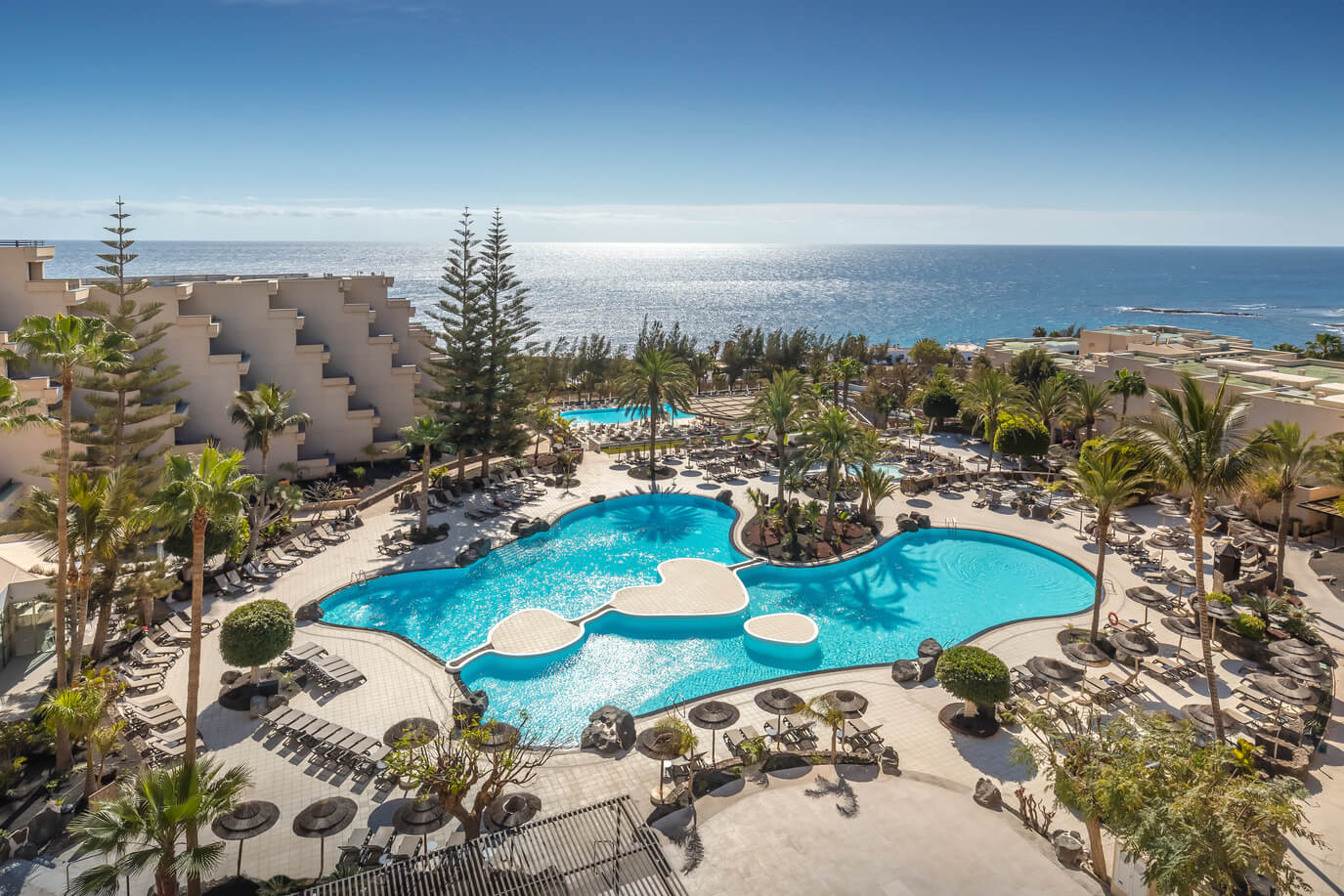 The Barceló Lanzarote Active Resort is a top base for those wanting to explore Lanzarote during new years.
Lanzarote is one of the best warm destinations for new years in the Canaries
If you are looking for warm places to go for new years then Lanzarote is the perfect island to explore. It is often romantically referred to as the 'Land of 1000 volcanos' so it is no surprise that the landscape looks more like a moonscape than a tropical island. César Manrique saw great potential in the barren vistas and in the 60s, transformed the island into a chic, bohemian paradise, free from mass tourism. Which is one of the reasons why it is on our list of hot new year holiday destinations. An unmissable sight and a must-visit while on the island of Lanzarote is one of the many vineyards that sit scattered on the lunar landscape. Due to the high winds, small walls are built around each vine to protect it - an ingenious solution! Of course don't forget to catch some winter sun on the Teguise coast, a hot white sand paradise with gentle ocean waves located next to the family-friendly Barceló Lanzarote active resort. 
Discover warm places to spend New Years' Eve as a family in Fuerteventura
If a beach break is what you are after, then Fuerteventura is one of the highly recommended warm places to go for new years. It is also one of the best family-friendly destinations for sports lovers thanks to the abundance of adventure activities available to try. Surfing, sailing, hiking, and cycling are all popular amongst tourists and locals alike and make wonderful activities to try while staying at this New Year's Eve warm destination. If sunbathing and exploring is more your scene don't miss a trip to the 'Popcorn beach', aptly named after the popcorn-like formation of the sand made from coral. Finish off your travels with a trek through the Dunas de Corralejo National Park where mountains of soft sand will make you feel as if you are traveling through a desert landscape. Then, to top this all off, head to one of Fuerteventura's all-inclusive hotels for a well-deserved rest.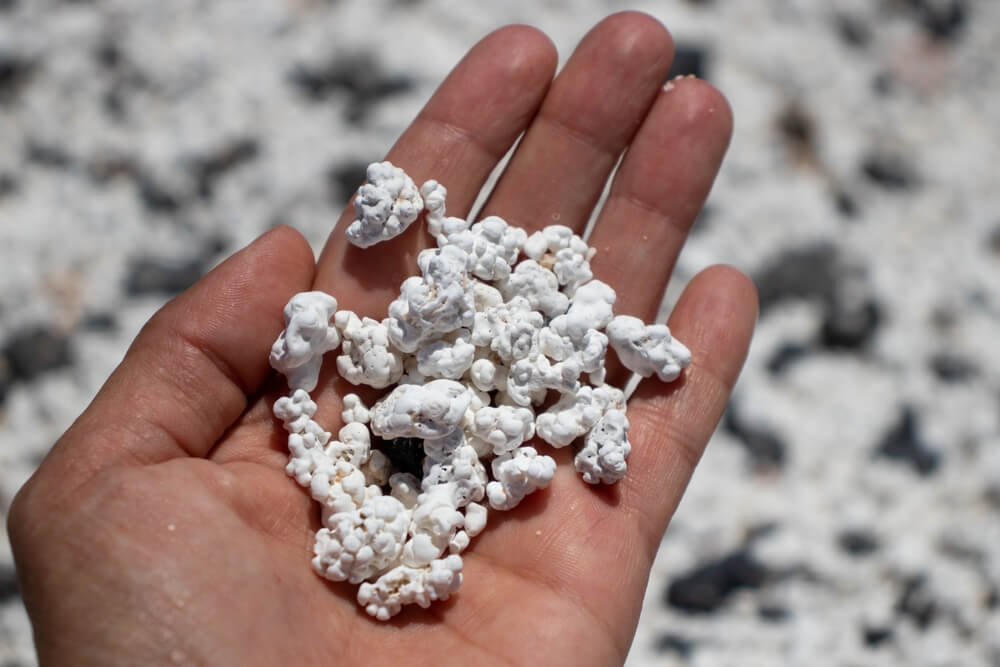 Uncover the curious nature of Popcorn Beach in Fuerteventura and discover how this beach got its name.
Uncover warm NYE destinations in Tenerife
From north to south, Tenerife is blessed with idyllic and warm places to celebrate new years. It is considered to be one of the best warm places to go for new years in Europe as it provides endless places to explore for all the family. Venture to El Teide, an active volcano and experience clear night skies made for star gazing. If watersports are more your idea of fun, the beach of El Medano is famous for its surfing, windsurfing, and kitesurfing conditions, so much so that the windsurf world championships are held here every year. The island is not short of relaxing spa hotels in Tenerife where you can let all of your tensions melt away before enjoying the island's rich gastronomic scene, bursting with color and flavor. The local wine is delicious and a trip to a winery offers invaluable insights into the island's strong links with the UK.
So, whether you decide to stay stateside during the holidays or you venture off in search of warm places to go for new years, the possibilities of where to spend your vacation are endless. Explore new horizons and put your language skills to good use with an adventure in the Canary Islands or enjoy a Caribbean Christmas. Whatever you choose, we believe there is no better way to begin a new year than as you mean to carry on… with lots of travel!