10 Boa Vista beaches for beach lovers of all ages
Whether you are into surfing, diving or a lazy afternoon of sunbathing, Boa Vista's beaches are the place to be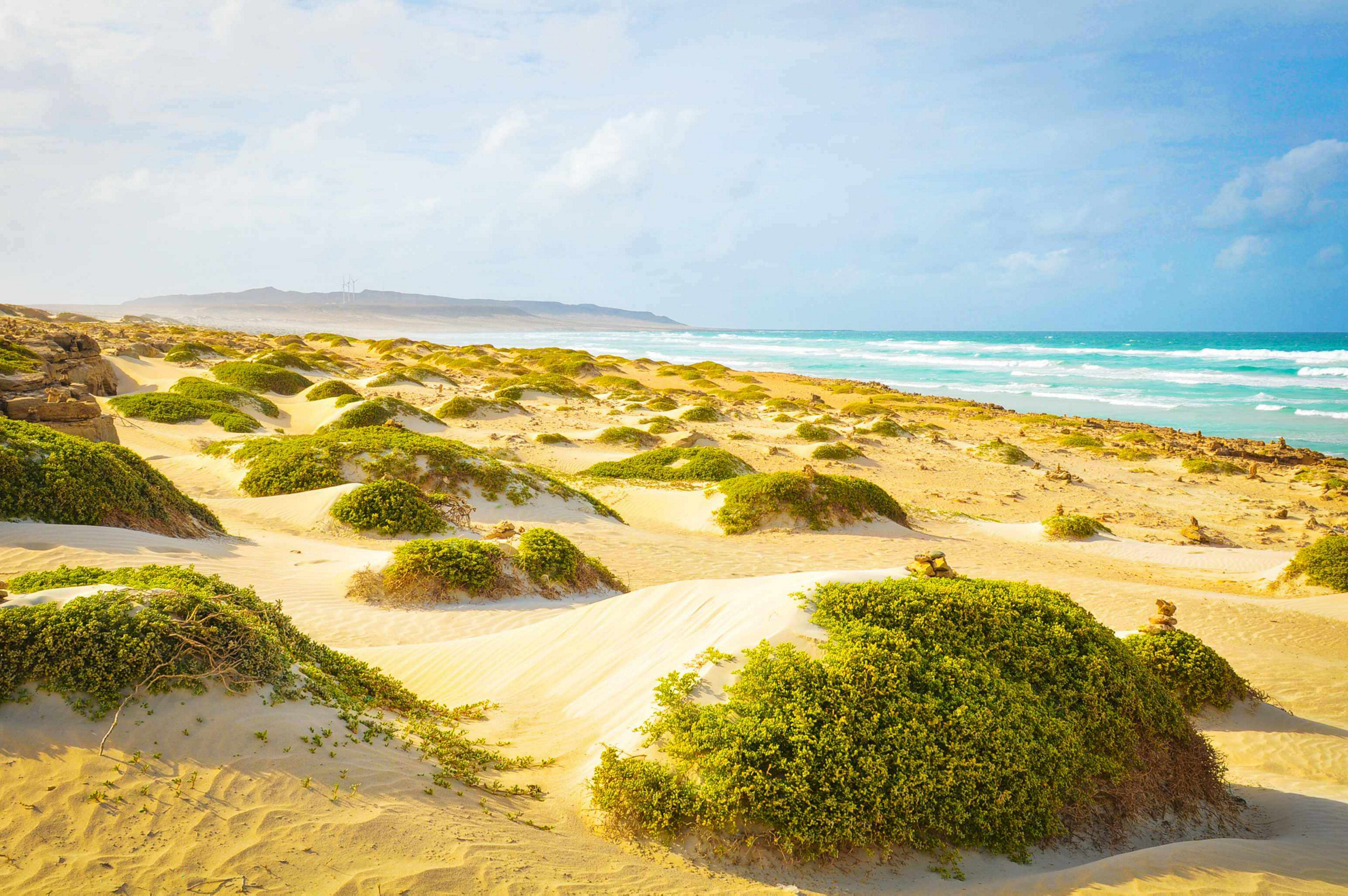 Determined to give the Canary Islands a run for their money, Cape Verde is captivating the minds of travellers keen to enjoy breathtaking vistas and all-year-round sunshine. With towering dunes just waiting to be explored, sea turtles that nest on the island's shores and crystalline waters that are a route for migrating humpback whales, there is no end to Boa Vista's charm. With so many spectacular stretches of shoreline to choose from, take a look at our pick of the Boa Vista beaches for your next escape.
This up-and-coming archipelago is strategically located south of the Canaries, off the shore of Northwest Africa. Home to 10 volcanic islands, Cape Verde forms part of the Macaronesia ecoregion along with Madeira, the Azores and the Canary Islands. Boa Vista, the third largest island, just 620 km in size boasts 55 km of secluded sandy shoreline which has quickly been pinpointed by beach lovers as an ideal winter sun destination.
When is the best time to visit Boa Vista?
Boa Vista boasts an enviable climate which makes it a dream destination to visit throughout the entire year. Its dry, tropical climate and low rainfall ensure that every day is a beach day. Yet, to get the best out of your Boa Vista holiday, planning your trip between January and June is wise. Temperatures soar in September when a strong 31°c is not uncommon. In contrast, the winter months offer a respite of 24°C which is ideal for exploring the island's landmarks such as the Viana Desert or the inviting Museu dos Naufragos cultural centre. 
Boa Vista Beaches for all occasions
From the breathtaking vistas of Praia de Sal Rei to the famous Praia Atalanta, there is a beach for everyone. While away a few hours listening to the waves lapping against the shore or battling the waves on a surfboard. With nothing but a vast expanse of the Atlantic Ocean separating the archipelago from the Caribbean, currents and large waves are to be expected. However sheltered coves and beaches with expertly crafted breakwaters ensure that even the youngest of holidaymakers can enjoy a relaxing day at the beach. Discover the best Boa Vista beaches to visit on your next island getaway. 
1. Santa Monica Beach - sunbathe on award-winning Cape Verde beaches
Santa Monica Beach, Boa Vista has spent two consecutive years on the Tripadvisor Travellers Choice Awards list of the "Best beaches in the world". Yet what makes Praia Santa Monica so unique is its pristine, undeveloped nature. It is easy to feel like you have the beach to yourself. It's fine, paper white sand stretches for as far as the eye can see, interrupted only occasionally by a tree or a neighbouring sun worshipper. Due to the beach's remote nature, it is best to travel here by 4x4 or quad and pack plenty of water and SPF since there is very little shade.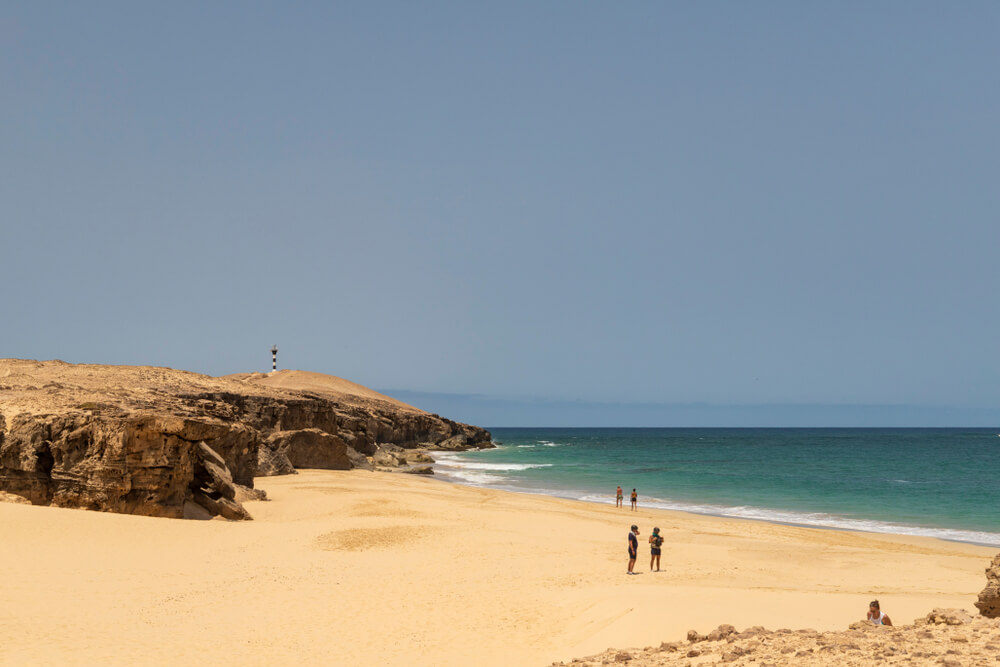 Santa Monica Beach
2. Praia do Estoril - ideal for families
Sandcastles, picnics on the sand and a refreshing dip in the sea- that's what school holidays are made of. If you travel to Boa Vista with kids, day trips to the beach are a wonderful way to keep little ones occupied.
Praia do Estoril offers the ideal sandy setting for a kid-friendly beach day. White sand stretches for as far as the eye can see, interrupted by the topaz blue Ocean lapping against the shore. The beach offers a lifeguard service ensuring a safe and relaxing experience for all. Additionally, bathrooms, beach loungers and umbrellas are also available for beachgoers. 
The beach is never too crowded so little ones can play freely, enjoying the natural beauty of the island as parents relax, soaking up the warm island sunshine
The beach is never too crowded so little ones can play freely, enjoying the natural beauty of the island as parents relax, soaking up the warm island sunshine. If you are keen to explore the surrounding area during your Boa Vista holidays, the Santa Isabel Church is around the corner and many hiking routes boast fantastic coastline views.
An interesting fact about Praia do Estoril is that this stretch of sand is a nesting spot for loggerhead turtles. During nesting season, you may be lucky to witness the rare sighting of baby turtles making their journey into the sea. 
3. Praia das Chaves - surfing in Boa Vista, Cape Verde
Famed for having some of the "best waves in the world" Boa Vista Island offers surf adventures for experts and beginners alike. World-class surfer, Jamie O'Brien from the North Shore, Hawaii is a frequent visitor to Boa Vista's beaches.
If you are keen to experience the exhilarating force of the Atlantic Ocean, Praia das Chaves is an ideal spot for surfing in Boa Vista. This beach is one of the busier beaches in Boa Vista and a popular bathing spot for tourists yet there is ample space for all to enjoy this natural paradise. Whether you are looking to catch the waves on a surfboard or practice kitesurfing, Praia das Chaves boasts the ideal conditions.
Beginners can learn basic skills in the flat waters of the mangrove lagoon and for more experienced surfers the 1.5-3 metre waves just 300 metres across the shore provide a tempting challenge. And, thanks to the trade winds, there is a constant supply of wind (between 16-28 knots) ensuring a variety of waves. After a day fighting the waves, explore the Morro de Areia dunes, just a stone's throw from the beach. 
Praia das Chaves
4. Praia de Sal Rei - the best beach in Cape Verde for swimming
Nestled away just south of the island's capital, Sal Rei, Praia de Sal Rei is voted by locals and travellers alike as the best spot for swimming on the island. It is one of the smallest of the Boa Vista beaches, measuring a meagre 1 km in length yet what it lacks in size it makes up for in sun-drenched sands. The beach is protected from the trade winds and because of this, the beach boasts gentle waves and ideal swimming conditions for all ages.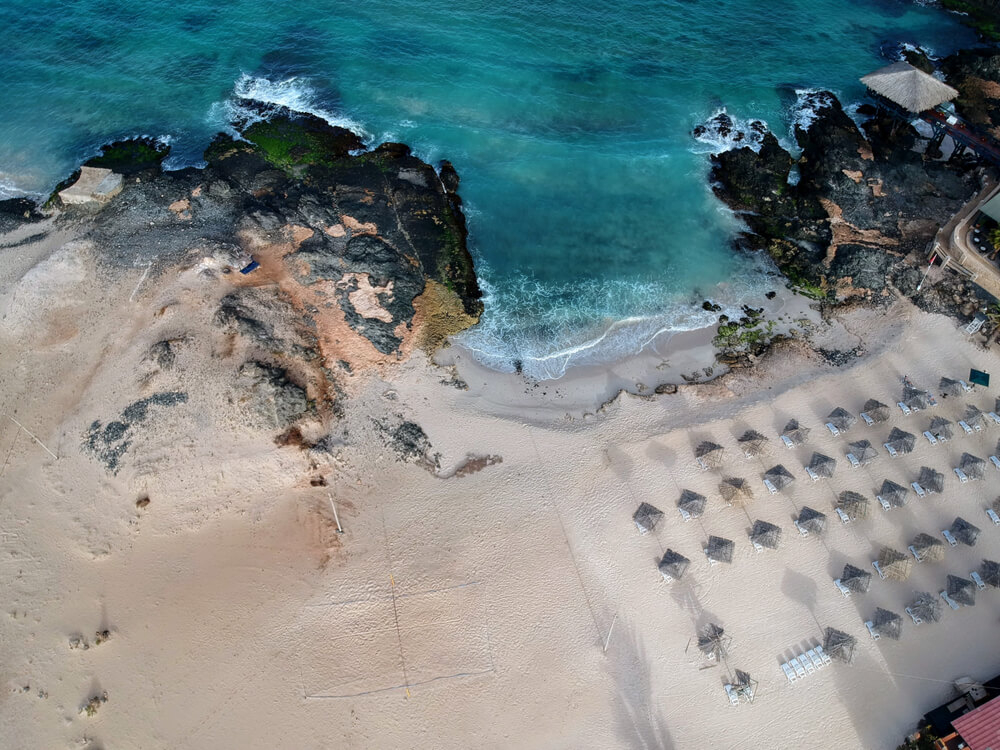 Praia de Sal Rei
5. Praia de Atalanta - shipwrecks, sandcastles and snorkelling
No Paradise Island is complete without its tantalising tales of shipwrecks. Boa Vista is not alone and in the north of the island, Praia de Atalanta has become an emblematic landmark thanks to the famous Spanish cargo ship that ran aground here on September 1st 1968. The ship was carrying important gifts from Argentina and Brazil for the Spanish dictator General Franco. The beach forms part of the Boa Esperança Nature Reserve and its pristine surroundings offer the ideal conditions to enjoy a Boa Vista snorkelling experience. Expect to see lobsters, scorpion fish, eels and if you are lucky, nurse sharks.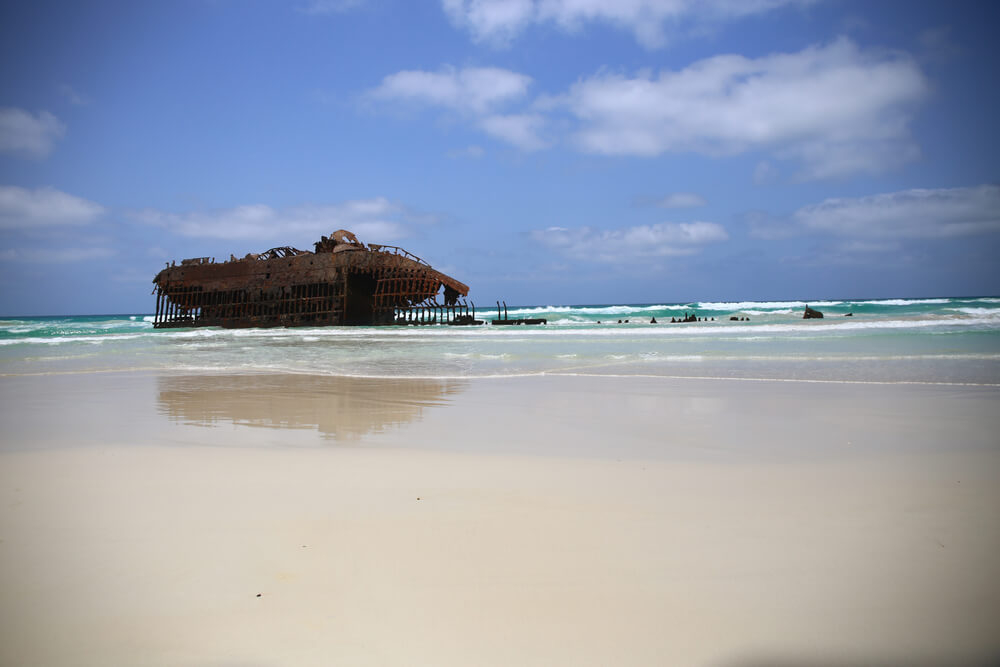 Praia de Atalanta
6. Bahia Beach, Boa Vista - best for sipping sundowners at the beach bars
There is nothing more relaxing than soaking up the sun's rays from the vantage point of a beach bar. Bahia Beach, also known as Carlota Beach is the go-to destination on the island for those on the hunt for island rhythms washed down with a delicious cocktail. Cape Verde is known as the Caribbean of Africa thanks to the eclectic mix of South American, African and Portuguese influences that meld together to give these islands their charm. Just like the majority of the Boa Vista beaches, this stretch of sand is surrounded by breathtaking natural views. If you end up dancing the night away at one of the beach bars, remember to look up and admire the night sky. Thanks to the minimal light pollution you will be able to see a blanket of stars.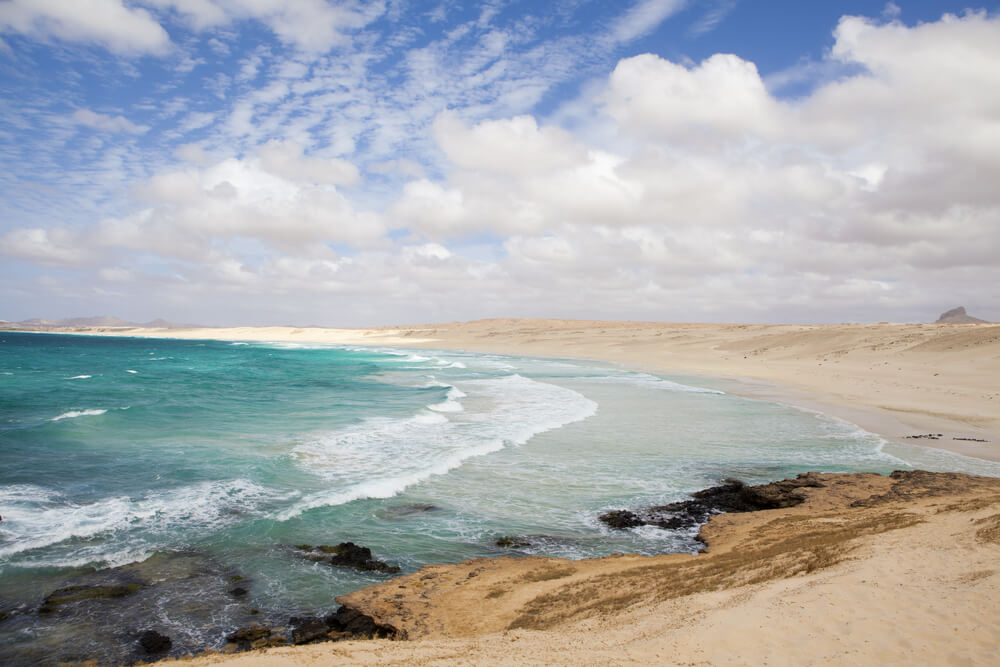 Bahia Beach
7. Ervatao Beach, Cape Verde - home to the Turtle Nature Reserve
For those keen to get involved in regenerative tourism activities while on their travels, Ervatao Beach is the place. Known for its spellbinding beauty and chilled-out vibes, this largely undeveloped beach is home to the Turtle Nature Reserve. 
Known for its spellbinding beauty and chilled-out vibes, this largely undeveloped beach is home to the Turtle Nature Reserve
In this protected area, NGOs collaborate to protect the native turtle population which uses the beach as a nesting ground. Get involved in one of the many local schemes and help protect this spectacular species while enjoying the Boa Vista beaches.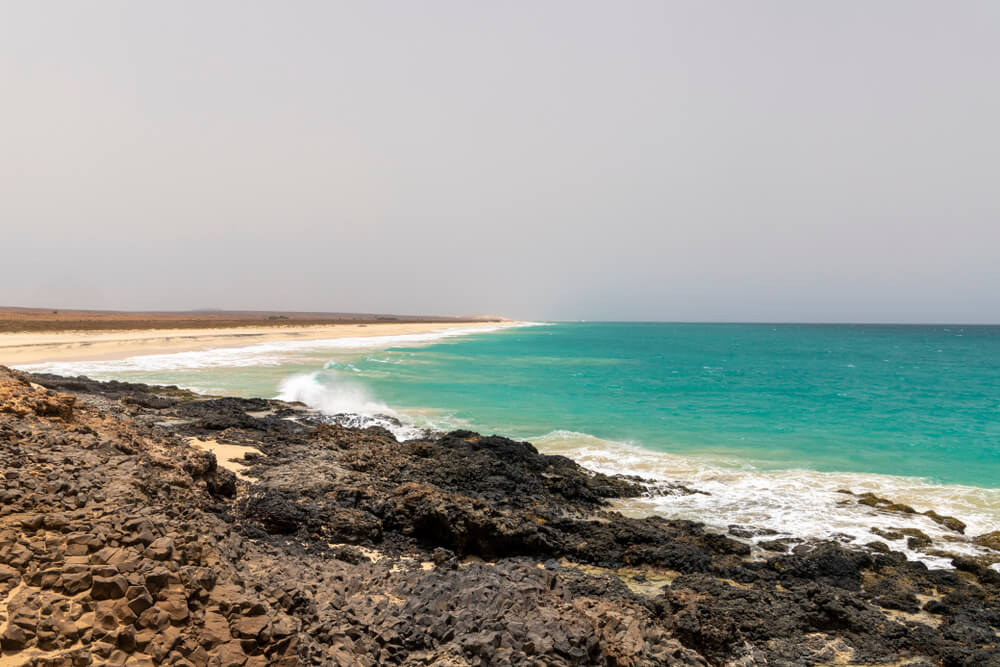 Ervatao Beach
8. Praia de Cabral - ideal for those with mobility issues
Located close to the city of Sal Rei, Praia de Cabral is an ideal spot for those seeking an easy-access beach that doesn't compromise on natural beauty. This expansive coastline boasts crystal turquoise waters and golden sands, eliminating the need for special footwear. Accessible to all, Praia de Cabral offers amenities such as loungers and umbrellas, a beachside restaurant, and bathroom facilities. Entry to the sea is also gradual making it the perfect place for young and old to enjoy a refreshing dip.
9. Praia das Gatas - the perfect spot for a romantic stroll
Whisk your loved one off on a romantic getaway to the paradisiacal Boa Vista beaches. Praia das Gatas, located in the northeastern part of the island provides an idyllic setting for spending some quality couple time. To make this moment special, head to this untouched stretch of sand towards the end of the day when the last remaining rays of sunshine paint a kaleidoscope of colours in the sky. Enjoy a sunset stroll across the vast beach or, if you are keen to explore what lies beneath the topaz waters, this beach is home to a beautiful bloom of corals on the sea bed.
10. Shark Bay - great for boat trips in Boa Vista
Imagine being able to swim with sharks while enjoying your holidays. Boa Vista is more than just a chic European winter sun retreat. This island is home to some incredible wildlife and as the name suggests, Shark Bay is a great destination to spot marine life. This secluded cove is a natural nursery for lemon sharks, a near-threatened species of shark and it is possible to see baby sharks swimming around you as you paddle in the shallow waters. Be warned, to reach the shoreline you have to cross a rocky beach which can be uncomfortable underfoot so it is worth bringing water shoes with you if you plan to visit.