The Amazing Flavors of the Yucatán Peninsula
The regional cuisine of Mexico's Yucatán Peninsula is diverse and delicious. Discover some authentic Yucatan Cuisine on your vacation!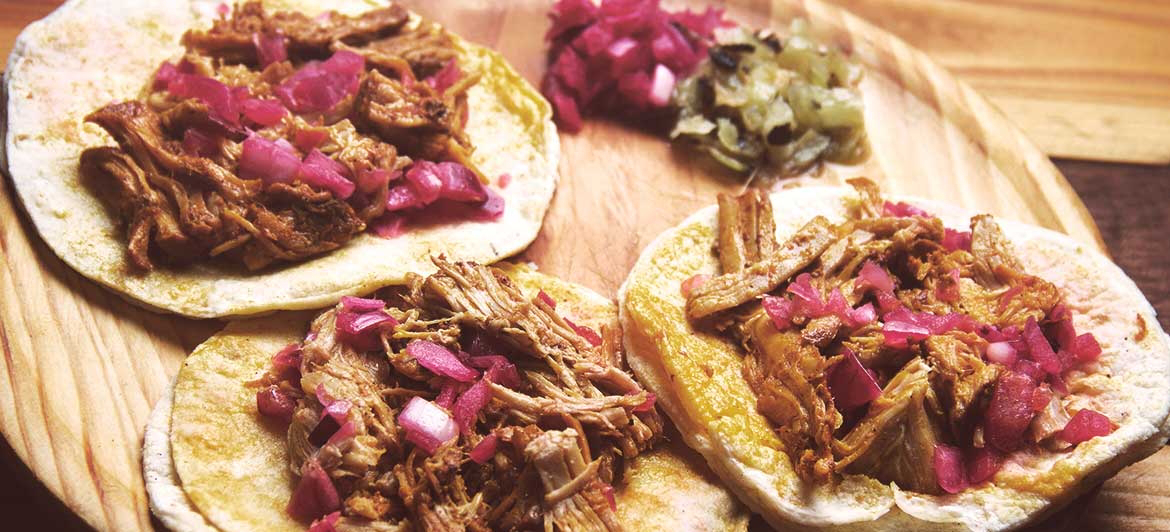 The regional cuisine of Mexico's Yucatán Peninsula – commonly known as Yucatecan cuisine – is a diverse and delicious blend of an array of influences. The traditional flavors and recipes of Yucatán Cuisine borrow from ancient Mayan approaches, European techniques, Latin American ingredients and much more. For the adventurous and open-minded eater staying at the 24-hour all inclusive Barceló Maya Grand Resort (home to six resorts including the brand-new Barceló Maya Riviera, an all-suite, adults-only paradise), don't miss the chance to enjoy these amazing flavors. Here are just a few dishes to try.
Barbecue – Yucatán style! A traditional Mexican slow-roasted pork dish, Cochinita Pibil is a Yucatán Peninsula staple. Those expecting spiciness should look elsewhere – Cochinita Pibil has a uniquely sweet taste, thanks to the oranges, achiote, charred garlic and spices used in the marinating process, as well as the aromatic banana leaves in which the meat is roasted. The tender, flavorful pork that results from this age-old process is out of this world.
Where to try Cochinita Pibil: Taquería Honorio in Tulum may look like an unassuming, no-frills spot at first. But the flavors you'll encounter here are more than enough. The specialty here is the slow-roasted cochinita pibil, a traditional Mexican slow-roasted pork dish.
Make Cochinita Pibil at home: Check out Mexico In My Kitchen's delicious recipe.
Tamales and Mexico go way back. There are indications that the dish was being made by indigenous peoples as far back as 8,000 BC. This classic, hearty recipe remains a major part of Yucatán cuisine. There are dozens of varieties to try on the peninsula, but if you have to narrow it down, go for tamales colados. These tamales are so smooth they have been likened to pudding – a delicately delicious cuisine experience to be sure.
Where to try Tamales Colados: El Fogon on Playa del Carmen's La Quinta Avenida (5th Avenue) is world famous for its tacos. But it also serves some of the very best tamales in Riviera Maya.
Make Tamales Colados at home: Check out Rick Bayless' recipe for tamales coladas with chicken and achiote.
The fresh bounty of the sea is an essential part of the Yucatán diet – and it doesn't get much fresher than ceviche. This appetizer is made up of freshly caught raw seafood (usually prawns, white fish or a combination), marinated in citrus juice to cure – or "cook" – it and then served with a number of accompaniments: red chiles, sliced tomatoes, coriander, ají or chili peppers. A very necessary Yucatán experience.
Where to try ceviche: A Tulum favorite, El Camello, Jr. is a must-visit for seafood lovers – and it is beloved for its incredible ceviche.
Make ceviche at home: Food & Wine has a fantastic recipe for ceviche – try making it at your next gathering!
Sopa de Lima – lime soup – is a favorite up and down the Yucatán Peninsula. The soup is essentially a chicken soup, but with a citrus zing that gives it an amazing kick. Like a lot of traditional dishes in the region, there are countless variations, but it's perfect with some tortilla strips for an added crunch and banana peppers for a little heat.
Where to try Sopa de Lima: Playa del Carmen restaurant La Cueva del Chango serves an amazing Sopa de Lima, with chicken breast chunks, bell peppers and onion, served with caramelized "habanero" chili and fried corn tortilla strips.
Make Sopa de Lima at home: Make your own Yucatán-style Sopa de Lima by using this Serious Eats recipe.
Yucatán comfort food! Papadzules is a classic dish that goes back to the Mayans. It couldn't be much simpler – egg-filled tortillas smothered in delectable pumpkin seed and epazote broth. You'll find locals and visitors alike digging into a plate of Papadzules in cantinas and restaurants all over the Yucatán. Don't miss your chance to join them.
Where to try Papadzules: The Playa del Carmen restaurant El Faisan y El Venado is one of the best places to try some authentic Papadzules.
Make Papadzules at home: Try the Epicurious Papadzules recipe – it's a winner.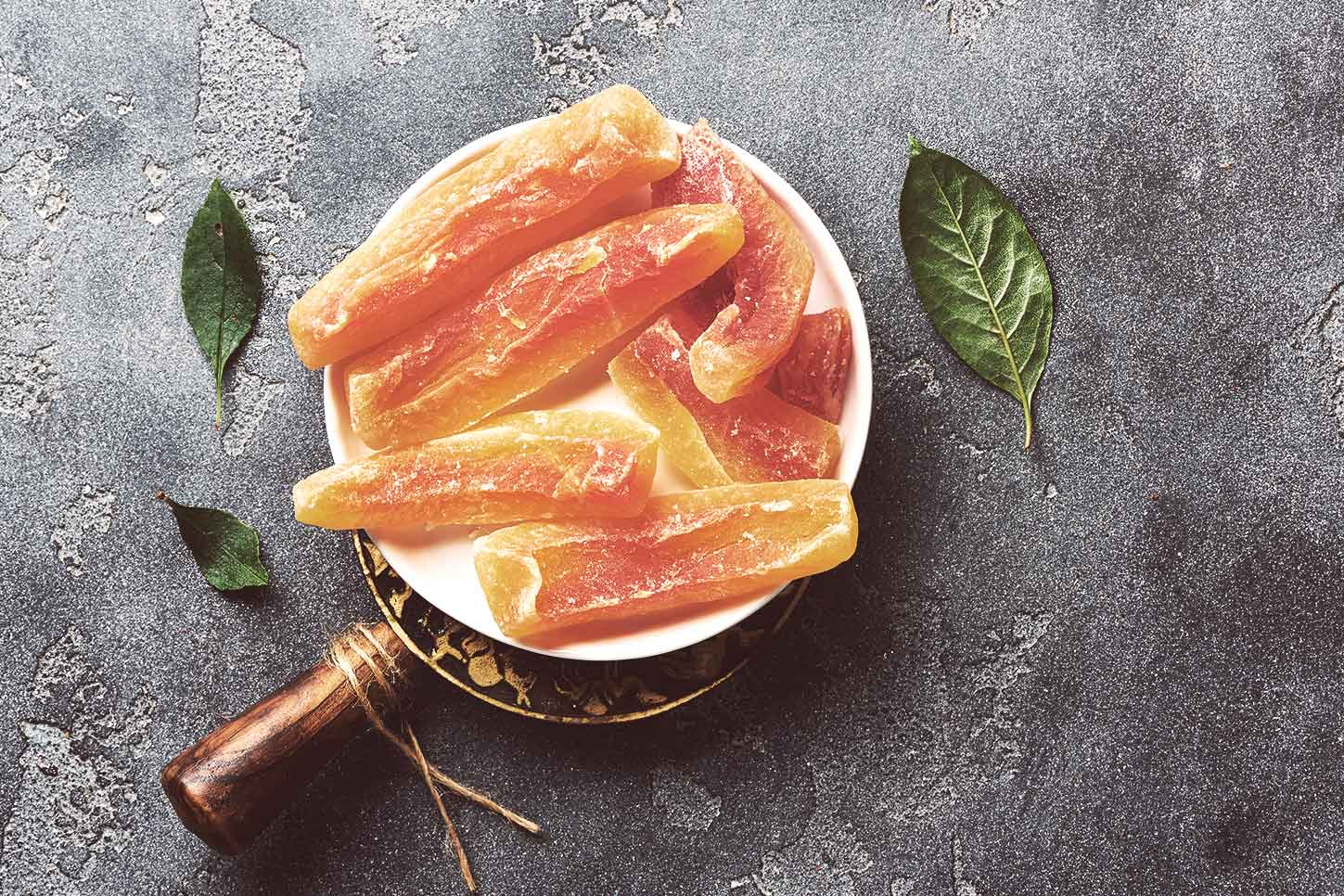 If you want to try a beloved Yucatán Peninsula dessert, you can't go wrong with Dulce de Papaya. Papaya is pretty much everywhere you look in the region, often growing wild, and as a result it's a primary ingredient in many dishes, including this sweet treat. Green papaya is candied by soaking it in lime juice and then caramelized with sugar, resulting in a gummy fruit flavor experience unlike any other – especially when served with shredded Edam cheese.
Where to try Dulce de Papaya: Kinich Restaurant in Tulum serves a delicious Dulce de Papaya. And the queso is amazing, too. Just saying!
Make Dulce de Papaya at home: The Tasty Kitchen's Dulce de Papaya recipe will have you enjoying this Yucatán treat in no time.
Of course, this is just the beginning of your adventures in Yucatán cuisine. To learn more,
find out how to eat and drink your way through Riviera Maya
.