Design your perfect
romantic getaway in Almeria
In Almeria, where the land and sea are in a constant embrace, there are a plethora of things to enjoy with your significant other. It's not necessary to head to the crystalline waters of the Caribbean to make your declaration of love, as the province of Andalusia has plenty of hidden corners that will take your breath away. Design your perfect getaway with some of these romantic ideas. 
A romantic stroll around Almeria's
Alcazaba
Atop St Christopher's mount stands the majestic Alcazaba de Almería, which was one of the largest and most important citadels constructed by the Al-Andalus. Its walls protect almost a thousand years of history, legends, battles, and, of course, passionate love stories. Apart from being a fortress, the Alcazaba was also the king's palatial residence, where he stayed with his entourage. You can still feel the majesty of the location when you walk in the gardens and courtyards.  
It is from the walls and towers, however, that you will see the most breathtaking views of the city and fortress, especially when the last rays of sunshine strike the red stone walls.  
Legend has it that during the reign of King Almotacion, one of his Christian prisoners, held in the Alcazaba's jail, became enchanted with Galiana, the king's favourite concubine. Each day, she would brush her hair on her window sill, listening to the songs that the prisoner's heart poured out to her. Eventually, Galiana fell in love and would sneak out each night to visit the prisoner. When the king found out, Galiana tried to help her lover escape by climbing down the side of the tower. Alas, the guards found out and the prisoner preferred to let go of the rope and fall to his fate than to be thrown once more into his cold cell. Galiana, who witnessed the entire tragedy is said to have died of a broken heart.  
Free cancellation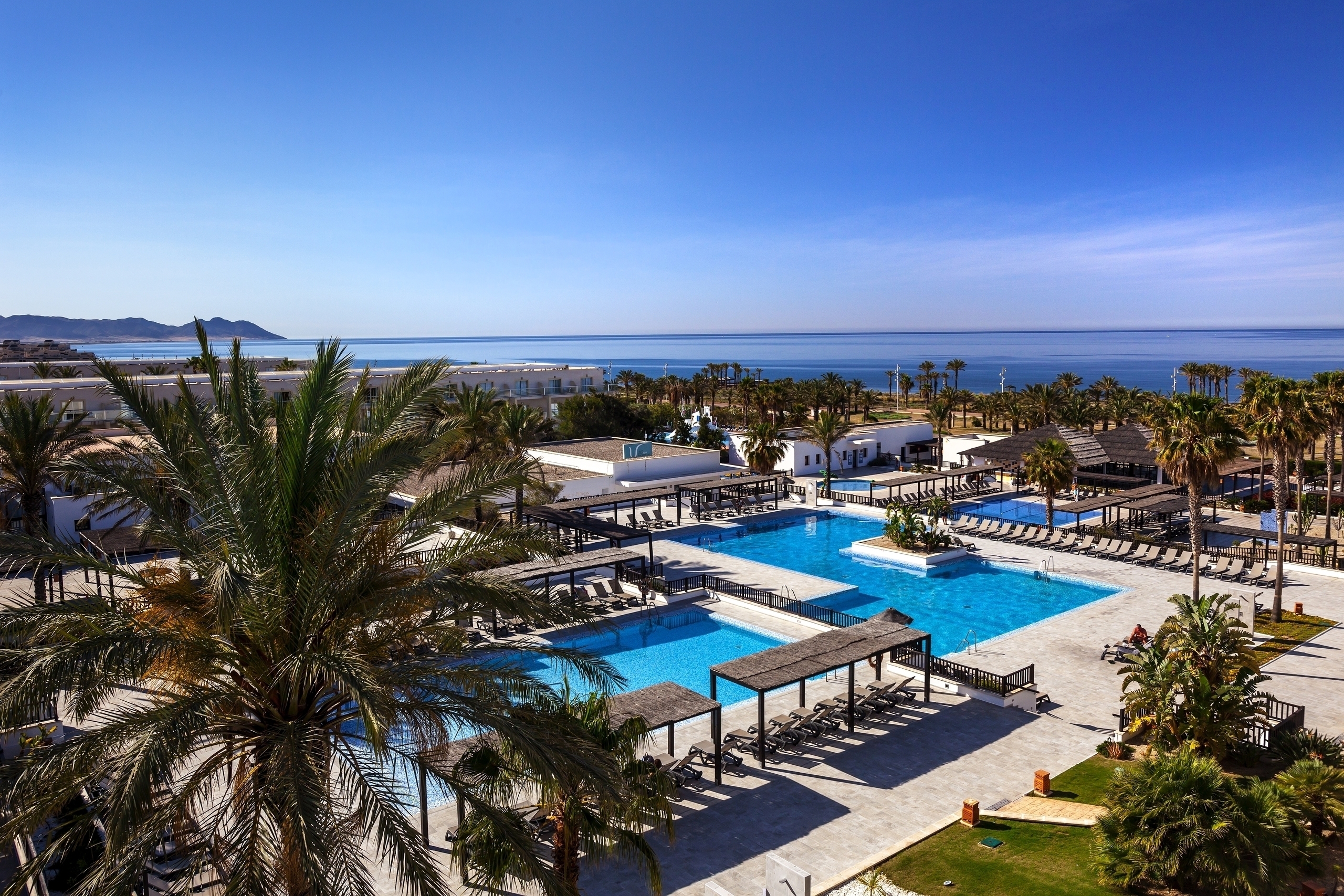 Cabo de Gata-Níjar Natural Park
The Cabo de Gata-Níjar Natural Park, with its beautiful landscapes, beaches and villages, is enough to make anyone fall in love. The cliffs that stand tall on its coastline and its magical waters offer the perfect place to spend time as a couple and do some fun activities like sailing, paddle boarding, canoeing or, for those intrepid few, diving. While in the park it is a must to watch the unforgettable sunsets from the Cabo de Gata lighthouse or The Mermaids' Reef (Arrecife de las Sirenas).  
The park, which is characterised by its mystical and wild appearance, has plenty of coves and hiking trails to discover while on your romantic adventure. The area has also been the filming location for a number of films and series like Cleopatra, Lawrence of Arabia, Indiana Jones and the Last Crusade, Vis a Vis or the fabulous music video for Ave Maria, sung by David Bisbal, which was filmed on Monsul beach.  
Barceló Cabo de Gata Spa, relax as a
couple
There aren't many better plans than enjoying a relaxing day with your loved one complete with massages, and a full spa treatment at Hotel Barceló Cabo de Gata . The day becomes even more worthwhile as this complex is on the beachfront, with its modern and luxurious facilities completely surrounded by palm trees.  
This hotel, at the gates of the Cabo de Gata-Nijar Natural Park, not only has rooms with a sea view and four outside pools, but also it offers hydrotherapy circuits and advanced beauty treatments at its U-Spa.  
Roquetas
de Mar
The coastal municipality of Roquetas de Mar lives and breathes at a slower rhythm than the rest of Spain. It is a delight to walk its labyrinthine streets and visit it small bars, cafes and restaurants. Equally enjoyable is the act of sampling the local cuisine or visiting the small shops and workshops to buy an original souvenir.  
In the same municipality you'll find the Punta Entinas-Sabinar coastal nature reserve. Here, you can stroll along the beaches, and among dunes, pools and salt lakes, all the while witnessing the sights and sounds of the migratory birds like flamingos, storks and herons, which visit the reserve.  
The
Almerian
Alpujarra
Almeria is a land of verdant pastures, where streams meander across it before cascading over one of its many waterfalls. In its fertile ground, kilometres upon kilometres of fruit trees become fully laden and delicious vegetables sprout from its earth. At almost 1000 m above sea level, you'll find the capital of the Alpujarra Almeriense, Laujar de Andarax. This is a tiny, charming village with narrow and steep streets, where you'll see the locals meeting in its small squares to while away the hours, chatting about their days.  
To get to know this area, we recommend that you take a trip by car through the humble and picturesque towns which are scattered throughout the mountains. You should definitely make time to see the historical Victoria, Fondon, Beires and Canjayar fountains. Moreover, a visit to the Canales de Padules is unmissable. In this natural paradise, you'll be able to refresh yourself in its many pools or waterfalls or just go for a hike in this luscious environment.  
A romantic night: the
Calar
Alto Astronomical Observatory
The Filabres mountain range is an incredible landscape which boasts one of the darkest night skies in all Europe. It is here that you'll find the Calar Alto Astronomical Observatory. Until recently, the observatory was only accessible to researchers and academics. Today, however, the tour group Azimuth offers guided visits to the site, as well as coupling these trips with fine dining, adventure travel, archaeology and historical tours. Combine these ingredients and you have the makings of a truly starry-eyed night.  
Enjoy a Romantic Meal in Almeria
Finding a restaurant that will provide you with a truly romantic setting is no easy task if you don't know the city. With hundreds of places on offer, reading through reviews online can cause quite the headache, so, to make it a little easier, here are some of our favourite restaurants in Almeria. 
Salmantice is a restaurant which serves Mediterranean cuisine and it stands out for its modern style, its quality ingredients and its delicious flavours. We recommend that you make a reservation in advance as this is one of the most popular places in the city and it is always full.  
If you prefer Italian food, then Stanley & de Marco is the perfect spot for you. The soft lighting, candles and accompanying live piano music create a magnificent atmosphere, where you can lose yourselves in the moment.
However, should you wish to truly dive into the historical past of the city, then a Moroccan restaurant is an excellent option. The Almedina Teahouse has its own Arabic styled courtyard and their delicious and aromatic dishes will take you on an unforgettable journey of the senses.
Related
plans