Redes Natural Park:
an unexplored corner of Asturias
Imagine a place where glacial valleys, karst caves, jagged peaks and verdant meadows converge with sparkling rivers and thick forests of beech and oak trees that stretch for miles on end.  Located in the central eastern region of Asturias, Redes Natural Park offers exactly that – a unique landscape of sharp contrasts whose striking beauty and ecological value has warranted such designations as UNESCO Biosphere Reserve and Special Protection Area for the conservation of wild birds.
Redes Natural Park isn't just about raw natural beauty. Ancient villages with traditional thatched stone cottages can be found throughout the park, nestled in the municipalities of Caso and Sobrescobio. Choose from over different 40 hiking trails and set out from the charming villages of Caleao, Tarna or Bezanes. The vast selection of trails is by far one of the best features of this area.
The area boasts limited, but top-notch lodging, ranging from mountain refuges to rural holiday cottages and apartments, where you can enjoy the local cuisine. Follow us to discover the ins-and-outs of this lovely natural park.
Free cancellation
Hiking through the Redes Natural Park
While Redes Natural Park may not be the most extensive of parks, its 42 official trails cover a total distance of 200 km. Together with the spectacular juxtaposed landscape, this makes Redes the ideal setting for outdoor sports such as hiking, mountain biking and horse riding. Whichever trail you decide to take, you are promised a unique experience. Here are some of our favourites:
Ruta del Alba (PR-AS 62): Running along the Alba River, this former mining trail was declared a Natural Monument and is part of the Special Protection Area for wild birds. The short, 6-km trail begins in the tiny village of Soto de Agues, in the municipality of Sobrescobio. Easily hikeable, you'll be treated to the natural park's singular beauty: one side of the trail is lined with leafy beech and lime trees, and verdant mosses, while pure mountain water runs along the other side, forming pools, waterfalls and rapids. Along the way, you'll see relics of past lifestyles, such as a wash house, a hunting hut and watering holes.
Ruta del Desfiladero de los Arrudos (PR-AS-61): This 23-km trail begins in the village of Caleao, in the municipality of Sobrescobio, and runs along a gorge and river that go by the same name, from Ubales Lake to Felguerina. This quaint hamlet is huddled in the mountainside and houses horse stables. Why not go for an incredible ride through the park on horseback?
Ruta de la Vega Brañagallones: Last but not least, this gorgeous 10-km uphill trail begins in the village of Bezanes and meanders through lush forests and rolling meadows. It also affords some of the most representative architectural treasures of the central eastern region of Asturias. These ancient stone huts provide picturesque views of the majestic Monasterio River Valley, a remarkable example of an ancient glacial lake. You'll be rewarded at the end of the hike with the meadow paradise of Vega de Brañagallones, located 1,200 m above sea level. There, you'll find the Brañagallones Mountain Refuge, a remarkable mountaineering facility, offering lodging, activities, workshops, hikes and climbs.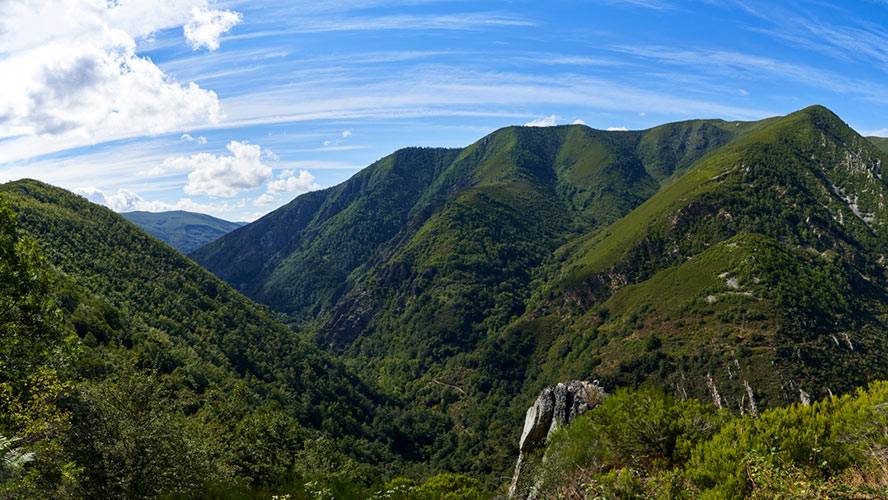 History and culture at the heart of Redes Natural Park
Hiking the countless trails is not the only activity Redes Natural Park offers – there are fascinating museums and interpretation centres located throughout the area. Why not pay a visit to the MUMA, the Asturian Museum of Wood and Timber in Veneros? Housed in a 16th-century Asturian-Baroque style building, this museum offers an insightful look at the important role wood and timber played in the region. Discover the types of wood and the traditional wood-cutting tools used to make artisanal handicrafts, such as the traditional Asturian wood clogs.
If you'd like to learn more about the area's flora and fauna, head to the Centro de Recepción e Interpretación de la Naturaleza, an interpretation centre located just on the outskirts of the picturesque village of El Campu. This gateway to the park provides visitors with comprehensive information on the park's hiking trails, remarkable geology, and flora and fauna.
If you are still curious about Asturias' abundant natural resources, head to the Casa del Agua in Rioseco, the capital of Sobrescobio. This centre highlights the important role water plays in the region. In fact, Redes Natural Park supplies about 80% of all water consumed in Asturias.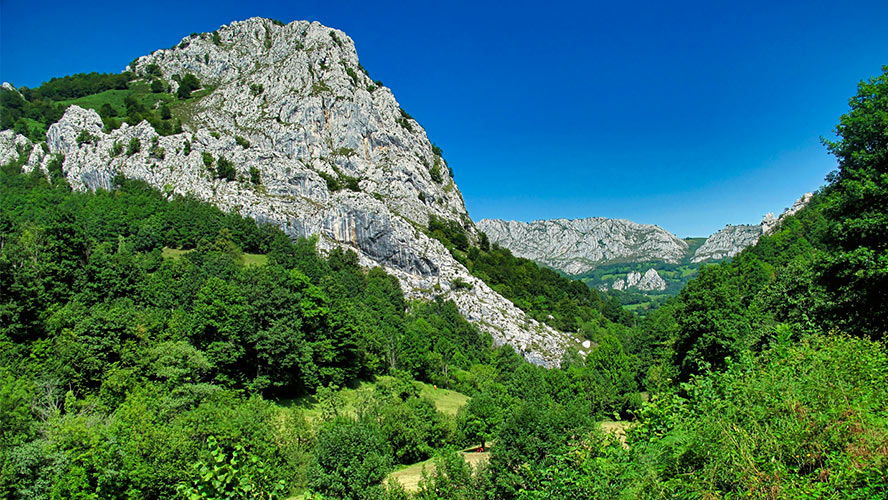 Where to eat and sleep
Brañagallones Mountain Refuge is not just a great place to kick off your hiking shoes after a satisfying hike, you can also spend a night (or two) and savour delicious meals.
The beautifully remodelled rural holiday apartment complex, Tierra del Agua, is a perfect example of traditional Asturian mountain architecture, while incorporating a clean, Nordic interior design. Located at the top of Caleao, the building blends into the rugged landscape and offers sweeping views of the park. You don't need to be lodged at this hotel to enjoy the amenities. Come discover the hotel restaurant Gotta and its select menu of delectable dishes based on typical Asturian products, such as the traditional fabada, and Atlantic seabass ceviche with Ponzu.
If we still haven't convinced you, head to the tiny hamlet of Belerda and the tucked-away, rural holiday apartments Los Riegos. Guests are not only treated to impeccable facilities, but can also choose to partake in recreational activities, such as rock climbing courses and watercolour classes, or even just enjoy a relaxing massage.
Information of interest
How to get there:
From central Asturias: Take regional highway AS-17.
From western Asturias: Take regional highway from AS-254 through Collado de Arnicio.
From the province of León: Take the secondary road C-634 from Riaño or LE-331 from Puebla de Lillo.
Related
plans