Casa Batlló, a modernist jewel created
by Gaudí's fantasies
Every year, Casa Batlló is viewed by approximately one million people. When walking along the city's most elegant avenue, there are usually groups of tourists, smartphone in hand, taking snapshots of its magical façade. We use the words magic and fantasy because they best define Antoni Gaudí's architectural legacy.
His other works, like the nearby Casa Milà, Park Güell and the Sagrada Familia, also invite us to enjoy his creative genius. However, Casa Batlló is probably the one that perfectly summarises what this incredible architect meant to Barcelona. He used nature as a source of inspiration and went beyond construction efforts to become involved in urban development and designing furniture. Gaudí was also known for broaching architectural aspects with the plasticity of a painter or sculptor. Adored by locals, despite seeing it on a daily basis, Casa Batlló's façade perfectly represents a person who is willing to break the mould, and as tends to occur with geniuses, is difficult to classify.
The block of discord, Casa Batlló's location in the heart of Barcelona
Located at the intersection of Passeig de Gràcia and Carrer d'Aragó, Casa Batlló was built between 1904 and 1906. In reality, it would be more accurate to say that it was restored or renovated, because the building had been erected by Emili Sala i Cortés in 1887, on what at the time was known as la manzana de la discordia [the block of discord, a play on words in Spanish in which 'manzana' means both 'apple' and 'block'—as in an area bounded by streets]. This satirical nickname referred to the area where several modernist buildings designed by the city's most renowned architects were constructed. Some of these include Casa Lleó-Morera, by Lluís Domenech i Montaner, and Casa Amatller, by Puig i Cadafalch. Although the latter has a sensational façade, it goes unnoticed by many since it is directly adjacent to Casa Batlló. These first-rate modernist buildings stirred up rivalries between the architects, who competed to win awards in the Barcelona City Council's yearly artistic buildings competition.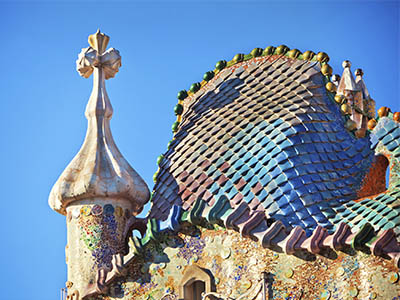 Gaudí stepped into that battle, voluntarily or involuntarily, when the textile industrialist Josep Batlló Casanovas purchased the building in 1903 and hired Gaudí to renovate it from top to bottom. The owner's initial plan was to tear down the building and start over from zero. The architect, however, did not deem this necessary, and after modifying the layout, it only took him a year and a half to create a home that amazed locals and visitors alike, and is today listed as a UNESCO World Heritage Site.
The magnificent Casa Batlló: its façade and interior
The façade of Josep Batlló's home stands out from adjacent buildings thanks to its undulating surface that creates a contrast with the straight lines of its neighbours. Additionally, coinciding with the building's noble floor, where the family resided, there is a gallery that protrudes over Passeig de Gràcia. This element is striking because of its bone-like original columns and stained glass windows through which light filters. The upper levels, which were originally rental apartments, have individual balconies in the shape of masks. The rest of the façade is decorated with a technique frequently used by Gaudí known as trencadís, a mosaic made of broken ceramic tiles joined using mortar.
The chromatic effect achieved through trencadís is reminiscent of Claude Monet's famous Water Lilies. To others, the original façade reminds them of a harlequin hat. However, a common theory is that there is a connection between the façade at Casa Batlló and the legend of Saint George. Based on this, the crown of the façade represents the dragon's back, the four-armed cross symbolises the lance with which the Saint killed the beast, and the bone-shaped structure further down commemorates the victims devoured by the animal.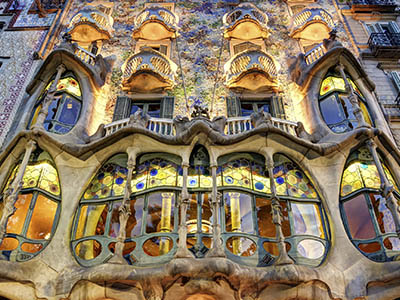 The interior of Casa Batlló shows how Gaudí paid attention to even the smallest details of his architectural projects. For this reason, take note of the floors, ceilings, lamps and furniture, in addition to the fittings, such as the doorknobs, which also feature the architect's creativity. The main sitting room on the noble floor, the atrium and the rooftop—with its colourful chimney clusters—are some of the elements that sweep visitors off their feet.
Casa Batlló and its Magic Nights
If you are looking for a different kind of activity, you will probably enjoy the Magic Nights held on the rooftop at Casa Batlló. The interesting programme includes a visit to the monument at 8:00 PM, when Barcelona gets ready to shine for Mediterranean evenings, followed by an exclusive jazz, blues, pop, rock or flamenco concert. Music and cocktails in one of the city's most beautiful buildings. It will be virtually impossible not to fall in love with modernism and Barcelona with an outing like this.
Information of interest
Hours
The building is open every day of the year, from 9:00 AM to 9:00 PM. The last admission is at 8:00 PM.
The visit lasts approximately one hour.
How to arrive
Metro: Passeig de Gràcia stop, lines 2, 3 and 4.
Train: RENFE (Passeig de Gràcia stop) and Ferrocarrils de la Generalitat de Catalunya (Provença stop).
Bus: Routes H10, V15, 7, 22 and 24.
Related
plans