Beautiful Manresa,
the booming inland capital of Catalonia
Manresa is 67 kilometres (just over 40 miles) from Barcelona and this city with an impressive series of monuments is often described as the inland capital of Catalonia. It has 76,000 inhabitants and is the main city in the Bages region. Manresa has enjoyed a great boom thanks to its thriving industrial activity (predominantly textile, metallurgy and chemical) and it spreads out over a rocky plain close to the Llobregat and Cardener rivers.
Its long history can be traced back to Pre-Roman times and today it can boast numerous monuments and tourist attractions. Highlights include hilltop cathedral La Seu, the bridge over the Cardener river and the architectural complex known as the Cova de Sant Ignasi [Cave of St Ignatius]. St Ignatius' links to the city are one of its most important historical and cultural aspects—he lived in Manresa for a year before setting off on a pilgrimage to the Holy Land.
Manresa is separated into two distinct areas: the old town where the city's businesses are concentrated, and the large central boulevard in the modern area, a focus point for fun and leisure where local residents go to enjoy themselves.
What to see in Manresa
Manresa has many points of interest and below are details of a city route; La Seu, the cathedral, makes a natural starting point because it's one of the most characteristic features of the old town. La Seu's official name is the Col·legiata Basílica de Santa Maria and it was built between the fourteenth and fifteenth centuries on the top of Puigcardener  hill, which is cut off by the river flowing past below.
It's an excellent example of the Catalan Gothic and La Seu has stained glass windows with an astonishing profusion of images and colours. It also contains a spectacular collection of sculptures; an image of Mare de Déu de l'Alba, the Virgin, stands above the altar, although this is actually a copy of the original polychrome wooden sculpture that was destroyed in 1979.
The impressive L'Esperit Sant altarpiece is the largest Gothic altarpiece conserved in Catalonia. And don't miss several other fascinating altarpieces: Sant Marc (fourteenth century), Sant Miquel i Sant Nicolau (fifteenth century) and the Santíssima Trinitat (sixteenth century).  La Seu was built on top of an earlier Romanesque temple and the eleventh-century cloister still remains; it was designed by the same builder as the famous church of Santa Maria del Mar in Barcelona. The cathedral's Museu Històric exhibits valuable liturgical objects, Romanesque sculptures and an important collection of Catalan Gothic paintings.
The sixteenth-century Palau de Justícia is next to La Seu; this building was originally constructed to be an episcopal palace however Manresa never obtained this diocese. And the Plaça Major is just moments away with its eye-catching eighteenth-century Town Hall.
The Cova de Sant Ignasi
Another major tourist attraction in Manresa is the Cova de Sant Ignasi or Holy Cave where Saint Ignatius Loyola withdrew to meditate and write his famous "Spiritual Exercises". It's on the bank of the Cardener river, just above the Romanesque bridge. During the seventeenth and eighteenth centuries the original small grotto was transformed into a sumptuously decorated chapel and a spectacular Baroque church and convent were also built here later. Today it's one of the most important sites related to St Ignatius and a universal reference point for the Jesuit world.
Anyone keen to learn more about the city's history should head to the Museu Comarcal de Manresa where you'll discover a splendid collection of Baroque art, medieval ceramics, local archaeological discoveries and contemporary works of art. The museum is housed in the old eighteenth-century Sant Ignasi school building.
Similarly to Terrassa, another of Catalonia's important centres of industry, Manresa has an extensive catalogue of Modernist buildings that are a magnet for tourism. They are mainly located around Passeig de Pere III, one of the city's busiest streets in terms of commercial and social activity. Here you'll find an abundance of café terraces, restaurants and bars plus all the best-known shops. Some of the most unusual buildings are the Casino (1906), the Torre Lluvià (1908) and the Teatre Kursaal (1927). Plaça de Sant Domènech also has some Modernist structures including the Teatre Conservatori (1878), the Casa Torrents (1905) the Fuis i Palá kiosk (1917) and the spectacular Torre Jorba, a unique example of Art Deco in Catalonia.
What to do in Manresa
In addition to visiting the numerous monuments and tourist sites in the city centre, Manresa also has plenty of leisure activities to enjoy. The Parc de la Sèquia, located on the outskirts of the city, is one of its most important green spaces and here you can explore the Parc de l'Agulla and an artificial lake that was opened in 1974 and can hold 200 million litres of water. It was created to ensure that Manresa and other nearby towns have a constant water supply.
Various companies run activities in Parc de l'Agulla such as regulated fishing, kayak and canoe hire, a bar/restaurant, and a children's playground plus further activities at the park's interpretation centre.
This vast green expanse has areas set aside for children's games, and you could also go for a fun bicycle ride, do sports or go hiking along a long straight route known as the Camì de la Sèquia, which is approximately 26 km long.
If you visit Manresa during its festa major (annual city festival) you'll be treated to an amazing fireworks display.
Finally, to delight your taste buds, no visit to Manresa would be complete without trying a famous Catalan dish that originates from the city: bacallà a la manresana is made with cod and other ingredients including spinach, pine nuts and prunes.
Related
plans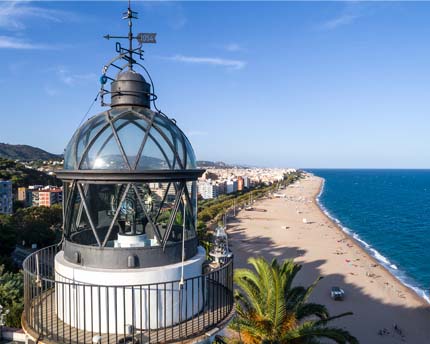 Getaways