Cáceres with kids:
a city of towers and tales
Counting the towers of Cáceres
History is a very abstract concept, especially for children, so taking the time to count the towers in the city is an excellent way of awakening the latent history buff in all of us. There are 22 towers in total, each of which has its own distinct characteristics and is capable of transporting us to a different era and culture.
The best-known towers in the city are in Plaza Mayor: the towers of La Hierba, Los Púlpitos and El Bujaco, which is home to the History Museum and even has a lookout point from which you get a magnificent view of the city and its environs. Other important towers are: El Baluarte de los Pozos, Las Cigüeñas, Los Espaderos and La Mochada. Spotting and 'collecting' them all is a fun activity for kids and adults alike.
What to see in Cáceres with kids
One of the best ways to start your adventure in Cáceres is at the Interpretation Centre in the Baluarte de los Pozos, which you can find in Los Pozos Tower, in the Old Jewish Quarter. This impressive bastion in the Old Town dates back to the 12th century and contains a traditional house as well as a Moorish fortress. Here you can see a collection of models that give a sense of what many of Cáceres' monuments looked like during their heyday.
Free cancellation
This is the ideal place to really get to grips with this important city at the height of its power. Entrance for children is free and they learn about the most important buildings in the city and the history behind them, all while standing in one of the most important towers in Cáceres.
Theatrical tours with troubadours
There are so many tours on offer in Cáceres that choosing the right one is vital. Theatrical tours prove the most popular with small children, especially since the guides usually dress up like troubadours and other medieval characters. In this garb, the guides will teach the children about the history of Cáceres through tales, legends and even disclosing some secrets of the city.
The group of actors / guides take visitors through the narrow streets of the city, telling stories and giving interesting information about each of the most important monuments and buildings. One of the most frequented stops on these tours is Bujaco Tower, where the guides tell stories of the Calif who once ruled from within these walls. Since these tours take part outside, they depend on good weather but if the sun is shining the children are going to have a wonderful time.
What to do in Cáceres with kids
Parque del Príncipe and other walks around Cáceres.
Cáceres has a wide array of open-air spaces to take in after immersing yourself in its history. Many of its public gardens and parks contain children's areas, such as the Paseo de Cánovas, one of the most popular places for locals to take their children, too.
There is also the Parque del Príncipe, which is a favourite among visitors of all ages. Located in the centre of the city, between Avenida de Hernán Cortés and Avenida de Rodríguez de Ledesma, this park contains the Open-Air Sculpture Museum and a small botanical garden at the entrance. More than 80 species of birds make the park their home and can be seen flying overhead constantly, another reason to take a stroll through Parque del Principe with the family.
Ghost hunting at the Yusuf Al Burch Museum
Out of all the museums to visit in Cáceres, there is one that never fails to cause a stir among its younger guests. The Yusuf Al Burch Museum is found on Calle Cuesta del Marqués, No. 4, right next to Plaza de San Jorge and there you can see a traditional Moorish home just as it would have been when the Moors were masters of the city.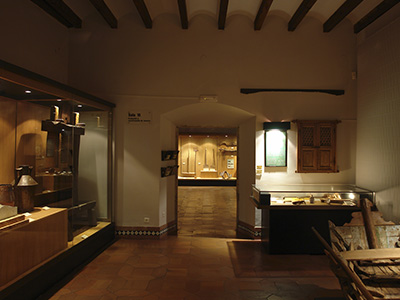 The building, which also features the remnants of its Roman past, was restored by José de la Torre Gentil who was enamoured with anthropology and the Moorish history of Spain. The building is made more enigmatic by the presence of a ghost story. As the legend goes, there was a beautiful Moorish woman whose beloved once lived in this house. So enamoured was she with this man that when she died, she was unable to stop walking its halls and local residents today tell many stories of how they have seen her do just that. The story won national fame when a television show stayed at the house in the hope of filming its most enigmatic resident.
Classical theatre and puppet shows for the little ones
The stages of Cáceres offer a full programme of shows for all the family, including theatre, dance and music. Many of these shows are specifically aimed at children, especially during the Christmas period, when the Great Theatre opens its curtains to such shows, too. If you visit the city during this time then you are in for a treat, but Cáceres is famous for its theatre productions all year round, especially during the Festival of Classic Theatre, which also includes classic works of theatre adapted for children.
A trip to GuadiPark
Extremadura has many fun places for children, both little and large and one of these places is just eight minutes by car from the centre of Cáceres: GuadiPark. This is a very popular attraction for locals especially during the summer months since it has a beautiful reservoir and many swimming pools. There is also a lookout point from which you can spot the array of birds that make the area their home.
GuadiPark also puts on activities for small children in its play areas. There are ball pools, lilos, water slides and even a bouncy castle. There are also activities such as balloon art, storytelling, treasure hunts, and karaoke not to mention theatre plays, disco parties and many more. GuadiPark is a fun experience for the whole family and, if you have time, you can even take trips into the surrounding area with accompanying instructors. Last but not least, GuadiPark has a wide variety of restaurants which off excellent food, including traditional local tapas.
The sweet side of Cáceres: La Guinda
If you come to Cáceres with children, you simply cannot leave without visiting La Guinda. This bakery and ice cream shop (on Avenida Virgen de la Montaña) was founded in 1999 and offers a wonderful variety of pastries, cakes and ice cream to satisfy any sweet tooth.
Free cancellation
Related
plans