Romantic getaways in
Medieval Cáceres
It's impossible not to fall in love with Cáceres as you stroll through its old town. The group of monuments in the Ciudad Vieja, or Old City, are a Cultural Interest Resource in the Spanish heritage registry and a UNESCO World Heritage Site. The magic begins at the Arco de la Estrella and the Torre de Bujaco. As you go behind the Almohad walls, it's easy to imagine that you're stepping back into the 12th century.
Time seems to have stood still in the maze of narrow streets and plazas. The Plaza Mayor with its magnificent colonnade is a wonderful place for enjoying a drink in a terrace bar and soaking up the Medieval feeling of the place. Among the impressive buildings nearby are the Ermita de la Paz and the Torre de Bujaco, not to mention several palaces and stately homes. History is quite simply at your fingertips.
Jardín Cristina de Ulloa
Possibly one of the most romantic places in Cáceres is the Jardín Cristina de Ulloa. This garden in Plaza de San Jorge, in the old town, was created in 1962 in memory of the wife of the mayor Alfonso Díaz de Bustamante. It's a secretive place that you get to through a cafe – if you didn't know it were there, you might never find it. The plant life, stone fountain and small pond create an intimate, wistful atmosphere and the perfect setting for whispering sweet nothings to your beloved.
Free cancellation
More romantic places in Cáceres: the Jewish quarter
The urban aesthetic changes in the Jewish quarter, also called the San Antón neighbourhood. After walking through the entrance gateway called the Puerta del Río you'll be whisked away into the past once again. The streets here are steeper and some, such as Callejón de Don Álvaro, are surprisingly narrow. Instead of palaces, there are modest white limestone houses. The humble Ermita de San Antonio stands near the ancient synagogue, and the small Jardín del Olivar de la Judería, a garden at the foot of the city walls, may once have supplied food to a home long ago. Couples are attracted by the tranquillity of the place.
All in all, this is a more peaceful part of town – perfect for a romantic walk.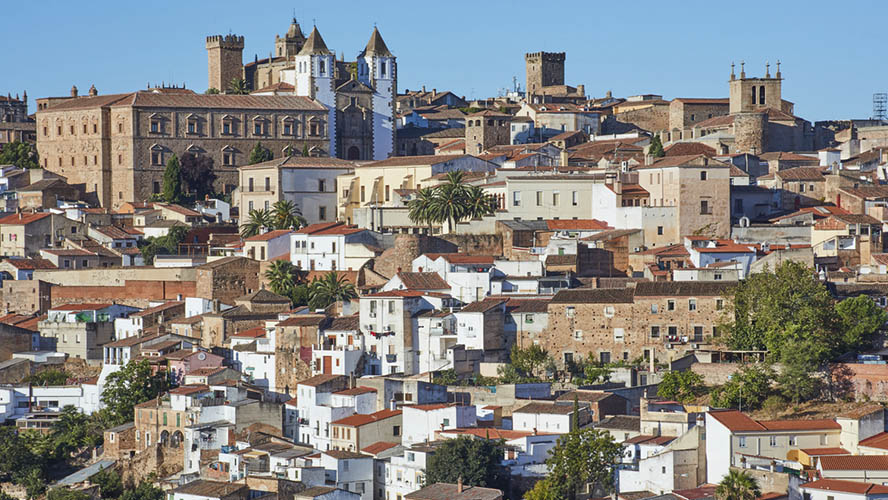 Parque del Príncipe: nature and art
The Parque del Príncipe is an oasis of tranquillity in the city, nestled between Avenida de Hernán Cortés and Avenida de Rodríguez de Ledesma. This 22-hectare park also has an open-air sculpture museum with a collection of works from several different artists, providing a picturesque setting that combines nature with art.
There's a central pond and a botanic garden at the main entrance. The restored La Madrila fountain was once used as a watering pond and laundry place. Of all urban parks in Spain, the Parque del Príncipe has the greatest number of bird species – some 70 in fact. It's just one more feature of what is already a truly lovely place.
Arabic baths
For a relaxing experience with your partner, head to El Aljibe (Peña, 5), a Moorish baths complex housed within an ancient restored building. The candles, fountains, stained glass, middle-eastern decor and essence of flowers all come together to create a warm and intimate atmosphere. Take a dip in the hot, warm and cold pools, or kick back for a massage with aromatic oils. Thirsty? Take advantage of the free Arabic tea tasting.
Theatre
Cáceres has a long history of supporting theatre. The city holds an annual Festival of Classic Theatre every June, filling the main venues and streets with all manner of shows. If you love the theatre, this really is the best time to visit Cáceres, though there are shows and concerts all year round. Check out the programme in the Gran Teatro de Cáceres (San Antón, 5), a long-standing venue in an emblematic building in the centre of town. It was built in 1926 and later underwent significant refurbishment in 1992. It puts on more than 250 performances a year, so you're sure to find something during your romantic getaway.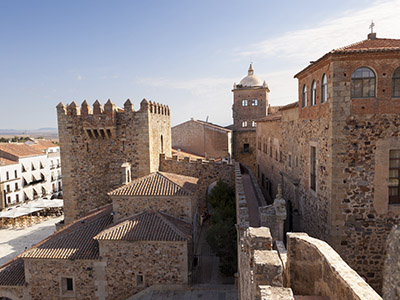 Tapas in Cáceres
The historical and cultural city of Cáceres also boasts some tremendous cuisine and a tapas night would be a fine addition to your romantic plans. There's a long list of establishments serving both typical regional dishes and innovative creations.
The city centre is always lively at night. The plethora of bars in the Plaza Mayor are usually packed, as well as those on the nearby Gran Vía and in Plaza San Juan. La Cacharrería, Torre de Sande and La Minerva are some of the most popular. Also worth mentioning are Trinidad, Hornos 25, Calenda and La Morocha, to name just a few.
A cosy dinner for two
If you're looking for a more intimate dining experience, Cáceres has a range of options. We can recommend two places which stand out among the rest for their great menu and beautiful setting: Madruelo, and Mastropiero Gastrobar.
The first is on Calle Camberos, next to the Plaza Mayor and the Iglesia de Santiago, between cobbled side streets, palaces and convents. The restaurant is inside a 19th-century house with high vaulted ceilings and it serves classic fare with a Mediterranean twist. Dishes include retinto carpaccio with foie gras, cod with a boletus sauce and Iberian sirloin steak with wholegrain mustard. Also try the selection of local cheeses served with lomo de orza (a special type of marinated and preserved pork) and the visually stunning dessert called tarta madruelo.
Mastropiero, in the oldest part of town (Calle Fuente Nueva, 4), has different spaces to choose from. The dishes and tapas in the Gastrobar are a fusion of traditional and cutting-edge techniques. The Gin Club, on the other hand, is a fabulous place for a drink accompanied by jazz. There's a dance floor, and even a garden hidden away from the outside world. It could be the perfect finishing touch to a romantic day in the city of Cáceres.
Free cancellation
Related
plans