Where to eat in Cádiz:
restaurants, markets and tapas bars
You won't have too much trouble trying to find a good place where to eat in Cádiz. The truth is that the food on offer in the city is highly diverse and top quality. On nearly every block you'll find a tavern or small restaurant where you can sample the finest delicacies freshly caught from the Bay of Cádiz.
Therefore, the city's gastronomy goes far beyond the local realm: in Cádiz you'll find cutting-edge chefs renowned across the country, their dishes served in establishments where special attention is paid to décor and ambience.
Without a doubt, food has a lot to do with Cádiz's ever-growing popularity. Not to mention the fact that it is one of the best places in which to eat in terms of value for money.
The best restaurants in Cádiz
If you're looking for a restaurant to eat well at in Cádiz, don't worry, as the city boasts a wide variety of places, which always appear on lists of the best restaurants in the south of Spain. Here is just a selection:
Jamar Gastrobar (Hotel Occidental Cádiz): Come enjoy gourmet-style tapas at this laid-back, contemporary restaurant. The exquisite fried artichokes with crispy Spanish ham and the savoury smoked sardine tosta with Arzúa cheese and tomato marmalade are just two examples of the delicacies prepared here. Wine aficionados will be delighted at the wine list – it boasts a wonderful selection of Spanish wines.
El Faro (San Félix, 15): Since 1964, this establishment has been a genuine beacon in terms of local cuisine. Situated in the neighbourhood of La Viña, it serves the finest fish and seafood from the Bay of Cádiz, both in the dining room and at the bar. Classic but friendly service.
La Curiosidad de Mauro Barreiro (Veedor, 10): Since his time at Skina, in Marbella, Mauro Barreiro has been a famous name in Andalusia's gourmet food scene. Despite the fact that local produce is the order of the day here, the chef's seductive creativity means he often takes inspiration from international cuisines.
Ventorrillo El Chato (Cádiz-San Fernando motorway): This classic establishment is situated right on Cortadura beach, however it's not a beach bar, not by a long chalk. Diners come here to savour the finest Andalusian produce (Iberian ham included) and its great wine cellar stocked full of sherry.
Salicornia (Plocia, 2): This restaurant specialises in meat that is aged for months and then presented in different cuts. However, that's not all: the former biologist Juan Höhr includes ingredients of the highest quality in his dishes, such as Russian caviar or Japanese wagyu.
Café Royalty (Plaza de La Candelaria, no number): One of the most amazing restaurants to eat at in Cádiz. Here the decoration is as classic as its gourmet international menu. But, not without some modern details—almost obligatory these days—such as those applied to the presentation.
Other restaurants in Cádiz
There are many other good options for eating in Cádiz. Here are just a few:
Café Royalty (plaza de La Candelaria,): Come enjoy a unique culinary experience in an interior suffused with classical 19th-century design. With a focus on international haute cuisine, this restaurant has done an excellent job of adding modern touches to their dishes.
Salicornia (Plocia, 2): This restaurant is specialised in delicious, quality-cut, aged meats. Helmed by former-biologist-turned-chef Juan Höhr, it also surprises and delights with other top-quality products, such as Russian caviar and Japenese Wagyu.
El Balandro (Alameda Apodaca, 22): The flagship establishment of a restaurant group that years ago revolutionised the city's culinary scene with its creative ideas. Booking ahead here is essential, even if eating at the bar.
Cumbres Mayores (Zorrilla, 4): Excellent tapas next to Plaza de Mina set within an authentic traditional restaurant. Although it specialises in Iberian pork in all its forms, its fish and seafood menu is not to be sniffed at.
Las Flores (Plaza de Topete, 4): Situated on what is known as Plaza de las Flores, this is probably the most famous fried-fish and seafood shop in Cádiz, serving a variety of fried fish in waxed paper cones.
Arsenio Manila (Paseo Marítimo, 12): Alongside La Victoria beach, the spotlight here is on the quality of its dishes, the pleasant atmosphere and lovely decoration.
Sopranis (Sopranis, 5): A gastronomic space formed of the restaurant Sopranis and the tapas bar La Esquina de Sopranis serving market cuisine and what they themselves call 'classic aromas and flavours'.
Atxuri (Plocia, 7): Another tasteful classic and a good place for those looking to eat quality local produce in Cádiz but with some Basque favourites.
Eating well on a budget in Cádiz
The sky's the limit for eating well in Cádiz on a budget. There are dozens of bars and small restaurants in the city, each one better than the last. Here's our pick of the bunch:
Tapería D'Cortés (Plocia, 13): This small establishment is as delightful as the service given from the family that runs it (the Cortéses). Creative cuisine, excellent produce and lovely presentation at incredible prices.
La Gorda te da de Comer (Marqués de Valdeíñigo, 4): With an atmosphere that is as fun as its name suggests, inspired directly by its owners, this restaurant serves dishes that are perfect for sharing with a nod to modern Andalusian cuisine.
Osare (Rosario, 27): You'll be surprised to find an authentic Neapolitan pizzeria right in the heart of Cádiz's historic quarter with a wood-fired oven and pizzaiolo.
El Garbanzo Negro (Sacramento, 18): Due to the restaurant's small size and delicious food, reservation is essential here. One of the best places to sample chickpeas with prawns or their creative gazpachos.
Casa Lazo (Barrié, 17): A traditional establishment decked out in wood, which is perfect for some tapas with cured meat and other typical dishes from the local region.
Bar El Tío de la Tiza (Plaza Tío de la Tiza, 12): Little fried fish, marinated tuna, fried baby squid, shrimp tortillas… Everything you would expect from a good Cádiz tapas bar with excellent value for money.
Other places to eat at in Cádiz
Aside from bars and restaurants, there are many other places to eat at in Cádiz. Here are a few suggestions:
Rincón Gastronómico-Mercado Central: The market par excellence of Cádiz has a whole wing dedicated to sampling the finest local produce, as well as that from further afield.
Kiosco Los 12 hijos de Juan (Medina Sidonia, 5 and Sotillo, 4): An excellent place to eat at in Cádiz, albeit in the street, serving little fried fish, naturally, in waxed paper cones.
Ultramarinos El Veedor (Vea Murguía, 10): This former grocery store has been converted into an attractive bar, which is perfect for some tapas and for sampling the typical flavours of Cádiz, such as its pork scratching.
Churrería La Guapa (Plaza de la Libertad, 1): It would be a crime not to try the churros from this kiosk next to the Central Market. And not just because of the churros themselves, but because it is also one of the city's historic establishments, founded in the late nineteenth century.
Related
plans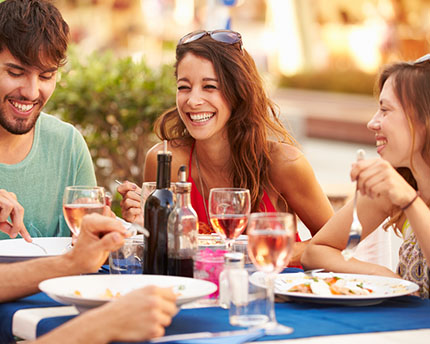 Leisure and Entertainment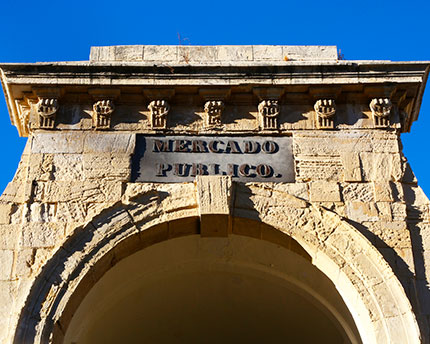 Places of Interest