Playa del Inglés:
an outstanding beach
Playa del Inglés lies in the southern portion of the island of Gran Canaria. Delimited on one side by the spectacular Maspalomas Dunes and on the other by the peaceful Playa de San Agustín, this 3-kilometre long, 100-metre wide stretch of sand is no secret. In fact, it's one of the liveliest parts of the island and a favourite among European holidaymakers.
Long before it was a tourist hotspot complete with restaurants, apartments, hotels, shopping centres and shops, the area was a huge expanse of farmland used for growing wheat, barley and later tomatoes.
The first apartments and resorts were constructed in 1962, partly with the idea that they'd be used as holiday homes – hence the name Playa del Inglés or English Beach.
It's now popular among British, German and Irish tourists on account of the balmy climate all year round (temperatures ranging from 18-22ºC), its calm waters and a moderate wind perfectly suited to water sports.
What to do on Playa del Inglés
The fine golden sand makes this the perfect beach for a long stroll along the water's edge or for relaxing in the sun surrounded by palm trees and the beautiful blue Atlantic. It's a warm and inviting place that will steal your heart. People return here year after year and some even purchase apartments by the sea, meaning they never have to say goodbye to the sun and to island life.
Playa del Inglés stretches along the coast uninterrupted, like a golden carpet, although there are different areas catering for different tastes. The wildest part, close to the dunes, is usually popular with surfers, windsurfers, kitesurfers and bodyboarders. If water sports are your thing, or you feel like trying them out, check out one of the several schools offering courses and rental equipment. The water is usually around 20ºC and it's one of the best spots on the island for catching waves. This vast beach is also used for beach volleyball and beach football competitions and even as a concert venue.
Playa del Inglés on Gran Canaria, something for everyone
Playa del Inglés is perfectly suited to all types of tourists, irrespective of their age or walk of life. The range of sports, recreation activities and shops on offer is as diverse as the nationalities and cultures that come together in search of sun and rest in this desert landscape. The island enjoys a pleasant climate in the winter months, in comparison to the chilly temperatures in northern Europe. When summer hits, the hotels and local businesses are jam packed!
Families will love the calm waters and it has everything you'd except from an urban beach – lifeguards, showers, changing rooms, hammocks and more – and all just a stone's throw from your accommodation. The choices of where to stay, eat and hang out are endless. For those looking for a more organised experience, book yourself onto an excursion around the island, sign up for beach activities or head to one of the famous boat or pool parties. All offer a different experience of the buzzing Playa del Inglés, whether with new acquaintances from all over the world or with your friends.
Nudism and LGBT
The southern area of Gran Canaria is a famous beach-nudism location, particularly Maspalomas and Playa del Inglés. The designated nudist area is between beach bars 3 and 6 (marked with placards). If you're looking for a peaceful place to get that perfect tan and commune with nature, this could be the place for you.
Perhaps the feeling of freedom and acceptance is what makes Playa del Inglés a preferred destination among the LGBT community. There are plenty of gay-friendly bars as well as gay-exclusive accommodation options. Beach bar 7, marked with a multicoloured flag, is a popular gay hangout. Ever since the first gay bar opened in 1978, this southern area of Gran Canaria has become an infamous location on the LGBT scene where cabaret acts and drag queens steal the show. The Yumbo Centrum shopping centre (a mecca of more than 200 shops, restaurants and bars) transforms at night into the place to be. It hosts Maspalomas Gay Pride and Carnaval, two of the biggest festivals in the whole of the Canary Islands.
Going out on Gran Canaria: nightlife at Playa del Inglés
It's not hard to find good nightlife here. Most clubs are within shopping complexes such as Yumbo and Kasbah, though you can also dance to all hours in others such as Pacha, Ozono and Aqua Ocean.
This is a veritable oasis beside the Maspalomas Dunes where it's just as easy to relax as it is to let your hair down. The whole area was designed with tourism in mind and certainly has plenty of choice, so find some shade, kick back in a hammock and enjoy a refreshing drink while you decide what you want to do on your holiday.
Information of interest
How to get there:
By bus: lines 30, 41 and 72.
By car: Take the GC-1 as far as exit 43. It's a good idea to hire a car if you want to see other parts of the island.
Related
plans
Sea and Beaches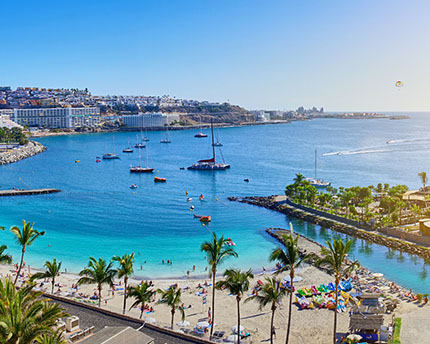 Places of Interest