The best dining alternatives in
Albaicín
Albaicín is without a doubt one of the Granada districts with the most personality, which is why it was declared a World Heritage Site in 1984. This part of the city retains its Moorish essence in the buildings, narrow streets and squares. It is the perfect place to feel the contrasting elements that define Granada.
To truly feel its Moorish roots, you must spend an entire day exploring the Albaicín quarter. The district's Moorish influences are extremely present in its bars and restaurants, so eating here is akin to a journey of culture and tradition that will take you directly to Granada's Muslim past.
Click here to read about all the activities and the latest news for the Albaicín quarter.
If you plan on spending an entire day in Albaicín, keep in mind a few dining alternatives that will help you enjoy a completely different experience.
Restaurants in Albaicín
If your visit to Albaicín begins early in the morning, the first stop should be for breakfast. Local cafes are the perfect place to start the day. You will certainly find what you are looking for along Calle Panaderos. For example, Cafetería Aixa is a charming spot with an authentic Nasrid air.
Turning right onto Calle Agua del Albaicín, we come across Lleva Té Café, a small establishment featuring a wide array of teas, which are a traditional aspect of Moorish culture.
If you have not done so already, be sure to try the famous toast with tomato (the best is made with bread from Antequera), which is available at the outdoor terrace of Café la Hacienda located in Plaza Nueva.
After eating breakfast and going on an early stroll along Carrera del Darro, taking a photo at the House of Agreda and pausing to admire the Convent of Santa Inés, it may be time to find a table at an outdoor terrace for some tapas.
A good option is Bar Lara in Placeta de San Miguel Bajo, where the generous portions come in handy if you're hungry.
Once you feel replenished, it's time to continue exploring because there is still a lot to see in Albaicín! You can make your way up to Sacromonte and see its caves, visit the museum and more.
Upon returning, you can start looking for a lunch spot. If you go to Carril de San Agustín, you will come across a restaurant called Las Tomasas, an idyllic setting with a garden terrace. In the early days, they only served cold dinner alternatives and appetisers, but they slowly expanded their menu and indoor space. They make traditional dishes from Andalusia and Granada, such as chilled salmorejo soup with hard-boiled egg and ham or remojón granadino (orange salad with onion and cod).
It is located at the Mirador de Morayma overlook and boasts views of the Alhambra. Housed in one of Albaicín's Moorish carmen villas, the restaurant serves traditional local cuisine and the best regional wines. After a long walk, it is the perfect place to rest and refuel with dishes such as broad beans with ham and egg or black pudding with pine nuts and caramelised onion. This corner is bursting with history, and according to legend, Princess Morayma lived where the restaurant is currently located whilst her husband, Boabdil, the last king, was held captive.
Once you have finished eating, it's time to continue exploring. If you would also like to have dinner in Albaicín, a great alternative is Jardines de Zoraya on Calle Panaderos. This restaurant with a terrace serves the most authentic local cuisine and features a flamenco show as the main course. It is the perfect way to end a day in the Albaicín quarter.
B-Heaven at Barceló Carmen Granada, ranked No. 2 among the best rooftop bars in Spain
If a restaurant offers a bird's-eye view of the surrounding town, you should jump at the opportunity to enjoy the scenery and learn the layout. This is particularly pertinent in the case of the Albaicín, with its labyrinth of interconnecting streets.
One rooftop that we highly recommend for this purpose is B-Heaven, the stylish terrace bar atop the Barceló Carmen Granada hotel. Ranked No. 2 on The Rooftop Guide's list of the 10 best rooftop bars in Spain, this upmarket restaurant-bar boasts fantastic views of the Alhambra, the cathedral, the Generalife, Sacromonte and the Albaicín. While you are there, we suggest you try the taster menu, which offers dishes inspired by the monuments visible from your vantage point, making your visit a truly unforgettable experience.
Tapas in Albaicín
Since Granada is home to the tapeo culture, the entire region is filled with tapas bars. The traditional Albaicín district also has some special spots for tapas.
Bar León on Calle Pan features a Nasrid decor with tiles along the walls. This is a great place to take a break with a beer and some tapas.
The most famous tapas establishment in Albaicín is Bar Minotauro on Calle Imprenta. Here, every drink comes with a complimentary tapa. The dishes are simple yet delicious and include potatoes, rosca rolls and cured meats.
Traditional food
All of the restaurants in Albaicín serve traditional Andalusian cuisine: salmorejo and gazpacho, patatas a lo pobre (poor man's potatoes), flamenquines (breaded pork rolls stuffed with ham) and cazón adobado (marinated dogfish). But since we are in Granada, let's focus on the local foods.
A plate of fried aubergines with honey is the star dish at any restaurant. You can order a smaller tapa size or a full portion along with some beers for a mid-morning snack.
A very common starter in Granada consists of broad beans with ham. In addition to remojón granadino (orange salad with onion and cod), a classic salad with olive oil or an almond soup are other popular alternatives.
For a one-course meal in Granada, options include Olla de San Antón (a traditional dish named after the festival in question) and plato Alpujarreño (a filling meal consisting of black pudding, preserved pork loin, egg and poor man's potatoes).
Sacromonte also has its own traditional dish: tortilla del Sacromonte (a potato omelette with lamb casquería or offal).
The Albaicín quarter is a place to be discovered with the five senses, but the most important are sight (to take in all the Moorish heritage) and taste (to savour all the nuances of the traditional cuisine of this neighbourhood).
Culinary experiences outside the Albaicín: signature paellas and creative tapas
If you've spent a long day exploring the Albaicín and enjoying some of its tapas, you may fancy something a little quieter and more intimate later on. If this is the case, these two restaurants will not disappoint: Arrozante and Jamar.
Arrozante was created with an innovative culinary concept in mind – the whole menu is devised around rice. The menu includes paellas, of course, but these paellas are original signature dishes crafted to satisfy the most discerning palate. The restaurant is perfect for rice lovers, and can be found in the Barceló Granada Congress. There is plenty to choose from, however, including a soupy lobster paella, melt-in-your-mouth oxtail and a tasty prawn salad.
In the Figares area of Granada, Jamar Gastrobar serves delectable homemade dishes prepared by chef Silverio Ramos using seasonal produce. It's the perfect place to take time out for lunch and enjoy the creative combinations of this masterful chef. Think bluefin tuna tataki to start, or maybe some baby broad beans with local dry-cured ham…
The striking and welcoming modern décor is in keeping with its location on the ground floor of the Occidental Granada hotel.
Related
plans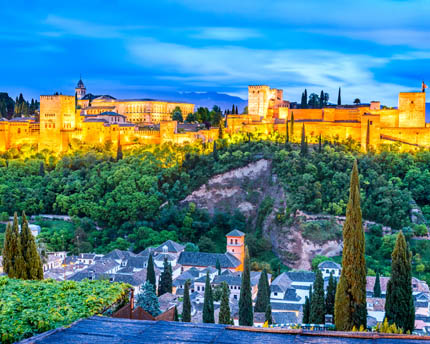 Places of Interest