These are the top restaurants
with views of the Alhambra
Going out for tapas is just one of the ways to discover Granada's cuisine, but there are more. The most authentic dishes are not served in 'mini' versions, and there is nothing better than feasting on them with the Alhambra as the backdrop.
Andalusian cuisine has a strong presence in Granada, where gazpacho and salmorejo are always house specialities. Fried fish can be eaten just about anywhere, and a prawn omelette is a must. However, to delve further into the city's culinary heritage, there are a number of regional creations you should definitely try.
The first is tortilla del Sacromonte (potato omelette with lamb casquería or offal), a filling dish that can be ordered at caves/tablaos after a flamenco show. To begin with something cooler, nothing beats remojón granadino (orange salad with onion and cod), which is available in an array of versions. The city's par excellence starter is, without a doubt, fried aubergine with honey. And for people with a sweet tooth, the dessert called Pionino is incredibly popular in Granada.
All of these local specialities form part of the experience, but to take things to the next level, they should be eaten at an idyllic spot. What could be better than dining on Granada's cuisine with its hallmark in the background? The Alhambra is a place that inspires, and there is nothing more pleasant and romantic than a dinner with views of the monument. Where? Keep reading.
B-Heaven, ranked No. 2 among the best rooftop bars in Spain
The stylish B-Heaven terrace bar, ranked No. 2 on The Rooftop Guide's list of the 10 best rooftop bars in Spain, is a favourite vantage point in Granada. You will find the terrace atop the Barceló Carmen Granada, but you don't need to be a guest to enjoy the delights of this bar. Stop by and try its delicious taster menu carefully prepared by the chef, Dionisio Palma. His exquisite dishes are inspired by the monuments visible from this modern rooftop terrace. What do you think the Albaicín might taste like? Or the Alhambra or Sierra Nevada? Let yourself be wowed by these singular creations based on Granada's Arab heritage and traditional cuisine.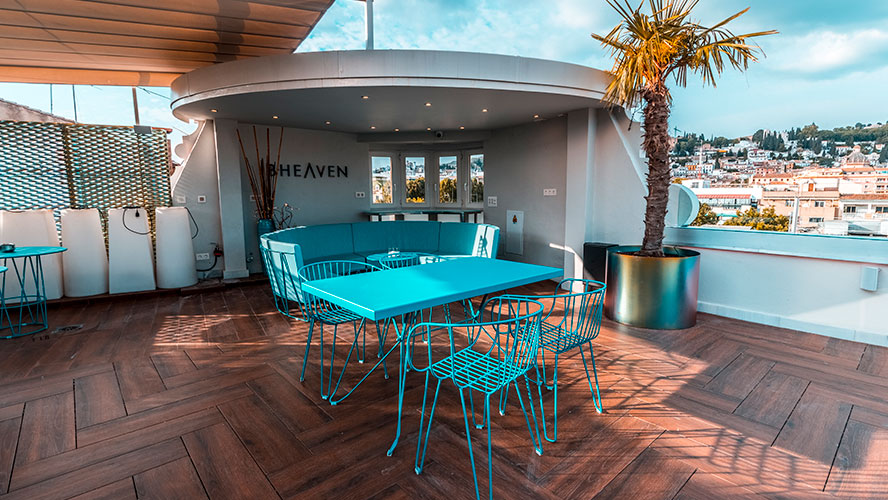 Keep an eye out for the special events they organise as well. Don't miss their brunches, show cooking or moonlit cocktail nights – you can't get more romantic than that.
Romantic restaurants in Granada
Despite not being ranked at the top, Granada should be included in a list of the most romantic cities. Having the chance to dine while gazing at the Alhambra is one of the most romantic experiences imaginable.
If you are visiting the city with your other half, then dinner at any of these restaurants is the perfect finishing touch for your romantic getaway. Think about it: after spending the day exploring the Albaicín quarter and visiting an Arab bath for some R&R in the afternoon, what better way is there to end the day?
One of the restaurants you can go to is Carmen El Agua, located near Mirador de San Nicolás on Placeta del Aljibe Trillo 7. It is the self-proclaimed 'perfect accomplice' for an intimate dinner with that special someone, so there is no shortage of romance.
Housed in a traditional Albaicín dwelling, this restaurant boasts unique views of the Albaicín and a stunning backdrop in the form of Sierra Nevada. It specialises in fondues (sweet or savoury) and also has a couples menu.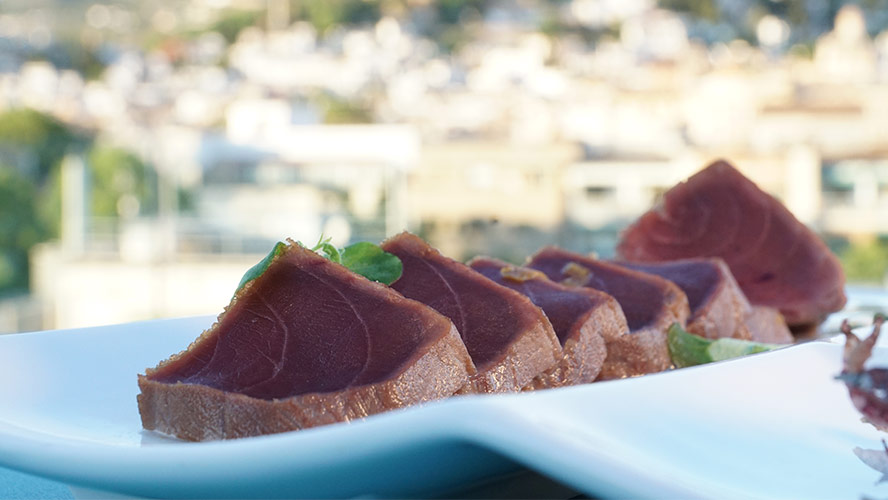 Another great option is near Paseo de los Tristes: the restaurant Ruta del Azafrán, on Paseo del Padre Manjón 1. The menu features a combination of flavours that will make an impression.
This restaurant serves international cuisine in a spectacular setting, and it is a modern establishment centred around local ingredients and organic wines. The special couples menu includes fresh tuna in an orange marinade with salmorejo, and apple millefeuille with goat's cheese and Pedro Ximénez wine reduction.
The restaurant Mirador de Morayma is located in what is the city's most traditional Moorish quarter. Housed in a historic carmen villa, it is said that Princess Morayma, the wife of Boabdil, the last king of Granada, lived inside these walls while her husband was held in captivity.
It is now an idyllic spot where guests can watch the sun set over the Alhambra as they dine on the house specialities, which include seaweed cannelloni, traditional salmorejo, and morcilla black pudding with pine nuts and caramelised apple.
Other restaurants in Albaicín with views of the Alhambra
Granada caters to families, groups of friends and couples, so a romantic atmosphere is not always called for. The city has spots with breathtaking views of the Alhambra that should be visited with loved ones.
If you are in search of one of these emblematic places, then the restaurant Las Tomasas is for you. In the summer, the large gardens open like a terrace from which to enjoy amazing views of the Alhambra. Housed in a carmen villa, this restaurant has been around since 1989, when it only served cold dinner alternatives and appetisers.
The menu has grown and guests can now dine on remojón granadino (orange salad with onion and cod) as a starter followed by sautéed lamb sweetbreads with king trumpet mushrooms and thyme.
Mirador de San Nicolás has magnificent views of the Alhambra, so restaurants like El Balcón de San Nicolás are perfect when visiting the lookout point during meal times. Since El Balcón de San Nicolas is located directly below the overlook, it boasts the same views but without the crowds. The menu features sea bass en papillote and grilled calamari.
Huerto de Juan Ranas can also be found at this emblematic lookout. The restaurant has two different areas: a dining room for meals and a lounge terrace for cocktails and drinks. The menu has strong Nasrid influences and includes traditional Andalusian gazpacho as well as lamb cous cous. For the most daring, this establishment also serves plato Alpujarreño (a filling meal consisting of black pudding, preserved pork loin, egg and poor man's potatoes).
It is a unique experience for guests who want to explore Granada with their taste buds. All of your senses will be delighted at any of the restaurants that serve traditional cuisine in a luxurious setting with the Alhambra and Sierra Nevada as the backdrop.
Related
plans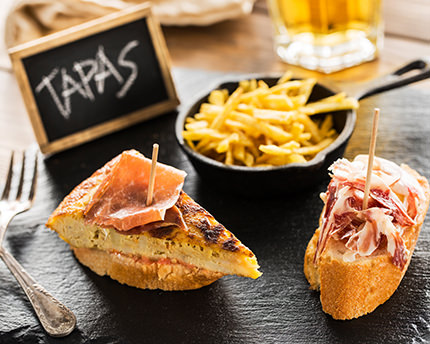 Food and Drinks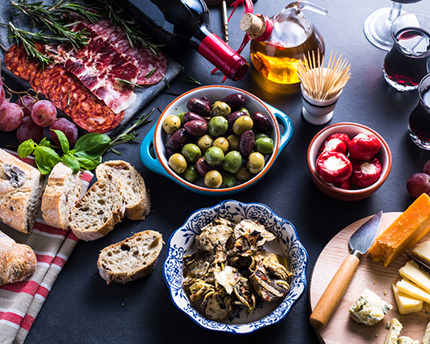 Food and Drinks