Charming insider
breakfast spots in Granada
Breakfast may in fact be the most important meal of the day, but it is definitely the first and the most popular. This means that following the old saying of 'Eat breakfast like a king, lunch like a prince and dinner like a pauper' is something everyone can do.
And it's no wonder, because after (at least) eight hours of restful sleep, the body needs energy to face the day, particularly if the schedule includes plenty of sightseeing in the Albaicín district, the Alhambra and Sacromonte.
On the other hand, if what you need is a mid-morning break, then a beloved brunch is what you are looking for. So to start the day off at a charming spot in Granada, add these places to your list.
Breakfast in Albaicín
 This neighbourhood stands out for the many Moorish influences that still remain. Albaicín is filled with narrow streets, handicraft markets and Sacromonte, one of the most important cradles of flamenco in Andalusia. This is what you should keep in mind to begin the day here.
Placeta de la Cruz Verde is a perfect breakfast destination. With the Alhambra as the backdrop, this charming square invites you to people-watch right from your table. Café 4 Gatos also has a special breakfast menu with something for everyone.
Another great alternative if you are near the cathedral is Café Baraka. The two brunch menus can be personalised, the coffee is 100% sustainably produced, and there is a wide selection of pastries and savoury bites. Everything is made on site using local ingredients.
Breakfast in the heart of Granada
It's always a good idea to get started in the city centre. Before venturing into the walls of the Alhambra, why not feast on a good breakfast? There are a number of establishments near the entrance of the monument for the first stop of the day.
Calle de los Reyes Católicos is one of the city's main thoroughfares and the street with cafes such as López-Mezquita, which according to locals, sells the best pastries and cakes in Granada along with an assortment of traditional Moorish sweets.
Plaza de la Trinidad houses one of the best places for toast with grated tomato and fresh orange juice: Café Goya. Many people agree that this bar serves the best traditional breakfast in all of Spain.
If you crave something different, like a bowl of cereal, then Cereal Planet is your place. This unique spot, which also caters to co-working, is located on Calle Duquesa, just outside of the city centre and near the Ronda neighbourhood.
Breakfast and brunch in the Ronda neighbourhood
The Ronda district, where most residents live, is worth visiting. If you want a different type of breakfast or brunch, this area has the most charming spots.
For example, Cafetería Castilla on Camino de Ronda has the best mollete bread in the city, so if you're craving something savoury, be sure to try its speciality: mollete con tortilla 'al microondas' (mollete bread with a microwaved omelette).
For a more modern breakfast alternative, go to MIMIMI. Located on Pasaje Profesor Sainz Cantero, this organic cafe serves vegetarian food in a modern decor that invites people to come in and stay a while.
You can also go to Pannonia on Calle Casillas-Prats, which is known for its assorted breads and milks, and all the products are organic. They are experts in breakfast and snacks, but keep in mind that their hours are from 9:00 AM to 1:30 PM.
Cafetería Central is also located in the Ronda district, on Calle del Profesor Motos Guirao. This is the perfect place to begin the day with churros and hot chocolate or to try the city's most famous dessert: the Pionono. Originally from Santa Fe, this sweet consists of a soaked sponge cake topped with flambéed cream. A trip to Granada would not be complete without a Pionono.
And speaking of churros, be sure to visit La Campana on Plaza de Gracia, a cafe where many customers state to have eaten 'the best churros of their life'.
Traditional breakfast alternatives in Granada
Moorish culture is present throughout Granada, even in breakfast. Moorish sweets are extremely popular and the city has a number of establishments that serve them alongside mint tea.
But since there is no denying that we are in Spain, one of the city's most traditional breakfast items is mollete bread. It is often served in the form of toast topped with grated tomato, a drizzle of olive oil and a slice of serrano ham, alongside a glass of fresh orange juice. However, many cafes and restaurants have their own versions.
Churros are also a favourite traditional breakfast alternative in Granada. Whether you woke up early or stayed up all night, churros with hot chocolate hit the spot first thing in the morning, and lucky for you, the city has a number of cafes that serve them.
The most popular dessert in Granada is the Pionono, and although it can be eaten at any hour, people with a sweet tooth also order it for breakfast.
Related
plans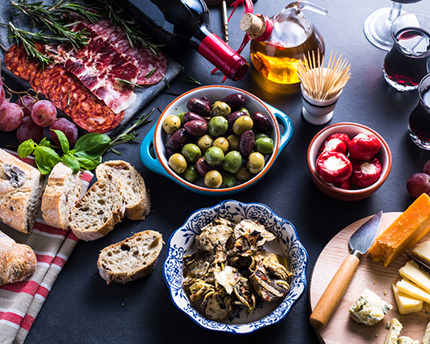 Food and Drinks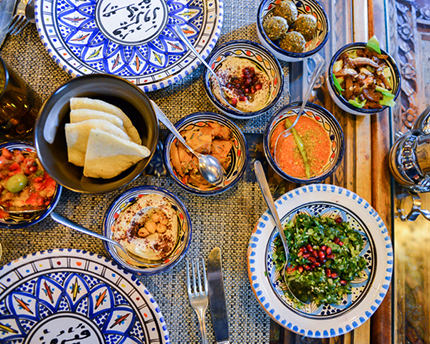 Food and Drinks