Calle Preciados,
Madrid's main shopping street
The price of rent per square metre on Calle Preciados is the highest in Spain. That's no wonder, mostly because it's bang in the centre of Madrid, running between the Puerta del Sol and the Plaza de Santo Domingo, via the Plaza de Callao. These are all pedestrianised spaces, as is the parallel Calle del Carmen, and foot traffic is always heavy.  
That explains why so many small shops and large department stores are attracted to Calle Preciados. These shops do their best to catch the attention of passers-by, just like the many street artists. You might witness unexpected classical concerts, puppet shows, dance performances, mimes, and busking in general. Most of the shows you'll see are of exceptional quality. 
The o
rig
i
ns of 
Calle
Preciados
 Calle Preciados is named for two brothers who were civil servants in the fifteenth century, working as almotacenes. That means they were in charge of monitoring the use of different measurements and coins by the different tradesmen operating in the neighbourhood. 
As you can see, this street has been a commercial centre since day one, and it's also long been linked to the world of money in general. In fact, at the end of the nineteenth century the Centro Numismático Matritense, a bureau de change, was established here. 
In the same century, the Café Varela also opened its doors and attracted coteries of writers and intellectuals, amongst which were the Machado brothers, Miguel de Unamuno and the poet and journalist Emilio Carrere. You'll find it on the stretch of Calle Preciados that runs between the Plazas of Callao and Santo Domingo. 
The inauguration of the Galerías Preciados in 1943 was fairly revolutionary, as it's considered to be Madrid's first shopping centre. It was eventually absorbed by El Corte Inglés, in 1995, but the building that was home to the galerías is still one of the most distinctive ones in the area. In fact, it's served as a set for plenty of adverts and films, like 'The Day of the Beast' by Álex de la Iglesia. 
El Corte 
Inglés
' flagship store on 
Preciados
 The most emblematic building of Spain's biggest commercial group, El Corte Inglés, stands on Preciados and opened in 1939. It can be found at number 3, at the end of the street closest to the Puerta del Sol and it is, without doubt, the largest and most frequented store on Preciados. A big attraction is that at Christmas, on the other side of the building from the main façade on Preciados, they install Cortylandia on the parallel Calle Maestro Victoria. This is an explosion of light and sound that features popular children's characters. It delights both adults and children alike and is something you can't miss during the festive season. 
In recent decades, this commercial group has been buying up various adjacent buildings to open centres specialising in sports, culture and pets. And at the top of what was once the Galerías Preciados building, they've opened their Gourmet Experience, with a large terrace from which you can enjoy unbeatable panoramic views of Madrid.  
A true gourmet experience
 The Gourmet Experience concept means you can purchase the tempting delicatessen products and, at the same time, you can sample these very same delicacies included on menus designed by some of the country's best chefs and restaurant chains. They include: 
Tse

 Yang 

Dimsum

 Club

: Chinese 

haute 

cuisine

, spectacularly presented

. 

Try m

ore than 30 varieties of these bite-size snacks of Cantonese origin.

 

Gastrobar

 Experience

: 

T

his spot has permanent show

–

cooking, meaning you can enjoy the different dishes on the menus 

prepared 

from scratch. This is organised by the heat the food is cooked at: over 0°, over 6°, over 30° and over 80° C.

 

Asadores

 Imanol

: 

T

his place will make you think you're in one of the

 

traditional

 bars in the 

San 

Sebastián

's

 

old town, 

famous for their 

pintxos

 

or tapas, a

ll of 

which 

are

 based on

 quality, in-season produce.

 

Central Mexicana

: 

T

his is an authentic taste of the 

Central Market in Mexico City

, the main food market

 where you can sample the best pro

duce and dishes that Mexico has 

to offer.

 

Juanillo

 Club

: 

H

ere, you can either kick off or round off this superior 

culinary 

experience. Its design

 imitates a classic 1950s

 

cocktail bar

.

 

Y

ou can also order delicious oysters.

 
As we've already mentioned, the Gourmet Experience's terrace has some of the best views in the centre of Madrid. That's why it's also one of the city's most popular outdoor spaces when the sun shines.  
Other important spots on 
Calle
Preciados
 One of the most notable buildings on the street, where it joins the Plaza de Callao, is occupied by FNAC. The acronym stands for the Fedération National d'Achats des Cadres, a French company specialising in cultural merchandise. Here you can buy everything from books and CDs to paraphernalia related to photography, computing and high technology. 
One of the most popular spots in the Preciados area, especially around Christmas time, is Doña Manolita (Carmen, 22), which sells lottery tickets. It's so popular because this small establishment has, on various occasions, sold the numbers that have won the biggest prizes in the National Lottery. 
But, if Calle Preciados stands out for something, it's for the concentration of shops selling clothes and accessories that you'll find here. The old, traditional haberdasheries and tailors have made way for large national and international fashion chains like Zara (Preciados, 18), Mango (Preciados, 8), Desigual (corner of Callao), Camper (Preciados, 23) and Sfera (Preciados, 4). 
The relatively recent pedestrianisation of the stretch between Callao and Santo Domingo has meant that lots of restaurants have popped up here. Amongst the most popular are the branches of De María Parrilla (Preciados, 32), Asador de Aranda (Preciados, 44) and Lizarrán (Preciados, 33).   
Information of interest
How to arrive 
On 

foot

: 

Calle

 

Preciados

 runs between the 

Puerta

 

del

 Sol and the Plaza de Santo Domingo

.

 

I

t's just steps away from 

Gran 

Vía

.

 

By 

metro

: Sol (lines 1, 2 and 3), Callao (lines 3 and 5) and Santo Domingo (line 2) stations.

 

By 

train

: 

Cercanías

 

(commuter 

lines

)

 C3 and C4, Sol station.

 

By 

bus

: routes 1, 2, 46, 74, 75 146.

 
Tourist information 
Related
plans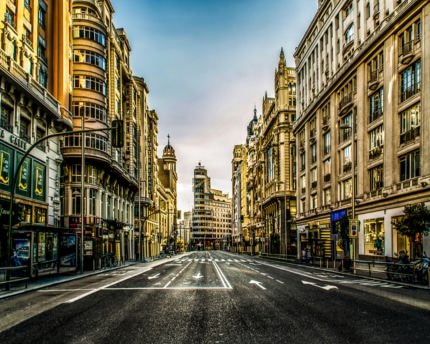 Places of Interest