Madrid at Christmas,
fun and lights
Enormous decorations full of coloured light bulbs illuminate Madrid's main avenues, small markets fill the squares and Christmas carols can be heard in the background. This is the atmosphere you will find in Madrid for just over a month. The Christmas lights switch-on also marks the start of Christmas shopping, show premieres and dinners with friends, not forgetting the children, who begin to enjoy a complete cinema, theatre and circus programming.
Christmas Lights and the 'Naviluz' bus
There are many ways to enjoy the Christmas lights, but they should all begin with a trip on the 'Naviluz' bus that runs through the streets of the city centre during the Christmas season and end at the smartened-up Christmas tree at Puerta del Sol. This public open top bus offers an interesting route around the centre of Madrid to enjoy the decorations of its main avenues. The journey begins and ends at Plaza de Colón and can be booked in advance online.
The Christmas lights switch-on usually occurs in the last week of November and can be enjoyed until January, just after celebrating the arrival of the Three Wise Men. In addition to the lights, it is also common to see elegant cherry trees in some areas of the capital such as at the roundabout of Emperor Charles V (Glorieta del Emperador Carlos V, Atocha area), the Matadero, the Plaza de Oriente square and the Conde Duque patio. However, locations may change from year to year.
Christmas markets: Plaza Mayor
The Christmas markets that are so popular in Central Europe are becoming more and more popular across the capital. The most traditional market is the one found at the Plaza Mayor, where hundreds of people go in search of decorations for their nativity scenes. In addition to finding Christmas trees, moss and handcrafted figurines for building your representation of the birth of Jesus, this market has evolved over the years and now sells arts and crafts and many other gadgets and toys that entertain children and teenagers. This is the perfect setting for having a mug of hot chocolate with 'churros' while listening to Christmas carols playing throughout the square or improvised by a few that have got into the Christmas spirit.
You can also find Christmas stalls in many squares across Madrid where passers-by are tempted with handmade objects from all over the world. You can find these stalls, among other places, at the squares Plaza de Jacinto Benavente, Plaza de la Lealtad or in the main square of the Ópera area. Other markets that are worth visiting are the Arts and Crafts Fair that usually takes place at the boulevard Paseo de Recoletos, and The International Christmas Fair of Cultures, in Matadero, where not only objects are sold as there are also activities and musical performances.
The Nativity Scenes of Madrid
In Madrid there is not such a deep-rooted tradition around nativity scenes as in other cities, but you can still visit some elaborate representations. These scenes are thoroughly enjoyed by the children who are fascinated by the automated figurines. The most traditional ones can be seen in the cultural centres CentroCentro (in Palacio Cibeles), Casa del Lector (in Matadero Madrid) and Casa del Reloj (in Puerta del Sol). In some temples you can also see some interesting representations of nativity scenes, so be sure to check the programme if you are coming at this time of year. If you are thinking about visiting the Real Sitio de San Lorenzo de El Escorial, don't miss the opportunity to see its life-size nativity scene.
Christmas for children: Cortylandia and other activities
If you are travelling to Madrid with family, we will be sharing with you some great ideas for you and your children to keep them entertained: Cortylandia, ice rinks, carousels and circuses. All four of these are available during the Christmas season in Madrid.
Cortylandia is a classic that never disappoints. Since 1979, the popular department store El Corte Inglés sets up in some of its most popular stores a small theatre that functions at specific hours. The decorations and stories are different every year, so the children are always surprised. This activity takes place at the rear of the shopping centre Sol-Preciados (at Maestro Victoria, 4), where you will be able to check the timetable of performances.
The ice rinks change location every year, although you will most likely find one at CentroCentro—the cultural centre located in Palacio de Cibeles—where you can also find the City Council. The beautiful classic carousels will make the children's eyes sparkle; they are usually real antiques and can be found in the squares Plaza de Oriente or Plaza de Santa Cruz.
Madrid is still a city that banks on having a fun time in the circus and there is a permanent one in the city, Circo Price. Do not hesitate to look at its programme because some of its shows are well worth attending.
Theatrical plays, film premieres, operas and magic are other options that parents can choose from to surprise their children.
Christmas Shopping
If you are on holiday in Madrid, it is the perfect time of year to take back gifts for your family members. You have many shops and shopping areas to choose from but there are some that you should not miss, such as the shops located near Plaza Mayor, Puerta del Sol, Gran Vía and Callao. In the streets of the city centre you will come across many franchises, but if you would rather purchase something more original you can go to the craft markets and Fuencarral street.
Christmas Sweets
What would Christmas be without its traditional sweets? It's impossible to imagine a house in Madrid without nougat, polvorones, candied fruit and the famous 'Roscón de Reyes' cake. What's more, Christmas doesn't start until they have bought them at their local shop. In Madrid there are some famous bakeries such as El Horno de San Onofre that offers different varieties of the traditional roscón, La Miguiña and Pastelería Mallorca.
Some traditional cake shops are Casa Mira, open since 1942 and specialised in nougat; the old Pastelería del Pozo, since 1830, with exquisite puff pastry cakes and its bread from Cadiz (a large piece of marzipan with quince, egg yolk and coconut); and El Riojano, a small patisserie founded by Queen Isabella's pastry chef in 1855, which is worth visiting even if it is only to admire its décor, made by the royal carpenters, and choose amongst a variety of traditional pastries to eat in its tea room.
If you are in the city on 5th January you can pass by Puerta del Sol to take part in the SOS Children's Villages campaign, as there will also be musical performances, hot chocolate and roscón.
Information of interest
How to arrive

By Metro: the closest Metro stations are Sol (L1, L2 y L3), Callao (L3 y L5), Sevilla (L2) and Gran Vía (L1 y L5).
By city bus. Check out the EMT website.
By train: You can also get to Sol by the suburban trains.
Related
plans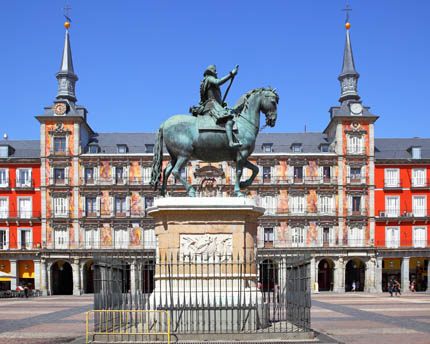 Places of Interest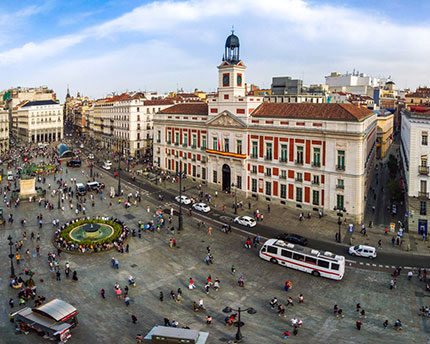 Places of Interest