Chueca:
Madrid's LGBTI district
Traditional in its architecture but cosmopolitan and eclectic in its day to day, Chueca is Madrid's LGBTI district. It is also one of the most scintillating areas in the capital due to its alternative air and its high concentration of cafes, bars, galleries and organic shops, in which design and originality are the order of the day.
Chueca lies next to Madrid's Gran Vía avenue in one of the most central areas in the city, which means strolling along its streets, shopping on Calle Fuencarral, visiting its markets or eating at one of its restaurants is a perfect way to round off any tourist itinerary.
What to see in Chueca
Although its name brings to mind music and tradition—it is named after Federico Chueca, a composer of Madrid's zarzuela music—these days the neighbourhood breathes a more contemporary air with a distinct sense of sexual freedom. The district's transition began a few decades ago when the first bars and shops specialising in LGBTI began to open, gradually followed by many others. Now it is the epicentre of a movement that stands for tolerance and equal rights, whatever your sexual orientation.
In spite of the glamour of the new shops and cafés, the Chueca district is also home to distinguished architecture and museums. Some of them, such as the Museum of Romanticism, allow you to discover the inside of a palace and over 2,000 everyday items from the nineteenth century. Having an afternoon snack in the café and listening to the water that cascades from the fountain in the interior courtyard is a pure delight. Just as interesting and unknown is Madrid's History Museum situated in a former hospice. Behind its Baroque façade is a modern space where you can learn about the city's evolution. It's wise to put aside a few hours in the morning so you can take your time.
Plaza del Rey and other open spaces in Chueca
A good way to find your bearings in Chueca is to walk from square to square. If coming by Metro, the first thing you'll encounter is Plaza de Chueca, which is the heart of the neighbourhood. From there you can decide if you fancy going shopping, sitting at one of its terraces or having a Thai massage right there at Art Thai Massage.
Just as important is Plaza del Rey, a peaceful, open space with a fountain, whose relaxing sounds accompany those who stop for a break at a terrace or come to see the House of the Seven Chimneys, one of the few remaining civil examples of sixteenth-century architecture in Madrid. Its name refers to the seven chimneys found on its roof. The building is also known for the legends that tell of how the chimneys represent the seven deadly sins, or how the illegitimate daughter of King Felipe II was locked up in the building and her spirit still roams its rooms. Since the 1980s it has been one of the headquarters of the Ministry of Education and Culture.
Another open space worth a visit, this time close to Gran Vía, is Plaza de Pedro Zerolo. The rows of nineteenth-century façades that surround it contrast with the car park hidden beneath its surface. Designed by the architect Teresa Sapey it is one of Madrid's most unique. Look out for the red bow over its entrance and the neon lights and quotes from Inferno, the first part of Dante's Divine Comedy, inside it. The square's outdoor terraces are perfect for relaxing and soaking up the sunshine during the colder months of the year.
Shopping on Fuencarral and Chueca's markets
Madrid's shopping potential is endless, but Chueca's options are second to none. Large international chains alternate with those offering alternative brands and original designs, specialist bookshops and small shops selling imported treasures from all over the world. The streets that shouldn't be amiss from your shopping plans are Calle Fuencarral and Calle de Hortaleza, where you will find a little bit of everything, as well as Calle Pelayo, Calle de San Marcos, Calle Gravina and Calle de Augusto Figueroa, an essential street for shoe shopping.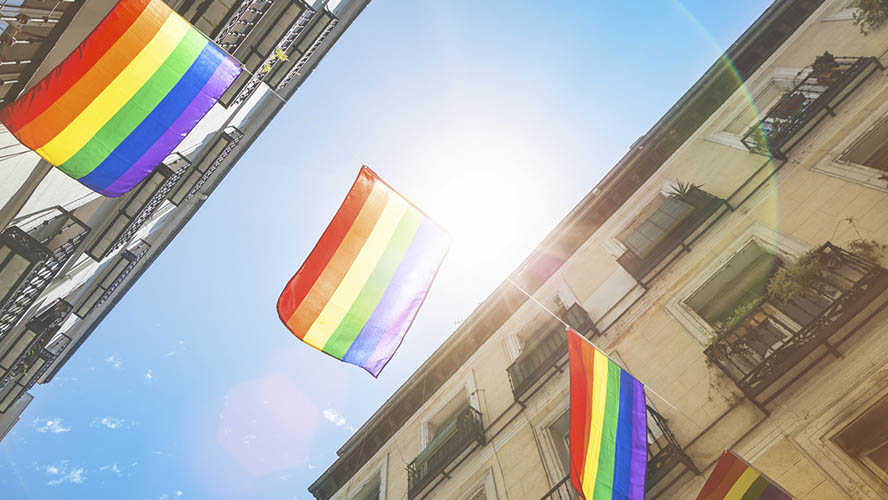 The array of shopping options wouldn't be complete without mentioning the evolution of local markets in Chueca. Much like in other European cities, markets have evolved and fresh produce is now combined with stands for sampling gourmet foods. Spaces such as Mercado de San Antón and the Mercado de Barceló offer locals and visitors alike a fine selection of deli produce and places to relax. Based around the concept of European street food is also the Mercado de San Ildefonso, a great place for grabbing a bite when out shopping on Calle Fuencarral.
Where to eat in Chueca
The Chueca district is perfect for walking, shopping and also having lunch or dinner. The food on offer ranges from tapas with authentic flavours to international and signature cuisine. Some well poured beers can be savoured at Cervecería Santa Bárbara (Plaza de Santa Bárbara, 8) or a vermouth at Taberna Carmencita (San Vicente Ferrer, 51) or Taberna Ángel Sierra (Gravina, 11). Creative cuisine is represented well at DStage (Regueros, 8), whose menu is signed by Diego Guerrero, and at Yakitoro (Reina, 41), where Alberto Chicote reinterprets Japanese recipes.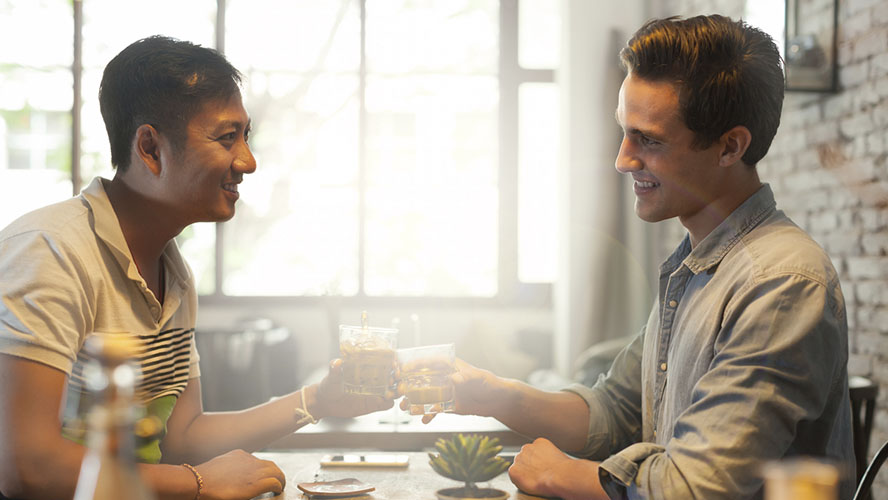 Tapas in Chueca are served alongside more elaborate dishes at Taberna Arallo (Reina, 31), which is a good bet for an outing with friends, much like Celso y Manolo (Libertad, 1), where creative touches are applied to the finest ingredients. Fans of Italian food will no doubt appreciate Gioia (San Bartolomé, 23) and Pizzería Vesubio (Hortaleza, 4); and if you're after vegetarian dishes, a great spot is El Huerto de Lucas (San Lucas, 13).
Partying in Chueca
A visit to Chueca wouldn't be complete without sampling its night-time atmosphere. Fun and frolics are guaranteed in both classic establishments such as Museo Chicote, a popular haunt of the famous and a good spot for drinks and cocktails, and those specialising in LGBTI. Some must-visits on a night out include Black & White, the live music venue Libertad 8, Teatro Barceló TClub and Sala Ocho y Medio. Many other bars dot the neighbourhood, some particularly wild options being Kubrik, LLShowbar and DLRO.
However, if there's a moment when the neighbourhood really hogs the limelight it's at the end of June or beginning of July, during Gay Pride. The event dedicated to this abundant community is one of the largest in the world. Over a space of more than a week dozens of activities take place. However, the crowning moment is parade day, when more than one million and a half people converge on the centre of Madrid.
Information of interest
How to get to the Chueca District
By Metro. The closest Metro stations are Chueca (L5), Gran Vía (L1, L5), Tribunal (L1, L10) and Alonso Martínez (L4, L5, L10). You can also walk from the Recoletos commuter rail station.
By bus. consult the website of EMT.
Related
plans