Plaça de la Reina,
Valencia's Kilometre Zero
Plaça de la Reina spreads out at the end of Carrer Sant Vicent and connects Plaça de l'Ajuntament (link interno) to Plaça de la Mare de Déu. It's one of the most characteristic squares in the city thanks to its lively atmosphere.
Plaça de la Reina is in the old town and is the perfect place for relaxing on the terrace of a century-old café beneath the cathedral and admiring the view, or browsing the flea markets that open here during the year. The square makes a great starting point for your visit to Valencia. There is also a tourist information office where staff will be happy to give you advice about different routes around the city and provide you with an events calendar.
Valencia's Kilometre Zero
The Plaça de la Reina is Valencia's Kilometre Zero, just like the Puerta del Sol is in Madrid. This means that Valencia's streets are numbered, and distances are measured, from this point. However, the square isn't actually one of the city's oldest and in fact dates from 1878, when several buildings were knocked down: a block of houses in the middle of the square, the convent of Santa Tecla and the old houses opposite the cathedral's Porta dels Ferros [Iron Gate].
Free cancellation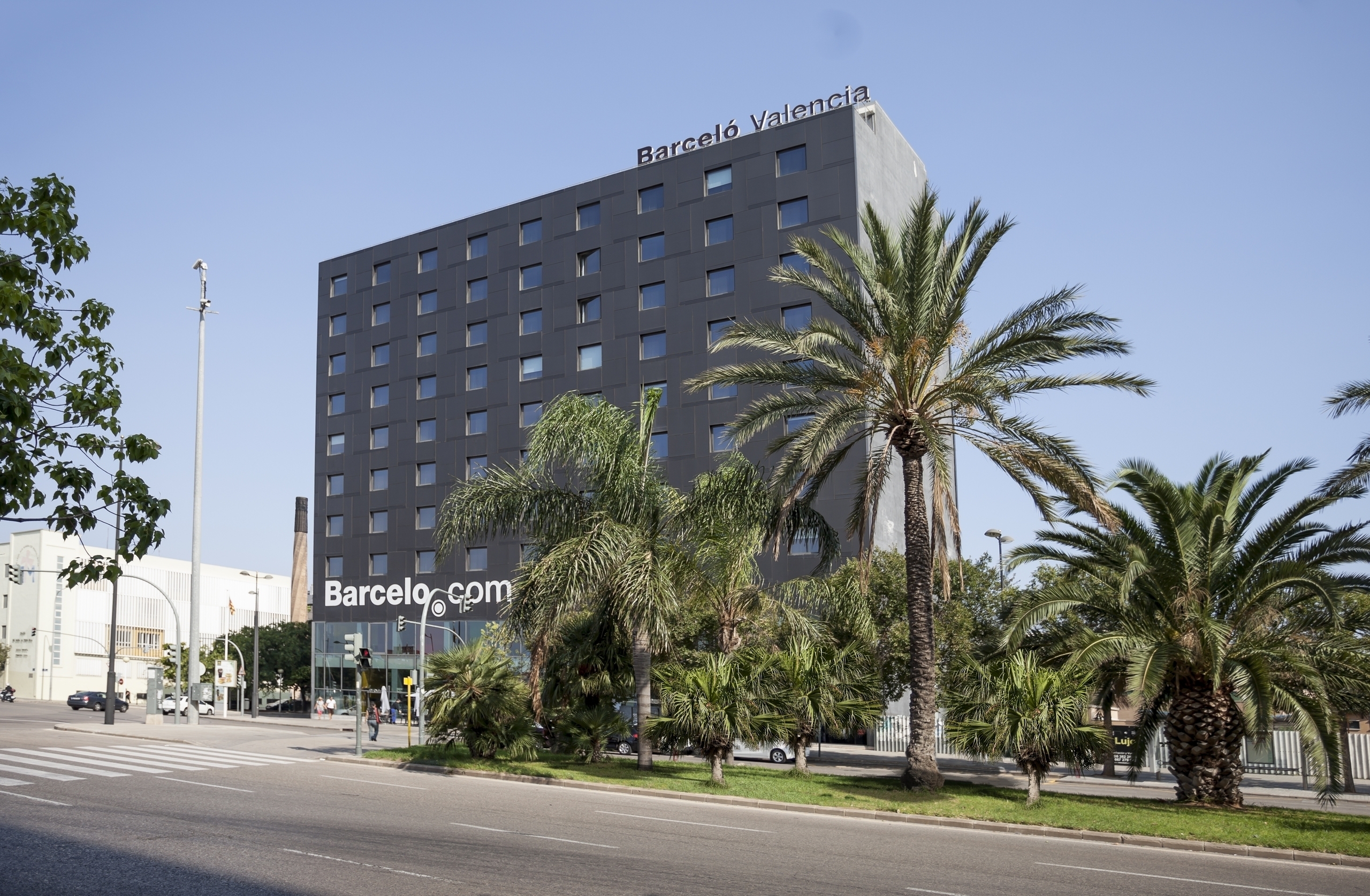 The square has been given several names during its history, including Plaza de la Región Valenciana during the Second Spanish Republic and, more recently, Plaza de Zaragoza. Its current full name is Plaça de la Reina Maria de la Mercè, after the wife of King Alfonso XII, but as locals only ever called it Plaça de la Reina the City Hall has decided to use that.
Valencia cathedral (link interno) lines the north side of the square where a mosque once stood. It's definitely worth visiting the interior to admire paintings by Goya and to see the Holy Grail. The square also has excellent views of the bell tower of the church Església de Santa Caterina.
An horchatería with two hundred years of history
You can't leave Valencia before you try its famous orxata or horchata (tiger nut milk), and what better place to do so than the Horchatería Santa Catalina. This café first opened its doors in the nineteenth century and is the oldest café in Valencia. They also serve typical Valencian pastries and the buñuelos de calabaza (pumpkin doughnuts) are highly recommended. If the weather is cold, why not warm yourself up with one of their speciality hot chocolates, such as the chocolat chaud or the mint hot chocolate? The gorgeous café interior is decorated with typical Valencian ceramic tiles.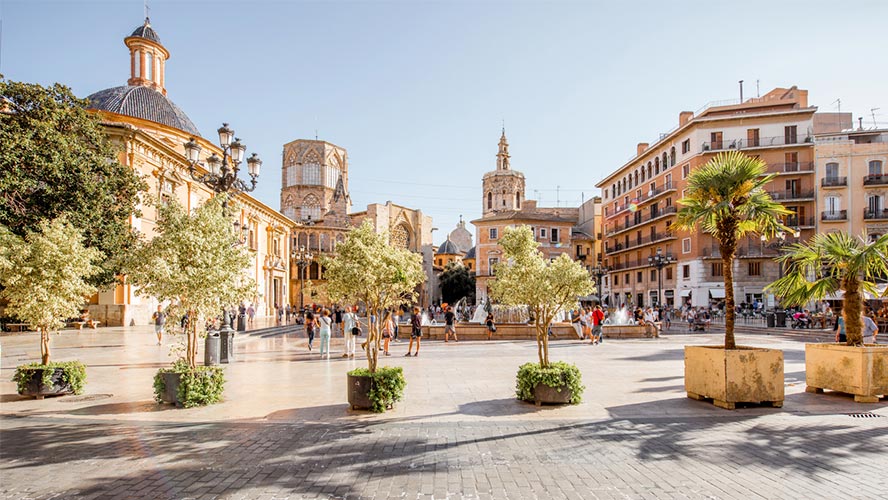 Restaurants in Plaça de la Reina in Valencia
The square is filled with delightful terraces, tapas bars and restaurants to suit every budget. Take a well-deserved break during your tour around Valencia and stop at a restaurant like Moltto Rest & Bar where there is something to enjoy all day, whether it's a pre-lunch aperitif, a delicious meal, cocktails or music in the evenings. Another good spot where you can try rice and Mediterranean dishes is the Mercat de la Reina. It's famous for its pinchos bar and wood-fired oven. Grupo La Reina runs the Taberna de la Reina and here you can enjoy Mediterranean cuisine that is served all day in a casual atmosphere; either sit inside or bag a table on the outside terrace with views of El Micalet.
Once night falls, head past El Micalet tower into the El Carme neighbourhood to explore an area with a vibrant nightlife.
Almacenes La Isla de Cuba
The Monforte building sits on the south side of the square and was originally called Almacenes La Isla de Cuba; the ground floor was once the finest bespoke dressmaker's and tailor's of its period. It was built in 1895 with a double-storey arcade running along the ground and mezzanine levels and is an excellent example of the eclectic style of Lucas García. The upper floor has an attractive frieze with Greek motifs and cast iron decorative features.
When you wander the streets in the vicinity of Plaça de la Reina you'll soon spot that there are shops selling certain products depending on which direction you take. For example, if you head towards Carrer del Mar you'll come across a series of art galleries and antique shops whereas if your feet take you towards Carrer de la Pau, you'll be surrounded by jewellers' stores.
Plaça de la Reina itself is home to one of the most emblematic shops in the city with over a century of history: Guantes Piqueras has been selling gloves and fans since 1886. A huge wooden gloved hand used to hang above the shop front indicating its location but sadly it was stolen in 1991.
L'Escuraeta flea market
The L'Escuraeta flea market is held from the second Sunday in May until the festival of Corpus Christi. This artisan market sets out its stalls in the Plaça de la Reina and is fantastic for tracking down typical Valencian ceramics, kitchen utensils and earthenware dishes used in traditional Valencian cooking, such as arròs al forn [baked rice]. The market has appeared here since the time of Jaume I who ruled during the reconquest of Valencia. During the period in the thirteenth century when the city was being converted to Christianity, traders would sell their ceramic goods in the market while apprentices would use it as a chance to demonstrate their skill in the hope that they might be accepted into the potters' guild. However, some historians think that the market might be even older yet; the cathedral was built on top of an ancient mosque and it was a Moorish custom to create souks next to their place of worship.
In olden times people would come to the market to buy campanitas de la virgen, a type of ceramic bell given to children who would hold it by a red wooden cross and ring the bell during the Corpus Christi celebrations. While this tradition has virtually disappeared, the bells can still be bought as a souvenir of Valencia. Children also love xiulets, small clay whistles that can be filled with water and blown at one end to make a bird-like twittering.
Information of interest
Parking
There is an underground car park beneath the square with 344 spaces. Check prices in advance on the website.
Related
plans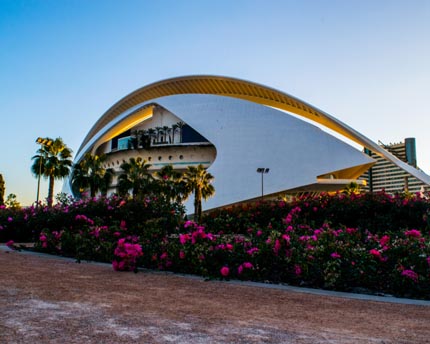 Places of Interest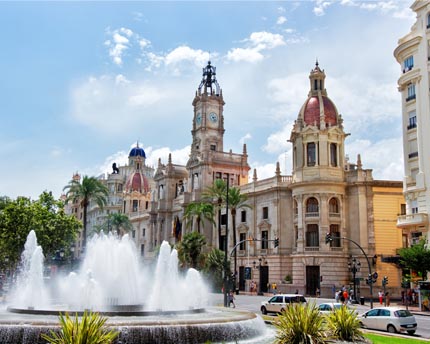 Places of Interest