Elevate your game: Unleash your swing with these golf breaks
Barceló Hotel Group transforms the dreams of golf enthusiasts into reality every day of the year, offering access to top-notch courses amidst the legendary natural beauty of the world's breathtaking destinations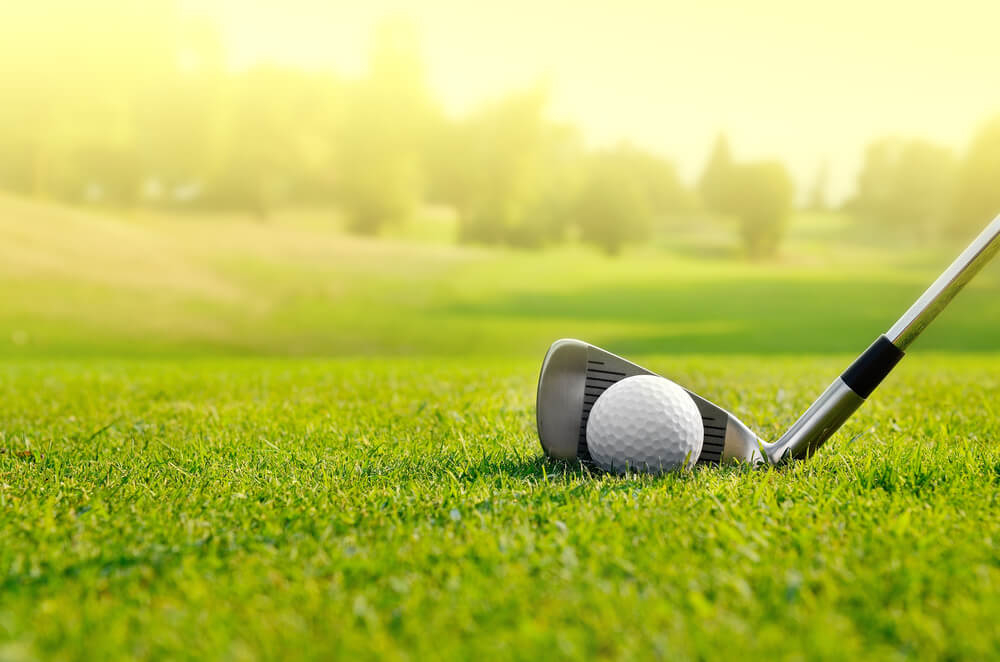 When it comes to creating a golfer's dream escape, Barceló Hotel Group takes a swing at perfection with their daydream-worthy golf breaks, nestled away in paradise. Imagine teeing off on world-class courses set against the spectacular landscapes of places like the Caribbean or Andalusia. Whether you're an avid golfer or just looking to elevate your golfing experience, Barceló's luxurious resorts offer unparalleled opportunities for golf holidays. Discover the tempting offer of perfectly manicured courses and accommodation so dreamy that you won't want your golf-infused retreat to end.
The best time of year for golf breaks
Across the world, there are many hidden-away luxury resorts where golf enthusiasts can indulge in all-inclusive golf holidays. For seeking the ideal time to tee off against the backdrop of the enchanting Caribbean Sea, it is best to visit the region during the dry season. The magic of Caribbean golf destinations reaches its peak during the winter months, from February through April, when the weather is comfortably warm, and the trade winds create the perfect playing conditions. Yet, if you are drawn to the diverse landscapes of Spain, the prime season to visit is during the spring or the cooler autumn period. It is during these months that in many Spanish hotels, golfers can experience the text-book-perfect surroundings of lush green foliage against the backdrop of crystal-clear waters and pristine beaches. Savour every swing in paradise and get planning your golf getaways for the year ahead.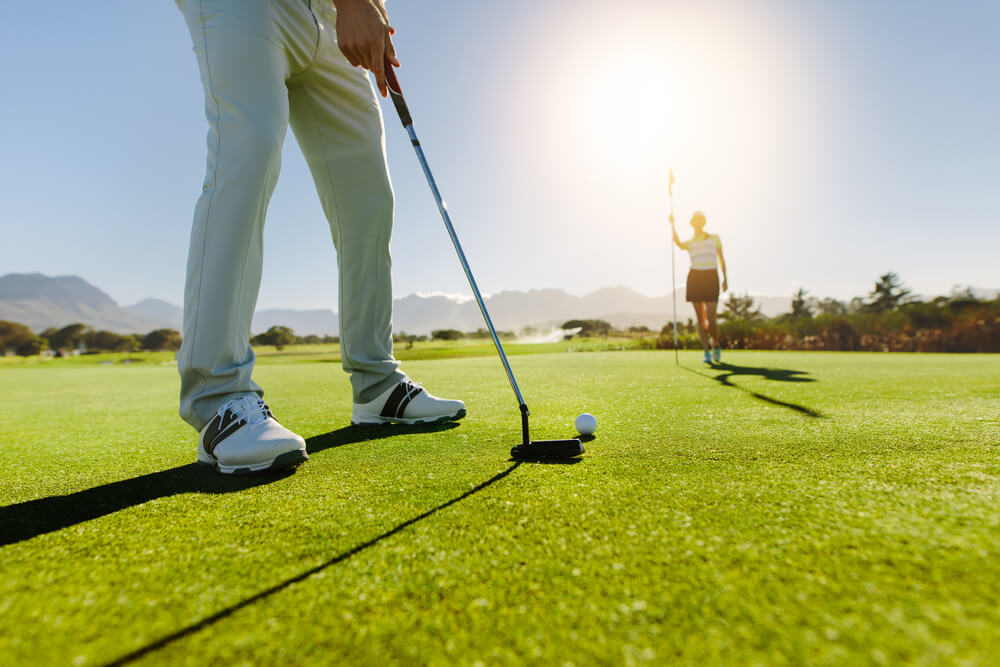 Discover the best places to play golf across the world
Uncover the best golf trip destinations in the Caribbean
It is no surprise that people travel from far and wide to experience the beauty and excitement of the best golf trips in the Caribbean. With its stunning tropical landscapes, lush green fairways, and challenging courses designed by world-renowned architects, the Caribbean offers a golfing experience like no other. Whether you're teeing off against the backdrop of turquoise waters, navigating through palm-lined courses, or enjoying the warm, year-round weather, golf enthusiasts and vacationers alike find themselves drawn to the Caribbean's golfing paradises. Beyond the links, the region's vibrant culture, delicious cuisine, and luxurious resorts add an extra layer of allure, making Caribbean golf breaks truly unforgettable for every golfer.
Enjoy the best winter golf trips at The Lakes Barceló Golf Course
If you mention the name P.B. Dye to a golf aficionado, his or her eyes will light up. Dye is renowned the world over for his incredible course designs that blend classic fairway beauty with innovative style. Playing on a P.B. Dye course isn't just a day out on the links – it's an immersive experience that makes these golf breaks worth the money. Recently, the designer set his sights on the Barceló Bávaro Grand Resort, one of the best all-inclusive golf resorts in Punta Cana and home to the 18-hole, par-72 Lakes Golf Course ideal for a winter golf trip with friends or family.

Capitalising on the natural beauty of the Bávaro area, the meticulously manicured course features rolling fairways that traverse through a lush mangrove forest, with 25 inland lakes and 122 strategically positioned bunkers. In other words, welcome to a golf-lover's paradise suited for all levels of experience. 
In other words, welcome to a golf lover's paradise suited for all levels of experience
Meanwhile, the clubhouse features a beautiful terrace overlooking the 18th green, with a fully stocked golf shop featuring Men's and Ladies' golf apparel and equipment. The 19th Hole is home to a full restaurant bar, which is open for breakfast, lunch and dinner.
After the Last Hole: Enjoy a glamorous night out at the recently renovated 24-hour Bávaro Casino (located in the Barceló Bávaro Palace hotel), where you'll find exciting table games like Roulette, Blackjack, Caribbean Poker and Texas Holdem, along with 150 slot machines to try your luck on. Ka-ching!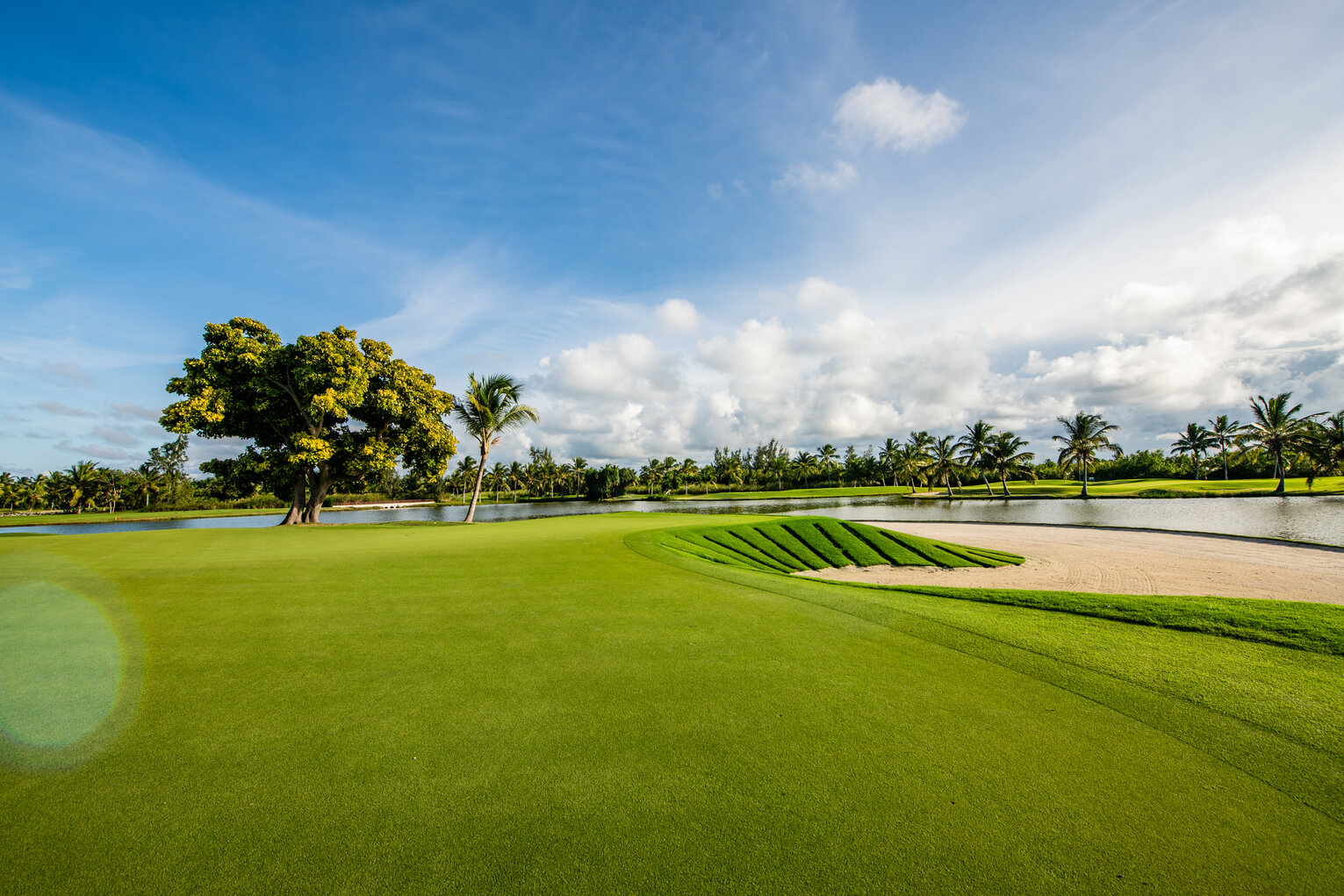 The Lakes Golf Course, Barceló Bávarro Grand Resort
Have fun on the green at Pok-Ta-Pok, Cancun - one of the great golf getaways to enjoy in Mexico
If you are planning a vacation in Cancún, you will want to add Pok-Ta-Pok to your list of must-visit places. Designed by the famed course architect Robert Trent Jones, Pok-Ta-Pok is one of Cancún's most beloved golfing experiences. Even more, it's easily accessible from Occidental Costa Cancún and Occidental Tucancún. In his design, Trent Jones cannily incorporated some amazing features that already existed on the site. Most amazing is a lengthy stretch of gorgeous shoreline and ancient Mayan ruins. Fun fact: the course's name comes from the Mayan's traditional ballgame. Cancún Golf Club at Pok-Ta-Poki is located in the heart of the Zona Hotelera (Hotel Zone) and only 20 minutes from Cancún's International Airport. After the Last Hole, spend the evenings of your Cancún golf holiday in Boulevard Kukulcán which is filled with great dining options, ranging from authentic Mexican cuisine to classic comfort food.
Looking for the best places to go on a golf trip? Head to Spain
Spain is a wonderful destination to consider for golf breaks, once the temperatures have dropped, of course. The best Spanish golf resorts offer a perfect blend of challenging courses and Mediterranean charm. With a wide range of options scattered throughout the country, golfers can choose to tee off against the backdrop of scenic coastal cliffs, picturesque countryside, or historic cities. The Spanish golfing experience is further enriched by the warm hospitality, delicious cuisine, and vibrant culture that Spain is known for. Whether you're an avid golfer or just looking to relax in a beautiful setting, Spain's golf resorts have something to offer every traveller seeking a memorable and sun-soaked golf getaway. 
Enjoy golf and spa getaways in Jerez de la Frontera
Imagine waking up to views of a perfectly manicured, 18-hole golf course that is also home to the Volvo Masters. At the Barceló Montecastillo Golf, guests can spend their days practising their swing at the driving range, putting green or chipping green. Designed by Jack Nicklaus, this magnificent 6456-metre course is considered to be one of the top ten golf courses in Spain. Try your luck at a hole-in-one on the practice course or receive expert training with individual or group classes. This varied course is suitable for avid golfers and beginners alike with the perfect mix of picturesque putting amidst olive trees and lakes and nail-biting moments.
This varied course is suitable for avid golfers and beginners alike with the perfect mix of picturesque putting amidst olive trees and lakes and nail-biting moments
After a rewarding day on the greens, guests can unwind and relax in the luxurious amenities that the Barceló Montecastillo Golf has to offer. The resort boasts a state-of-the-art spa and wellness centre, where you can indulge in rejuvenating massages, soothing hot tub sessions, and invigorating sauna experiences. For those seeking more active pursuits, the hotel provides a well-equipped fitness centre and football and rugby pitches, ensuring there's always something to do. If you are looking for golf sun holidays, this hotel has it all. It is worth noting that the hotel is also pet-friendly so your four-legged BFF can accompany you on your adventures around Jerez.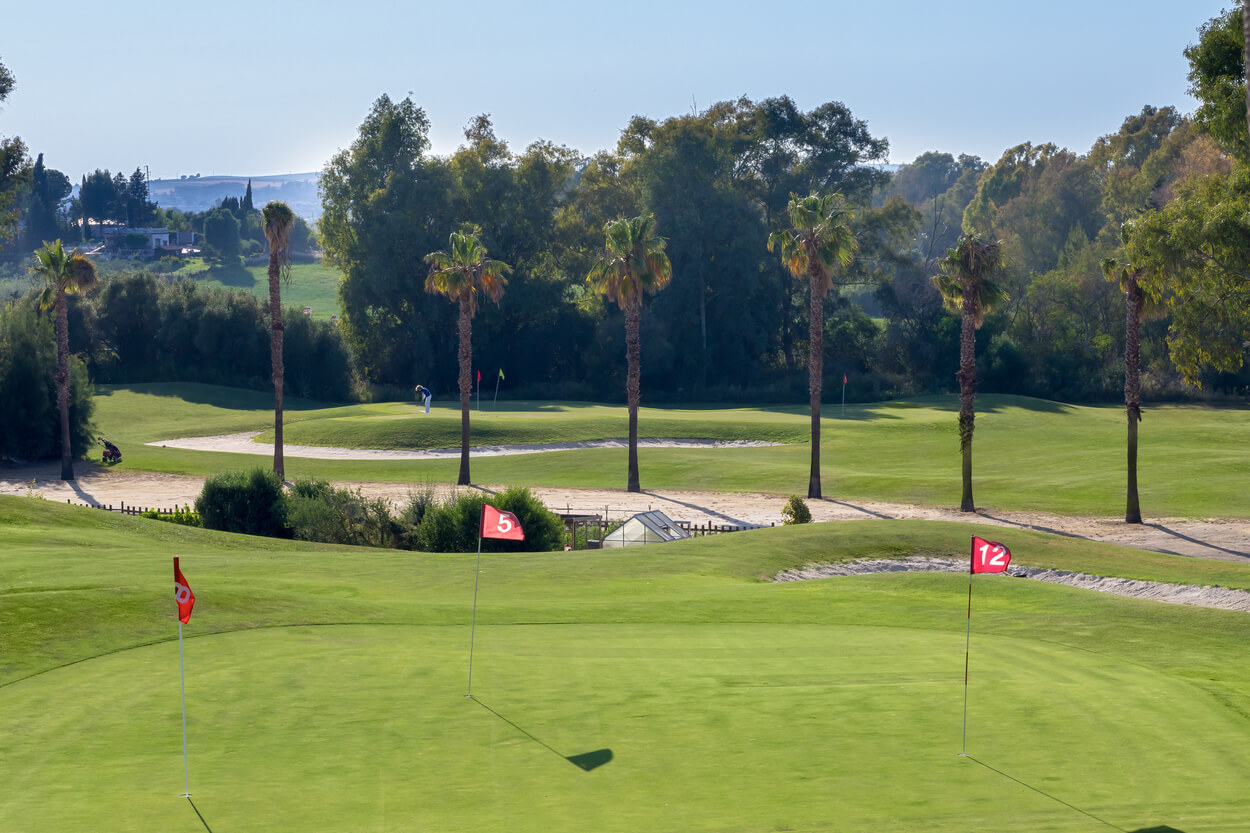 The Montecastillo Golf Course at Barceló Montecastillo Golf
Enjoy golf getaways for couples in southern Spain
If you are looking for a beachfront hotel surrounded by stunning Andalusian gardens while being just a stone's throw away from some of the best golf in the region - the Barceló Isla Canela is for you. Just 4 km from the hotel, the exquisite Isla Canela golf course awaits, setting the stage for an unforgettable tee-off.
But that's just the beginning of your golfing adventure! Prepare to be mesmerised by the grandeur of the Costa Esuri Golf Club, boasting a remarkable 36 holes, a mere 12 km away. As if that weren't enough, the hotel is cocooned by a constellation of renowned golfing gems, including the captivating Islantilla Golf Course, a mere 30 km away, the legendary El Rompido Golf Course beckoning from 43 km, and the splendid Nuevo Portil Golf Course just 48 km from the hotel. Each of these courses offers the perfect backdrop for perfecting your swings in a golfer's paradise, where the climate is nothing short of perfection.

Whether you seek to challenge your skills, savour breathtaking views, or simply immerse yourself in the golfing culture, the Barceló Isla Canela Hotel is one of the most perfect golf breaks in Spain.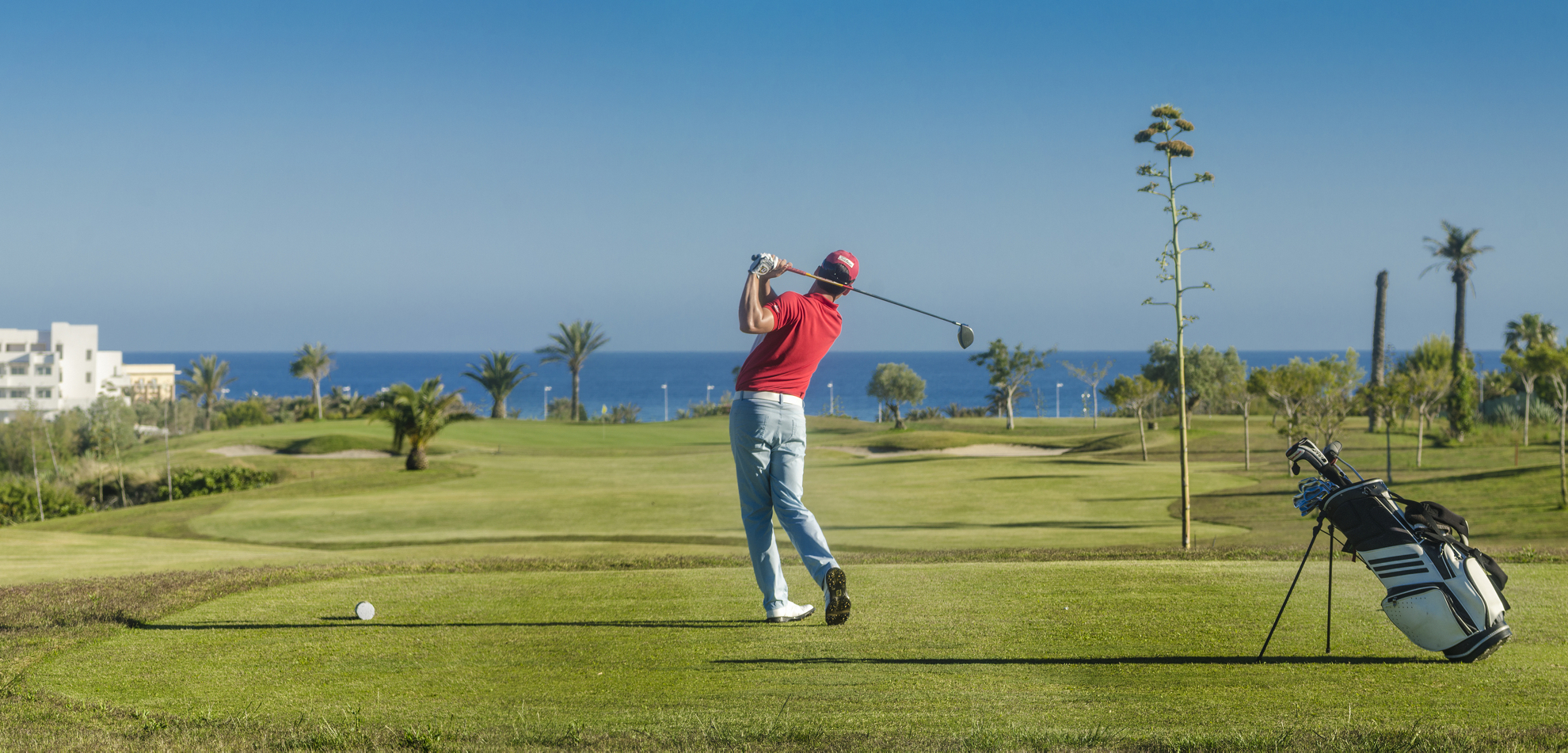 The Cabo de Gata area of Andalusia is home to many wonderful golf courses
Soak up the winter sun on Tenerife's golf courses
Tenerife is the home of winter sun golf holidays and where better to stay than the luxurious Royal Hideaway Corales Resort, located just minutes away from the famed Golf Costa Adeje course? This 18-hole, par 72 course was once a banana plantation until designer Pepe Gancedo envisioned a golfer's paradise with sandy banks, vast stretches of green and spectacular views of La Gomera, one of the neighbouring Canary Islands. And, with annual temperatures never dropping below 22ºC, this island is ideal for golf breaks, even in the winter months. Of course, this is not the only golf course on the island with other top-quality courses such as Amarilla Golf, another 18-hole course, located just a few kilometres up the coast. After a busy day out on the green, indulge in a delicious meal at one of the hotel's two Michelin-starred restaurants or revive weary muscles in the hotel's state-of-the-art spa. 
Enjoy the ultimate golf trip to the Costa Blanca
The legendary Jack Nicklaus strikes again with two must-visit golf courses nestled away on the Costa Blanca. Villaitana Levante and Poniente have been masterminded by Nicklaus and are strategically located close to the Asia Gardens Hotel & Thai Spa, a Royal Hideaway Hotel on the fringes of Alicante. There is a shuttle service provided by the hotel which takes you to and from these fantastic courses, both of which also offer club hire and golfing classes for all levels. What sets these courses apart is their ability to cater to golfers of all abilities. They seamlessly blend the joy of the game with technical challenges, ensuring an unforgettable golfing experience. But it doesn't end there. The facilities at these courses are nothing short of exceptional, featuring a 300-metre driving range with over 30 natural grass tees, a meticulously maintained putting green and an approach shot zone complete with two practice bunkers. Once the golfing adventures come to an end, tantalise your tastebuds in one of the hotel's 9 restaurants before unwinding in the luxurious surroundings of the Thai spa.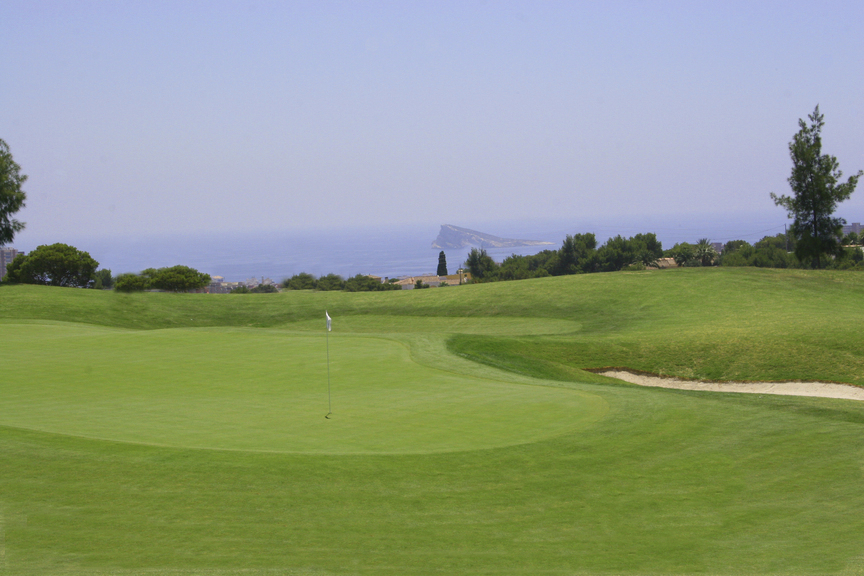 The Costa Blanca is home to some great golf courses