Where to watch the 2018 FIFA World Cup in Spain
On holiday in Spain during World Cup 2018? Don't miss the big matches with our guide to the best bars, pubs and sports hubs in Spain's top destinations where you can watch all the action
Football fans - rejoice. After a long, four-year wait, the 2018 FIFA World Cup is finally underway and it's time for you to enjoy non-stop football this summer. And if you're heading off for fun under the Spanish sun during the event, you're in for a double dip of pleasure.
From June 14 – July 15, 32 national teams will battle it out in 12 different stadiums all over Russia – this year's hosting country. As this is the 21st FIFA World Cup and the world's largest sporting event, the competition is guaranteed to be intense. Television coverage is set to be bigger and better than ever, meaning football fanatics from all over the globe will be glued to their screens to get their fix of all the action.
For Brits on holiday in Spain during the event, you'll find plenty of opportunities to soak up the atmosphere and tune into English commentary.
Check out our pick of some of the best footy hotspots in Spain where you can make sure you don't miss a second of the competition.
Barcelona
Flaherty's Irish Bar
The city's Irish bars are, of course, where many of the places to watch live football can be found. Sitting in an ideal location just off Las Ramblas, Flaherty's Irish Bar is the perfect place if you and a group of friends are wanting to watch the World Cup in Barcelona.
Treat yourself to the 'Beer O'clock' offer, where you can get a bucket of 5 bottles of Estrella Damm for €7.50 between 4pm and 8pm. Indulge in a range of homemade food and a selection of drinks offers to get the footy party started. Where better to be for those afternoon kick-offs? 
Belushi's
With 10 HD plasma TVs and three giant projector screens, Belushi's brings you all the latest sporting action televised with English commentary. Bring along your friends and family and enjoy the ultimate World Cup party with Belushi's exclusive sports package – available for groups with a minimum of four people. For just €20 per person, enjoy a front-row table, two buckets of Corona on arrival, a meat feast sharing platter, a bucket of 20 wings, and a round of shots to celebrate (or commiserate) the final score. This much-loved sporting hub is just a stone's throw away from Placa Catalunya, at the top of Las Ramblas.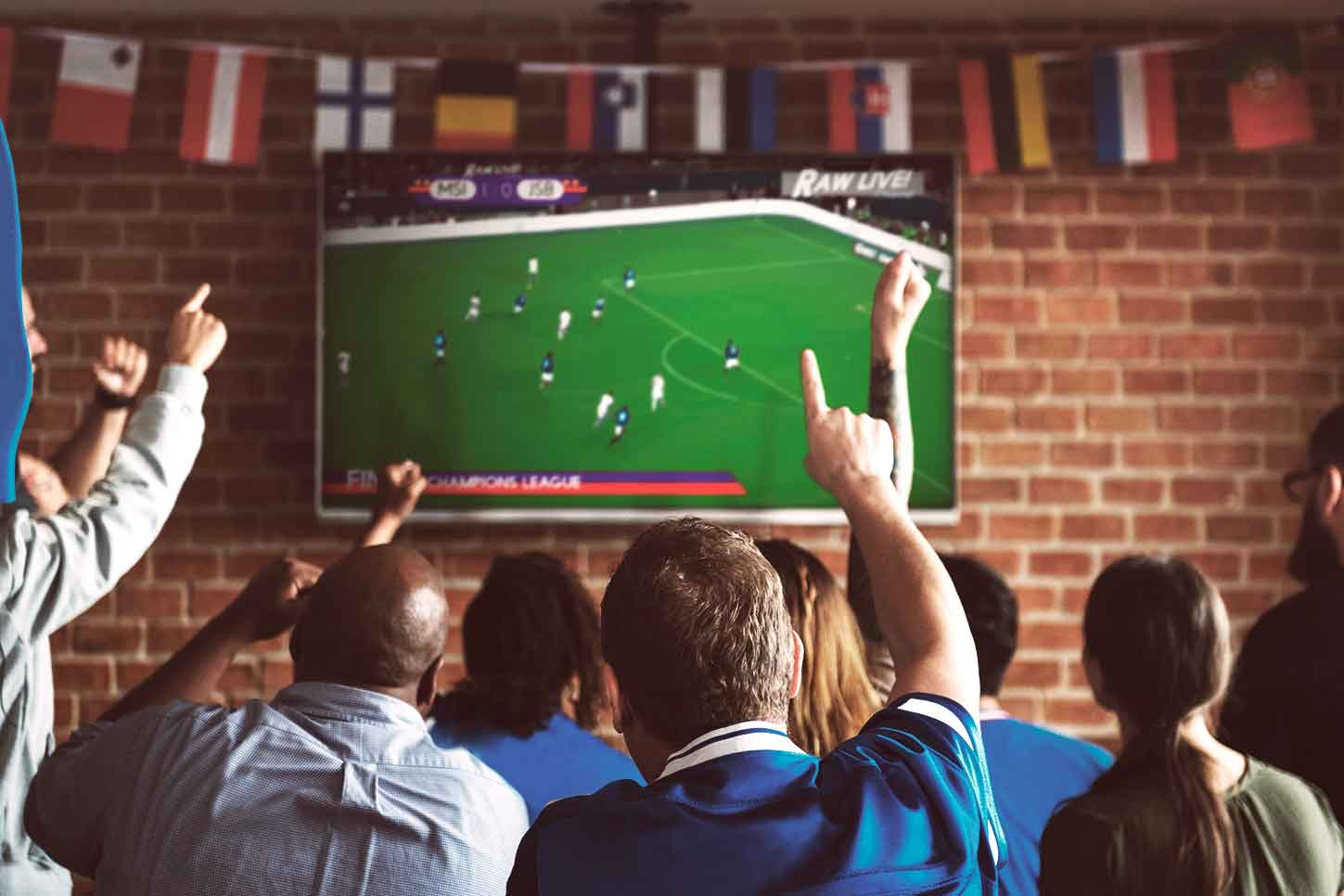 CocoVail Beer Hall
Prepare to let CocoVail Beer Hall become your second home this summer as you come to catch all the World Cup action week in and week out. With 24 different craft beers on tap, a trendy beer hall with plenty of big screens to watch your team, and famously adored chicken wings, this bar is certainly a city hot spot to catch the best of the World Cup. 
Looking for a hotel in the heart of the city? Check out the latest deals at Barceló Raval.
Lanzarote 
Champs Sports Bar
Heading to Lanzarote and worried you'll miss a game? Don't fret. Champs Sports Bar is a fantastic sports bar located in Barceló Teguise Beach, a stunning adults-only hotel on the seafront of Costa Teguise, and Las Cucharas beach. Here, you can watch all the World Cup matches on the big screen. Enjoy good food, from burgers and chips, to steaks and salads, quality drinks and a game of pool. With both a modern and comfortable indoor and outdoor seating area, you can sit back, relax and watch the game amidst a friendly atmosphere.
 The Dubliner Pub
Situated in the beautiful resort town of Puerto del Carmen, The Dubliner Pub is a football fan's haven, where you can watch all the live action from the World Cup 2018 on the big screen. Escape the Canary Island heat and watch in the comfort of an air-conditioned room. Dig in to a selection of food and drinks and enjoy an evening of live music after the final whistle.
Check into the Barceló Teguise Beach hotel this summer and catch the World Cup action right on your doorstep.
Malaga
Linekers Bar
Looking for a venue where you can soak up the World Cup atmosphere? Famed for its association with former England striker, Gary Lineker, Linekers Bar is a world famous venue with branches scattered all over Spain. Catch all the World Cup 2018 coverage in the heart of Puerto Banus, where Linekers Bar will be broadcasting the action across a whopping 25 plasma screens. With an electric atmosphere and friendly staff, this is certainly Marbella's biggest hotspot when it comes to live sporting events.  
The Claddagh Bar
You won't miss a moment of live sports in this authentic Irish bar in the heart of Marbella, with five wide television screens broadcasting all the top-quality football. Settle down with a pint at The Claddagh Bar and enjoy the World Cup kick off in a refreshing air-conditioned environment. 
B-Lounge Bar at Barceló Malaga
Enjoy a bite to eat and a delicious cocktail at the B-Lounge Bar located in Barceló Malaga. A stunning interior décor with a comfortable seating area makes this the perfect place to watch the World Cup games in a luxurious environment. 
Watch the footballing action without having to leave your hotel, by booking your stay at Barceló Malaga.   
Madrid  
James Joyce Irish Pub
As one of the biggest football capitals in the world and home to European footballing champions, Real Madrid, there are unsurprisingly plenty of places where you can catch the World Cup games this summer.
James Joyce Irish Pub broadcasts all the live sports you could wish for across three large screens. The pub is spread across two floors, so you can enjoy your game in the utmost space and comfort. If you're feeling peckish, tuck into a starter, main course, dessert and a drink for just €10.95.
Penalti Lounge Bar
Does eating and drinking as much as you can for €16 sound appetising? Then head to Penalti Lounge Bar where you can catch the 2018 World Cup and indulge in an exclusive football menu with an open bar of beer, sangria or soft drinks. With varied food menus on offer, simply pick the one you like the most and create your own football experience. 
Looking for a beautiful hotel in Madrid this summer? Check out the latest deals and availability at Barceló Torre de Madrid.
Fuerteventura
Retro Bar & Restaurant
Heading to the Canary Islands and need your football fix? Retro Bar & Restaurant is a football fan's paradise and the perfect place for you and the family to enjoy a varied menu, from pizzas and burgers to steaks and ribs.
Catch the World Cup action on the wide screens and treat yourself to the exclusive football happy hour 'Rock n' Goal', offering local beer from 3pm to 4pm. 
Book your room at Barcelo Corralejo Bay, just five minutes away from this footballing hub. 
Cadiz 
Dublin Bay Irish Pub
Dublin Bay Irish Pub can be found at Royal Hideaway Sancti Pectri hotel, where you can watch the World Cup in the ultimate entertainment hub. Have a go at a game of darts or knock down some pins in the bar's professional bowling alley. This is the perfect spot for family and friends alike to create their own 2018 World Cup party in Andalucía.
Snap up the latest deals at Royal Hideaway Sancti Pectri before they're gone…
Tenerife 
Taylor's Lounge
Tuning in on Tenerife? You can catch all the World Cup action in this bustling Canary Island - in fact, you'll be spoilt for choice when walking down the main strip, with bars and Irish pubs with live football and lager at every turn. With 19 flat screen TV's and a project screen, Taylor's Lounge is a newly refurbished sports bar with outdoor terraces front and back. Enjoy bottomless lager for €1.50 a pint while you cheer on your side.
Leonardo's Bar
Leonardo's Bar is the home of sports and entertainment, broadcasting all the major football games across a plethora of screens to ensure you can enjoy your game with an uninterrupted view. Sip on an ice-cold beer or treat yourself to the extensive list of cocktails. After the final whistle, stay for an evening of entertainment where you can party the night away with the bar's resident DJ. 
Book your stay in Tenerife this summer at the Royal Hideaway Corales Beach.  
Mallorca
Hogan's
Where better to watch the live World Cup matches than by the beautiful marina? Located in the bustling centre of Palma, Hogan's shows the best of live sport across 14 LED flat screens. This modern and authentic Irish pub boasts two floors, an outdoor terrace and three bars to ensure you can catch the action in space and comfort. Cheer on your team from the terrace with picturesque views over the marina and make the most of the delicious menu served from 12am to 12pm, including the likes of cheesy nachos, gourmet sandwiches, divine burgers and typical pub grub.
Shamrock
Don't miss a minute of the big game at the Shamrock in Palma, where nine screens will provide you with all the 2018 World Cup football. Shamrock offers a selection of meats, fish, tapas and, of course, Guinness by the barrel load. 
Looking for a hotel in the heart of Palma? Check out Barceló Illetas Albatros for deals and availability.