On the trail of
tapas through Almeria
Going out for tapas in Almeria is a bit like exploring the golden mile of museums in Vienna. It isn't just about trying traditional dishes or savouring the latest creations of up-and-coming chefs. The conception and preparation of food in Almeria is elevated almost to an art form, no matter how small or big the portion is. Need proof? The city was declared the Culinary Capital of Spain in 2019 ­– no mean feat considering the ferocious competition from cities like Barcelona, San Sebastian and Madrid. This speaks to the importance well prepared food has not just in the city of Almeria but the entire province.  
You can enjoy tapas at any time of day in Almeria but the best time to soak up the atmosphere à la Almeriense is between one and three (Spanish time for lunch) and after eight on weekends. This is when locals get together around cold beers, glasses of fine wine, and of course, tapas. Terraces and bars come alive with the chatter and laughter of patrons and the succulent smell of food. 
The top tapas bars in Almeria
Choosing where to go for tapas is a bit of a head scratcher just because of the number of excellent places to choose from. Read on to discover our round-up of the top tapas bars in Almeria that won't disappoint:  
Jovellanos
(Calle Jovellanos, 16)
This small, popular eatery is a great place for tapas, lunch or dinner. Be sure to order their 'surprise' croquettes, made from a different filling every time you visit. 
Taberna
Nuestra Tierra
(on the corner of Calle Jovellanos and Calle Marín)
This establishment pays tribute to the best Andalusian products and dishes such as Iberian ham, chorizos and beef cheeks with Mozarab sauce.  
Free cancellation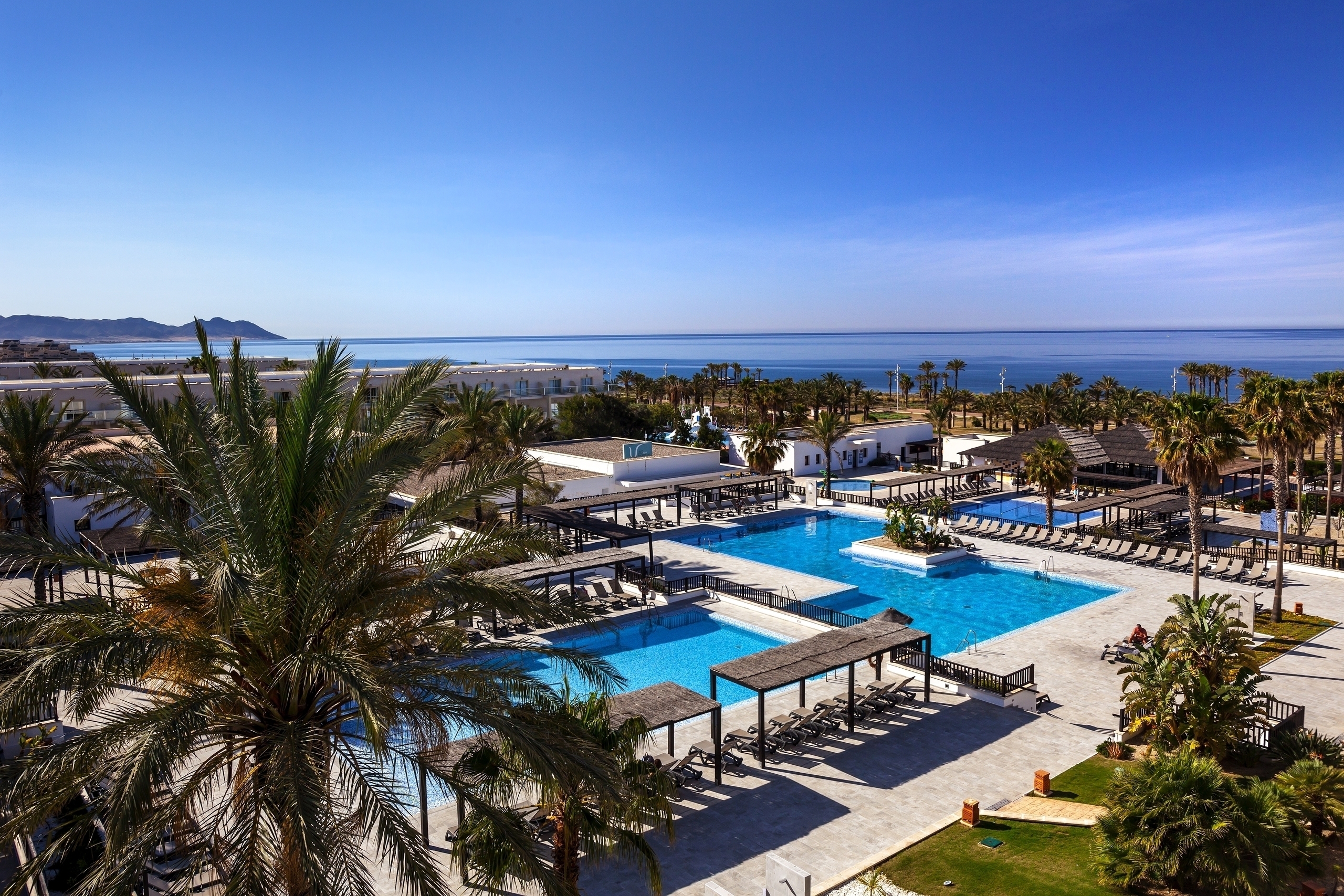 La
Mala
(Calle Real, 69 and Calle Gabriel Callejón, 10)
Each location specialises in the preparation of a tapa. The first location concocts the finest Spanish omelettes (tortilla), while the second location whips up freshly made croquettes. La Mala is a favourite among locals. 
La
Consentida
(Plaza Antonio González Egea)
This is the place to go for chargrilled meat tapas. There are however other options on the menu to satisfy all tastes. A highly recommendable tapa is the chargrilled octopus on bed of parmentier – a true expression of what a gourmet tapa is all about. 
Él
vino en un barco
(Calle Arco, 2)
This modern establishment is renowned for its black pudding and Apple pasty and its octopus with potato mousse. 
More top tapas bars for those who still have room
Andalusia isn't just about fried fish and seafood, and Almeria is here to prove it. Read on to discover the city's best-kept tapas treasures: 
Cherigan
This is Almeria's own take on Catalonia's pa amb tomàquet: toasted, rustic bread rubbed with tomato and seasoned with olive oil and salt. The Almerian version replaces the tomato with aioli, and adds different types of toppings, including Iberian ham, cheese, Spanish omelette and quail eggs. The best are prepared at Cafetería Colón (Plaza Marqués de Heredia, 6-8). 
Octopus
This delicacy is prepared in a manner of ways and with different condiments. The most popular is grilled with aioli. Head to Los Sobrinos (Plaza de Málaga, 29) – they know exactly how to get it right. 
Patatas
a lo pobre
Literally called 'Poor man's potatoes', this simple dish of deep-friend potatoes, topped with onions, peppers and a dash of olive oil is the perfect comfort food. If you are in the mood for this simple yet satisfying dish, visit El Quinto Toro (Calle Juan Leal, 6); they know exactly how to get it right. 
Remojón
de San Antón
This tapa is a stable of Andalusian cuisine, especially Granada. Mashed-up boiled potatoes are topped off with hard-boiled eggs and olives. Served cold, El Quinto Toro is also the best place to try this local dish. 
Tabernero
This chilled ratatouille-like dish is made from tomatoes, peppers, onions, and pieces of lean pork. We particularly like the one prepared at De Tapas Bar (Calle Profesor Mulián, 19).
And just a few more tapas bars…
The city has such a wonderful offering of tapas bars, we couldn't go on without mentioning these establishments: 
Joseba
Añorga
Taberna
(Plaza de la Constitución, 4)
This kitchen is spearheaded by a Basque chef whose culinary methods bring out the flavours of regional products. Try the hake with dried tomato and pistachios or the scallop tataki with white-bean hummus.  
Taberna
Entrevinos
(Calle
Francisco García Góngora, 11)
This place covers all the classic tapas and rations: delicious Iberian ham, Spanish omelette, home-made croquettes and the good-old portions of all sorts of deep fried fish and seafood. If you are in town when it's artichoke season, be sure to order a portion. They also prepare mean dishes of octopus and shrimp. This is a seafaring town after all.  
Casa
Sevilla
(Calle Rueda López)
This kitchen specialises in all types of tapas. You can have a taste of traditional tapas or try some of their more modern takes. They also have an amazing selection of Spanish wines. If you are having a hard time trying to figure out what to pick, go for their fabulous ajoblanco (chilled almond soup), the fried aubergine and dried octopus.  
Taberna
Sacromonte
(Plaza Vivas Pérez, 3)
This is authentic, Andalusian tavern is will not disappoint with its menu of traditional southern delicacies – one of the top places in the city to savour southern products and cuisine.  
Cheap and cheerful tapas bars in Almeria
Tapas in Almeria are quite affordable except for a few rare exceptions. Here is a round-up of some of the top places where eating well doesn't break the bank. 
Casa
Puga
(Calle Jovellanos, 7)
This establishment opened its doors in 1870 and is an institution in Almeria. The secret to its longevity lies in its traditional and authentic cuisine, served up in copious portions. 
La
Encina
(Calle Marín, 16)
Located in the old town of Almería, this kitchen serves up generous portions at unbeatable prices. Order a tapa of marinated sardines or home-made Iberian pâté – all washed down with some beer or wine, of course. 
El
Rincón de Basi
(General Segura, 12)
This is where you go to munch on great and affordable tapas. The establishment also boasts a sit-down restaurant for a more formal dining experience. Do try their fried eggs with garlic and chili peppers (if you dare) or with truffle – simply delicious. 
Related
plans