Where to eat in Almeria:
the most tempting restaurants
There is a large variety of restaurants to eat at in Almeria. Whether you are in the capital or the province, the local chefs know how to make the most of the wide range of high quality produce that come from the Almerian farmlands. Combine this with the delicious spices which arrive from the Mediterranean coast and the local farms, and you end up with culinary delights. In turn, this means that every diner will be able to find a delectable meal from the cuisine served in Almeria's restaurants. It's not difficult, therefore, to find a place to eat well with quality, style and, of course, a great deal of authenticity.
Below are a few of our recommendations for a variety of tastes and style, from traditional style restaurants to the more creative. 
Highly recommended restaurants in Almeria
There are plenty of options when it comes to finding a restaurant in the region of Almeria. Here are some of the best from the city and its neighbouring localities:  
This restaurant is part of a new gastronomic concept with rice dishes and paellas by the Barceló Hotel Group. Bringing the culinary expertise of Carlos Otaola (from the Otoala restaurant in Seville) and José Luis Chaparro (from Casa Chaparro, Valencia) to Almeria, you can find this excellent restaurant in Hotel Barceló Cabo de Gata.  
This is a great place to dine at during the summer months when you are able to enjoy its simple but high quality menu, while basking in the views of the sea and the magical sunsets. A good example of one of their dishes is the 'Octopus in oil with paprika parmentier and vitelottes'. The 'beef tenderloin and foie gras' is also an especially tasty meal. Club de Mar is located at Hotel Barceló Cabo de Gata. 
Free cancellation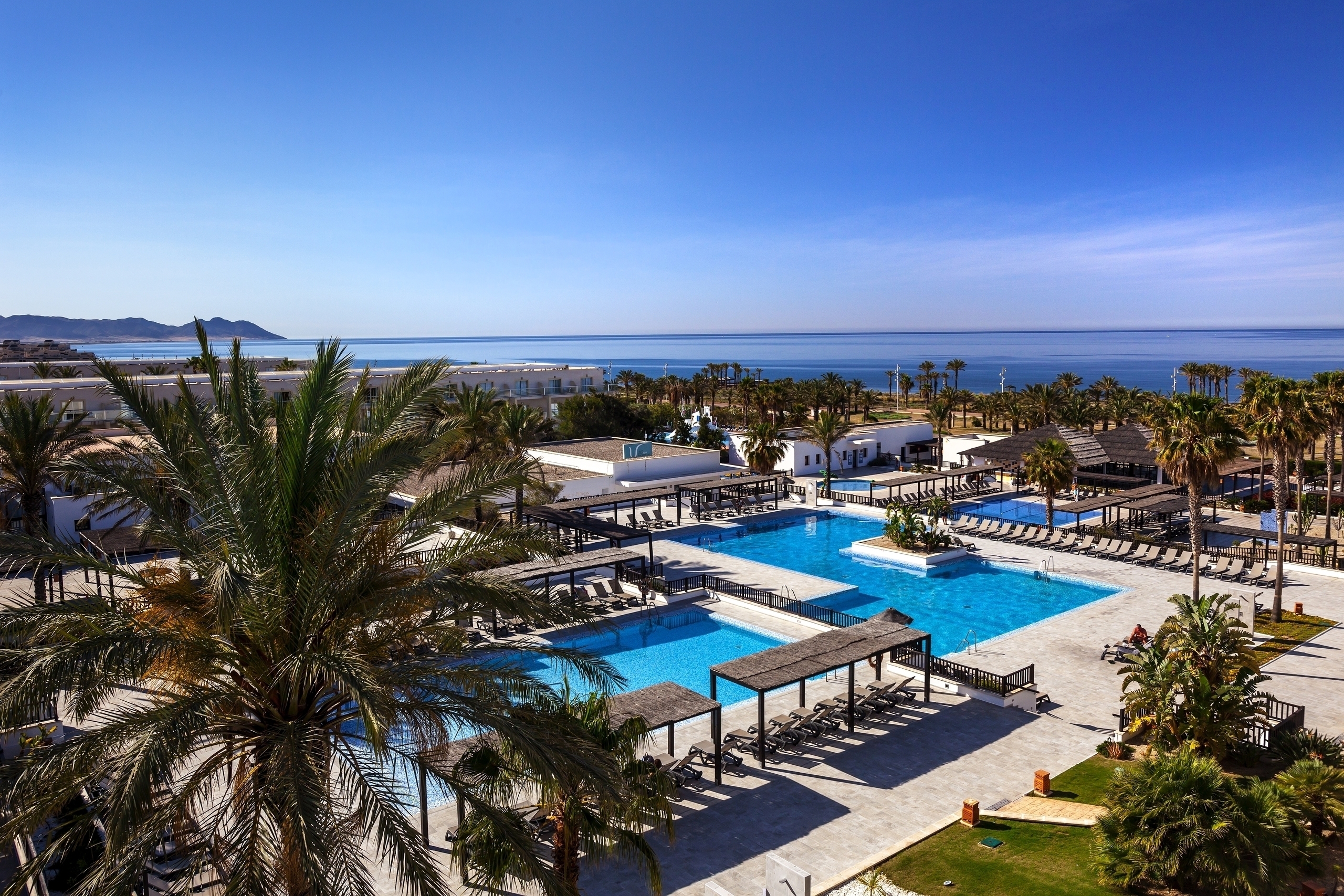 This restaurant offers a well presented and delicious buffet with dishes from Andalusia, Spain, the Mediterranean and other international flavours. Located at Hotel Barceló Cabo de Gata. 
This Michelin star restaurant is found in the town of Roquetas de Mar, about 12 kilometres from the city of Almeria. It is definitely worthwhile to visit and enjoy the creative culinary style, and taste the surprising, yet delicious, combinations that chef Alejandro brings to the table. Located at Avenida de Antontio Machado, 32, Roquetas de Mar.  
This Spanish restaurant specialises in cooking the prized beef from Ávila. Drawing on the rich resources of the Mediterranean and the Atlantic, the restaurant also has a great seafood menu. Located at Costa Balear, 16, Almeria 
Built into a disused quarry, this novel restaurant will provide you with an enchanting atmosphere and a great menu, focused on top quality beef and pork dishes. The restaurant also boasts a fine wine list, with notable national and international kinds on offer. Located on Carretera Nacional 340, Km 436. 
At Travieso you'll find haute cuisine which takes full advantage of the rich, traditional flavours and the seasonal produce to make some truly creative dishes. The dining room is decorated in a striking modern style that will surely catch your attention. Located at Lentisco, 14, Almeria 
This distinguished restaurant offers an outstanding menu, with succulent dishes like 'Bay Skate with capers' and 'Oxtail with fresh Almerian vegetables' 
Located at Llano Amarillo, Urbanización Bellavista. 
Eating in Almeria: well-known and popular bars
In the centre of Almeria there are some great restaurants that manage to keep prices to a reasonable level while maintaining high quality throughout. Here are some of our recommendations 
Inspired by French cuisine, this restaurant offers two gourmet sampling menus in which the dishes that feature duck are most notable and popular. Quiche Lorraine and Beef Bourguignon are two other noteworthy dishes at this locale. Located at Nogal, 7, Almeria 
This bar prides itself on making high-quality, authentic Italian food with a speciality in pasta dishes and pizzas. With magnificent views of the Mediterranean, this is a wonderful place for lunch or dinner. Located at San Miguel, 2, Almeria. 
Located in the centre of Almeria, this is one of the most popular places to eat in all Almeria. Most people come to enjoy the tapas, but the variety and great quality of the elaborate dishes on offer makes it very difficult to leave your table in a hurry. Located at Jovellanos, 16, Almeria. 
It is important to point out that the Maghreb is close to Spain, across the Mediterranean, sitting on its horizon. Because of this, it makes perfect sense that in the centre of Almeria you can find a restaurant where you may enjoy the flavours of North Africa. Additionally, this restaurant has a wide range of wines on offer.
Located at Antonio Cano, 28, Almeria. 
Defined as a gastro-bar, De Tal Palo's menu is an array of the culinary delights that come from the land and sea. You can come in for a snack, a full meal of local dishes, or, if you are going coming as a group, try the delicious shared plates. Located at Real,15, Almeria. 
Almeria's best budget bars for food
When comparing Almeria with other cities in Spain, it is clear that there are plenty of options when it comes to eating good quality food at a reasonable price. The following bars are some that are worth mentioning.  
This cosy place is one of the most traditional bars in Almeria with a history that stretches over a number of decades. Their patatas bravas are renowned in Almeria, but also make sure you try their cuttlefish and their marinated pork loins.
Located at Granada, 12, Almeria 
Thought of as one of the great temples of tapas in Almeria, this bar also offers soups and stews throughout the working week and, at the weekend, delicious rice dishes made with octopus or pork ribs. The traditional cuisine that is served here definitely merits the epithet, 'finger licking good'.
Located at Juan Leal, 6, Almeria. 
This bar combines its Mexican style of cooking with the rich ingredients found in the Mediterranean. This results in some delectable tacos and burritos and also a fine range of tapas dishes from all over Spain. Its popularity results in it often being crowded, so make sure you beat the rush and get a seat to try some of their tasty cooking.
Located at Trajano, 23, Almeria 
Though this bar has only 12 dishes available, including desserts, it makes sure that the food it serves is of the best quality. As a result, it is one of the highest-ranked restaurants in Almeria, and its succulent dishes include 'Iberian pork fillet with roquefort' and 'Almadraba Salt-Cured Tuna'.
Located at Trajano, 21, Almeria  
Despite being a fast food restaurant, this bar has definitely captured the hearts of Almerians and tourists alike for the quality of its tasty hamburgers, sandwiches and combo-meals. Add to this the fact of great, efficient service, and this restaurant easily deserves to be added to your list.
Located at Camino de la Goleta, 55, Almeria. 
Related
plans