The top 10 dishes of
Almerian cuisine
Savouring local cuisine in Almeria is about discovering the staples of Andalusia. From the mountains of the Almerian Alpujarra to the Mediterranean Cabo de Gata-Níjar Natural Park (Cabo de Gata-Níjar Natural Park), dishes are prepared according to simple recipes, with subtle influences from the neighbouring provinces of Murcia, Malaga and Granada. Almerian cuisine features the freshest products the land and sea has to offer.  
Almerians have passed down recipes for traditional dishes for centuries, forging a cuisine characteristic of the region. Read on to discover the top 10 dishes from Almeria! 
Winter time in Almeria is about hearty stews and this particular dish is made from poor man's ingredients such as potatoes, garlic, almonds and day-old bread.  
The trick lies in sautéing the bread, almonds and garlic in some olive oil till golden. Then, use a mortar to grind the mix until you achieve a thick paste. This is what is called the ajopollo. Add the paste to the potatoes and a bit of broth for 10 to 15 minutes. When you are ready to serve, you can add a hard-boiled egg. This simple recipe delivers a flavourful punch.
This recipe is steeped in tradition and religion. It is especially common to eat this dish during Lent, and not just in Almeria. It is made with chickpeas, beans, spinach and salt cod. The secret to this recipe lies in ensuring the beans are not overcooked so they have a smooth yet firm texture.  
This is the No.1 dish in Almeria. Gurullo is a type of elongated pasta, shaped like a grain of rice. The gurullo is prepared with rabbit, water and saffron. The highly-nutritious rabbit meat melts in your mouth and the subtle earthy and flowery flavours of the saffron is just finger-smacking good.  
This appetizer is a slice of bread, smothered in aioli and topped with different types of ingredients, including tuna, Iberian ham and other local products (Almerian products and crafts). 
This tapa is served in literally every bar and restaurant throughout the province of Almeria. Its origins can be traced back to the 1960s where it was whipped up for the first time at the popular Café Colón in the city of Almeria. At that time, Almeria was living the Hollywood boom and the chef at Café Colón was nicknamed the Sheriff. He was responsible for coming up with this tapa. 
Free cancellation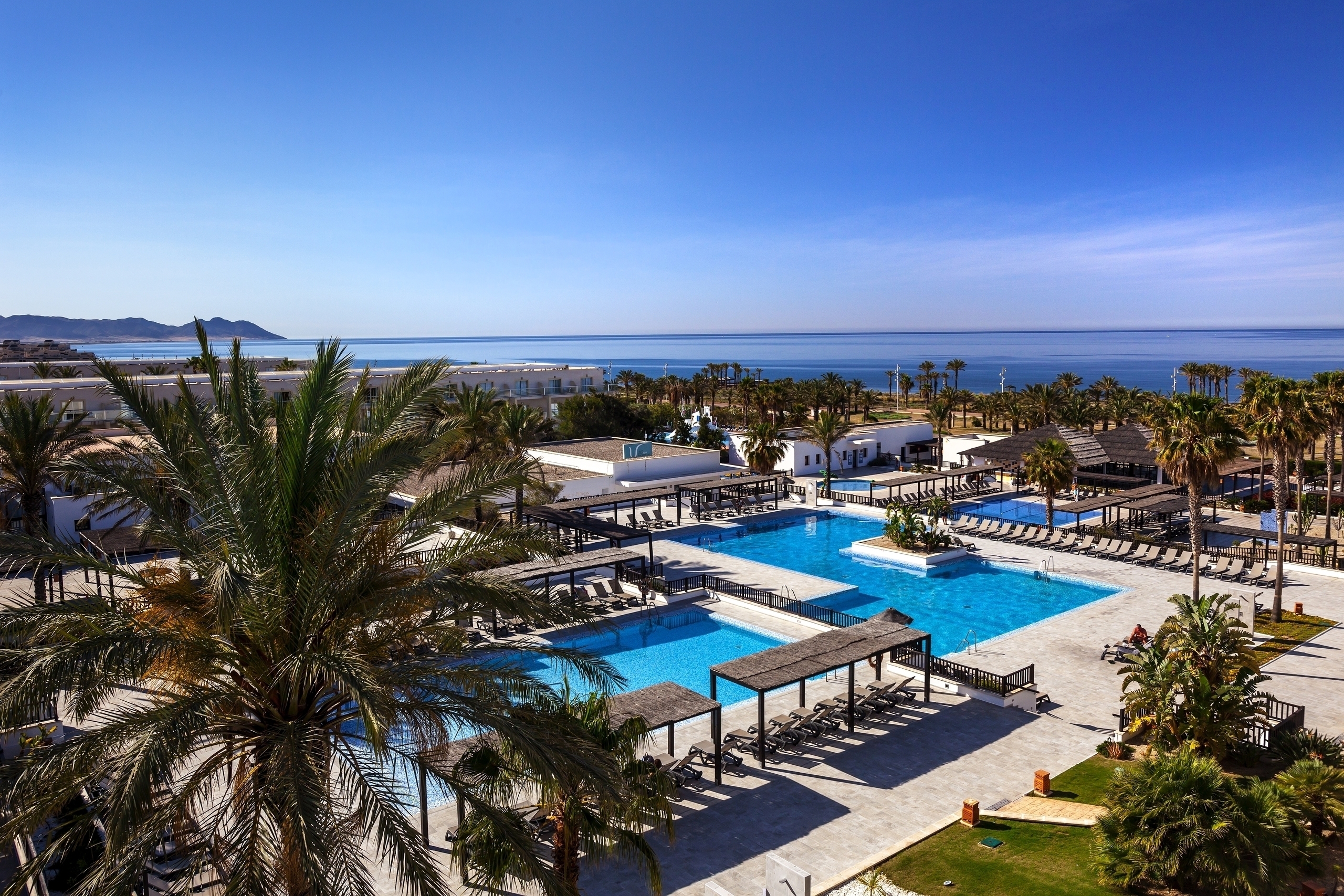 This French-influenced fish stew dish is typical along the Mediterranean coast of Almeria. This dish was originally prepared by fishermen's wives with whatever fish they hadn't sold at market. It is a great way to warm up during the winter months. 
All types of fish and seafood can be used to make this Almerian soup but the most common ingredients are monkfish, shrimp and clams. The succulent taste of the broth comes from the mayonnaise that is added. The combination of flavours strikes a perfect balance without overpowering the senses.  
Migas are a popular dish throughout Spain and each region (and household) has their own particular take on how migas should be prepared. 
In the case of Almeria, wheat flour is used instead of bread. Then, its combined with green peppers, garlic, olive oil and water. It is usually served with a side of deep-fried fish, tomatoes, cucumbers, fresh radishes, black pudding or black olives. 
Sardine lovers will really appreciate this delicacy! The sardine is the star ingredient in this dish made of potatoes, tomato, garlic and onion. This hearty stew is a succulent ode to the products the land and sea provide.
This chilled soup is made from potatoes, salt cod, choricero peppers (a type of dried red pepper), garlic, tomato and cumin. 
Packed with nutrients, it can be enjoyed as a stand-alone dish, topped with a chopped-up boiled egg or smothered on slices of bread. In Almeria, it is commonly served with cornbread.
This dish is also served as a tapa in many eateries, especially on 17 January in honour of St. Anthony the Abbot. This stew is made of chickpeas and different types of pork cuts, blood pudding and bacon. However, there are some who still follow the traditional recipe of only using wheat and fresh fennel. 
This pastry is especially typical during Easter in Almeria, though it can be found year round. These delectable, sugar-coated, deep-fried balls are made of potatoes, milk and flour – think mini doughnuts. 
They are usually served with a glass of milk or hot chocolate, and particularly popular with children.
Related
plans