The Fernando Alonso Museum:
An ode to motor racing
Fernando Alonso marked a before and after for Spanish F1 fans. It fact, it wasn't until he won his first world championship that F1 started to draw a fan base in Spain. Then, it became one of the most-followed sporting events, especially on TV.
This popularity is why the creation of the Fernando Alonso Museum and Circuit makes sense – it is a way to pay a tribute to the two-time Formula 1 World Champion and promote motor racing among the general public.
The Fernando Alonso Sporting Complex also houses the 18-hole La Morgal Golf Course. The 265,000 m2 course actually existed long before the motor-racing project came to life, first opening its doors in 1996.
The Fernando Alonso Museum and Circuit: Origins
The idea to create the Fernando Alonso Museum and Circuit was conceived during a 2013 temporary exhibit of the champion's private collection in Madrid. A large part of the exhibit is now on permanent display at the Museum.
Public funds were used to build the museum and circuit, and it opened its doors in 2015. Although it was a public initiative, the driver was personally involved in the creation and design of many of the spaces. He even designed the karting circuit, including some of his favourite bends from F1 circuits around the world.
Operations are overseen by a foundation run by members of Fernando Alonso's family in order to ensure this great driver's legacy is safeguarded and disseminated.
Free cancellation
The Fernando Alonso Circuit
The Fernando Alonso Karting Circuit honours part of Fernando's career as a karting driver before he made his Formula 1 debut. He won several karting competitions at local and national level, before becoming world champion.
He designed the karting circuit in such a way that pilots can take up to 29 different routes. It is also certified to host international races by the CIK-FIA (the Commission Internationale de Karting).
The length of the circuit varies between 1,400 m and 1,800 m, and it can also be divided into three secondary circuits of 721 m, 637 m and 373 m for training and practice purposes.
The circuit also offers a specialised driving, paddock area, pits, kart storage, locker rooms, an infirmary and even a café-restaurant.
There are two different ways of enjoying the circuit: becoming a member and paying the annual membership fees or paying the day admission and bringing your own kart.
Group events (min. 10 people) can also be organised. Prior reservation required.
Fernando Alonso Museum
The most impressive part of the complex is without a doubt the exhibition. The 1,200 m2 museum revives key historical moments of Fernando's racing career, with the 300 objects on display.
Admire the first-ever kart he drove when he was 3 years old to the last single-seater he drove at an F1 race. You'll also see the Toyota he drove when he won the 24 Hours of Le Mans.
The museum is divided into three rooms to reflect the timeline of his career, from its beginnings to present day. The most spectacular room is the one dedicated to Formula 1, which impresses for the sheer number of cars and objects on display.
The Fernando Alonso Karting Circuit
The Fernando Alonso Karting Circuit was designed with competition racing in mind but also to provide motor racing fans with a unique and memorable experience.
The circuit offers kart circuit training and other types of training.
Here is a list of activities organised by the Fernando Alonso Museum and Circuit:
Karting Campus: A summer camp for 8 to 11 year olds. Participants are immersed in the world of karting during their stay.
Karting School: Year-round karting training. Participants can choose to take part in the Asturias Karting Championship.
Comprehensive karting course: An intensive 15-hour course composed of in-class theory and hands-on practice. Students learn how to drive the cars in accordance with legislation and regulations that ensure safe driving.
Language courses: Immerse yourself with daily English classes. Gain listening and speaking proficiency as you learn automotive vocabulary.
Information of interest
How to get there
By car: The Museum is located in Llanera, 20 km from Oviedo. Take motorway AS-II, AS-17 and LL-2S. It takes approximately 30 minutes.
Fernando Alonso Museum Admission
Visit the website for admission costs. Discount available for children between the ages of 4 and 12 and people over 65
Timetable: The Museum is open every day from 10 a.m. to 7 p.m.
Fernando Alonso Circuit
Open: Tuesday to Friday from 3 to 8 p.m. Saturday and Sunday: From 10 a.m. to 2 p.m. and from 3 to 8 p.m.
Day passes are available. Prices subject to the type of activity. Contact the circuit to find out more.
Related
plans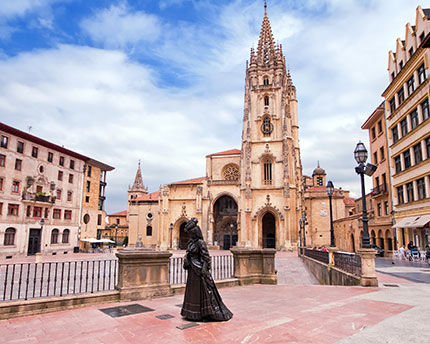 Getaways