The raised granaries of Asturias:
where to see them
The raised granaries of Asturias are among the most characteristic buildings in the region's countryside. Here they're called hórreos, and practically every traditional rural house has one. You'll see them in fields too, and though very similar in appearance to the Galician version the hórreo asturiano is quite unique. For one thing, the granaries in Asturias are usually square (those in Galicia tend to be rectangular) and built of wood (the Galician ones are usually stone).
A safe storehouse
The hórreo asturiano is the Asturian farmer's answer to a disagreeable climate, and a relatively simple solution for protecting the harvest from the region's characteristically damp weather.
These small storehouses hold food for the year (corn for livestock and grain for next year's crop), keeping it safe from fungi, rodents and bugs.
The Principality of Asturias is thought to have around 20,000 such raised granaries. You're almost sure to see some examples of these beautiful buildings during your trip – most sit next to rural houses all across the region.
One of the most striking features of the hórreo asturiano is that each wooden piece perfectly fits with the next without the need for screws, bolts or clamps.
These structures are generally square with a slate hipped roof and supported by four characteristic pegollos or pillars made from wood or limestone. It's now more common for the pillars to sit on concrete bases.
Between each pillar and the wooden base of the granary is a flat circular or square stone called a muela that prevents vermin from getting inside.
Panera asturiana and hórreo asturiano: telling them apart
There are other similar buildings called paneras which look a bit like an hórreo asturiano. They fulfil the same purpose but the structure and building materials differ.
For starters, a panera has more than four pegollos. A panera is also bigger and still has a hipped roof though with a ridge along the top.
An hórreo asturiano is generally a simple structure that can be dismantled. A panera on the other hand has more complex features including an exterior walkway with a wooden railing. Paneras are often decorated with drawings and engravings and were traditionally used to store grain for making bread throughout the year, hence the name (the Spanish word for bread is pan).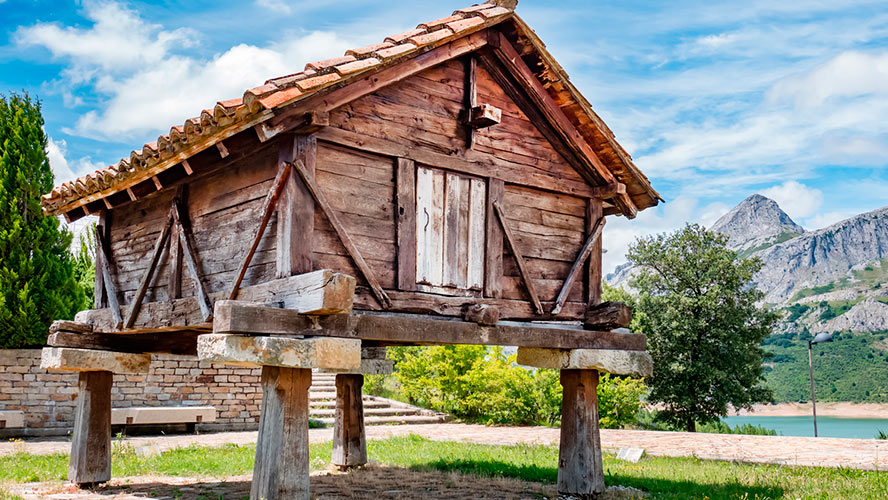 Traditional Asturian houses
When we say traditional Asturian house, we mean a quintana. These rural estates are scattered over most of the Principality, each with a house and an hórreo asturiano or panera, and land on which families cultivate (or used to cultivate) potatoes, vegetables, corn and other cereals that feed them throughout the year. Some also have pasture for livestock.
The house itself usually has two or more floors. The ground floor was typically used to store farming tools, as shelter for livestock and for cooking. The upper floor usually had the bedrooms and living area.
A traditional Asturian house is made using simple materials such as stone, mud and wood. The upper section usually has several windows or balconies and gable or hipped tiled roofs.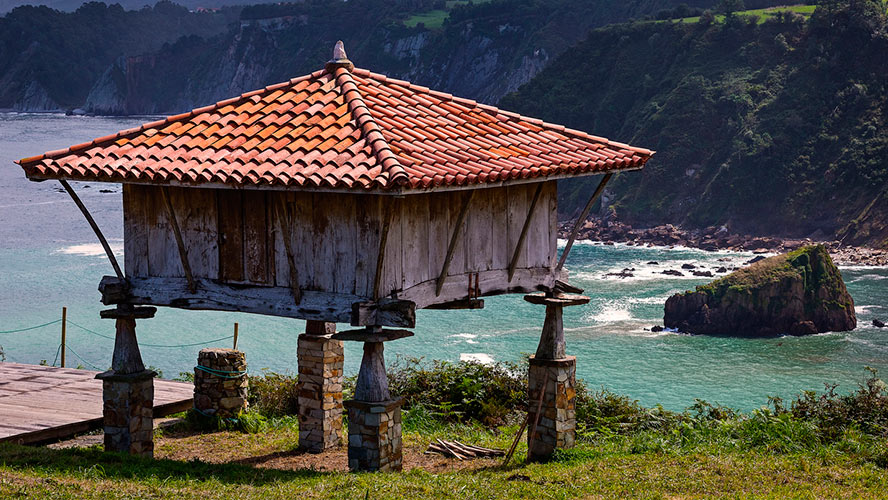 The structure and materials used to build the house differ depending on where in Asturias you are. The following are some of the main types:
Round house: Reminiscent of a fort and the first primitive structures built by the Celts.
With exterior stairway: A typical rectangular two-storey house. An exterior stone or wooden stairway usually provides access to the upper floor.
Casa mariñana: A one-storey building usually found in the central area of the Principality.
Casa terrena: Also one storey. Usually divided into two spaces: one for living and the other for livestock.
On a slope: This construction exploits a natural gradient to create two distinct floors. It's typical of the interior mountain areas of the region.
Block house: Large and usually one single roofed space with no walls.
With walkway: Has an exterior wooden walkway (or balcony) on the second floor.
Where to see an hórreo asturiano
The countryside is obviously the best place to see these raised granaries. There's a vast and varied selection of hórreos right across the Principality in both mountainous and coastal areas. The following places have the greatest concentrations of hórreos and paneras:
Tuña: This parish in the Tineo district has more than 50 hórreos and paneras, as well as some striking palatial houses.
Bueño: This rural hub is just over 10 km from Oviedo and has an Hórreo Interpretation Centre. It's a great place for discovering the history and features of the granaries.
Barcia and Leiján: There are around 80 hórreos in these communities, situated near Luarca. Many are still used for their original purpose.
Espinareu: This parish is known for its proximity to the Infierno River and has around 30 traditional hórreos asturianos.
Related
plans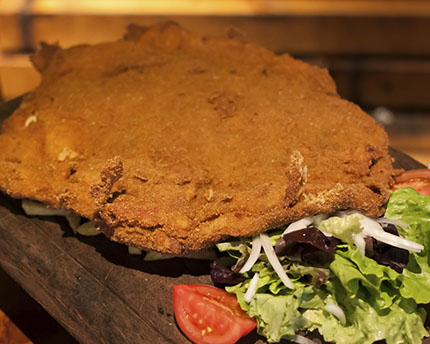 Food and Drinks