San Julián de los Prados:
a grand Pre-Romanesque temple
Asturias never fails to impress all who visit and has a vast array of wonderful sites within a relatively small region. Asturias has beautiful natural spaces, gorgeous beaches and attractive towns and cities, as well as a cultural identity all of its own. There are also architectural sites of the sort that you won't see in any other part of the world.
Asturian Pre-Romanesque art is an Early Medieval style developed between the late-8th and early-10th centuries and found only in the Principality of Asturias. This relatively short period produced some sublime churches including Santa María del Naranco, San Miguel de Lillo and San Salvador de Valdediós.
UNESCO has recognised the importance of these places and declared some of them World Heritage Sites. One such example, San Julián de los Prados (also called Santullano), is worth exploring in more detail.
San Julián de los Prados: the largest Spanish Pre-Romanesque church
At just 1 km from Oviedo Cathedral, there's no excuse for not visiting this architectural treasure during any trip to the city. It was built by order of Alfonso II the Chaste between 812 and 842.
As a historical note, Asturian art is divided into various periods according to which monarch was in power. Hence, the church of San Julián de los Prados is from the Pre-Ramirense or Alfonsi period. The style is strongly tied to royal power and evokes the greatness of the Visigothic Kingdom of Toledo. The inclusion of Lombardian and Eastern features makes for some truly unique buildings.
San Julián de los Prados was built on the grounds of a palace, on an estate complete with thermal baths and other outbuildings. It's interesting not just on account of its size, but because it's the only example of the many churches built by order of Alfonso II in Oviedo that has remained almost completely intact. This is your chance to delve into the history of these buildings and learn about Asturias' past.
Unique features of San Julián de los Prados (Santullano)
The exterior is built in ashlar and the floor plan is typical of a basilica, separated into three naves with rounded arches delimiting the space.
From outside you can clearly see the different heights of the three naves, along with the wide transept and chapels off to the side. The chancel has three apses. The overall first impression is of balance and solidity, but you'll only really understand the grandeur of San Julián de los Prados when you step inside.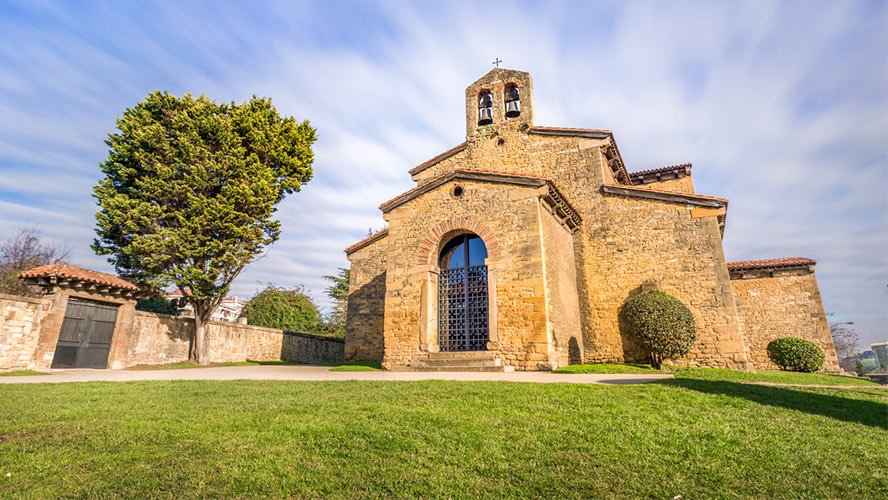 Light (not usually a feature of Middle Age churches) streams through the windows and fills the large central nave with an overwhelming sense of spirituality. The sheer size and brightness of the space is stunning.
The church is not vaulted but roofed with wooden framework. The rounded arches rest atop square pillars, and the only vaulted space is the chancel. As your eyes scan every detail you'll be drawn to the church's most precious adornment: its wall paintings.
Paintings and frescoes in San Julián de los Prados
If there's one thing that sets this beautiful building apart, it's the stunning wall paintings. The art was first engraved onto the surface before colour was added, which explains why the paintings have made it to the present day in a relatively good state of repair considering how old they are.
The frescoes are arranged in horizontal sections and separated by lines. Dark greys, ochre and crimson predominate, reminiscent of Roman art. The mostly geometric motifs have concentric circles, squares and hexagons. You'll see these types of decorations on plinths, in the apse vaults or on the arches, often accompanied by floral patterns.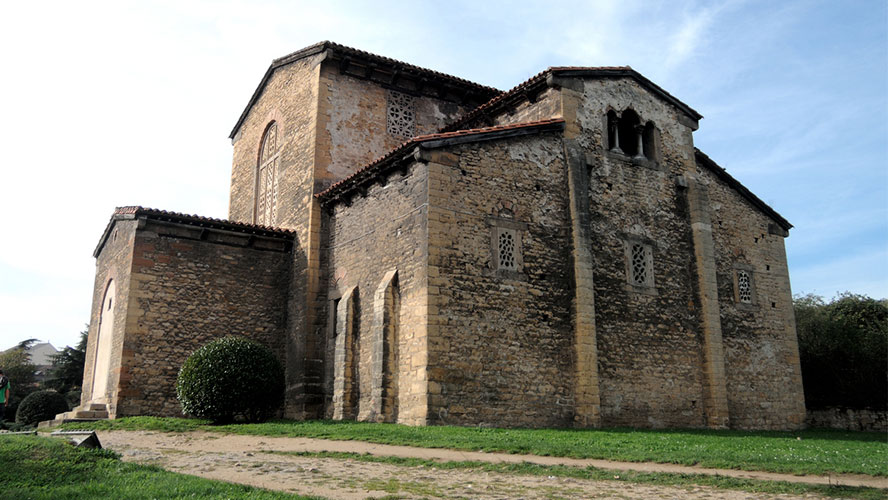 By contrast, the paintwork on the walls depicts views from a curtained window as though from inside another building. The complexity of the iconography, in the context of the period when it was created, is yet another show of how truly unusual the church is. It's an exceptional building and well worth a visit during your trip to Oviedo. After taking a stroll through the city's old town, make sure you head for this example of Asturian Pre-Romanesque architecture to see for yourself how special it is.
Information of interest
Discounts for children aged between 7 and 12 years. Free entry on the first Monday of each month.
Related
plans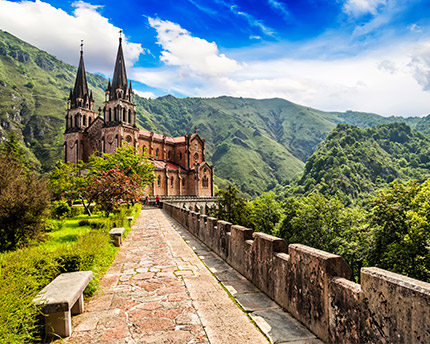 Places of Interest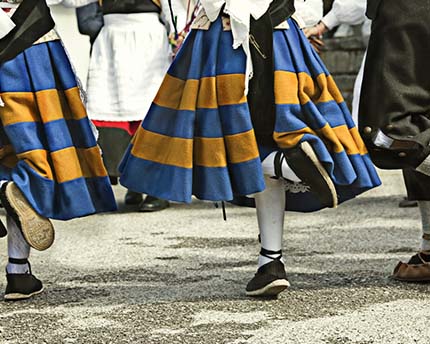 Leisure and Entertainment