Shopping in Barcelona:
varied, cosmopolitan and unparalleled
Barcelona is a cosmopolitan, Mediterranean city with a long commercial history, making it the perfect shopping destination. The capital of Catalonia offers visitors the best international brands as well as options that you'll only ever discover right here.
In Barcelona, you'll also find the largest open-air shopping centre in Europe in what's known as the Shopping Line, a five-kilometre strip that runs from the sea to the upper section of Avinguda Diagonal, crossing La Rambla, the Gothic Quarter, and the Passeig de Gràcia. There are more than 35,000 shops here, and we're going to share where you can find some of the very best spots.
The top-end shops of Passeig de Gràcia
Passeig de Gràcia is home to the city's most exclusive stores, rubbing shoulders with the most iconic landmarks. Here you'll come across brands like Chanel, Louis Vuitton and Dolce & Gabbana whilst you wander down the street admiring the works of the great Gaudí, such as La Pedrera or the Casa Batlló. Spanish fashion icons, such as Antoni Miró, Roberto Verino, Tous and Desigual, have set up shop here too.
The Shopping Night Barcelona is held in November. Shops stay open all night long, and fashion shows are put on.
The pedestrianised street of Portal de l'Àngel
This is a pedestrianised street that runs from the Plaça de Catalunya, almost as far as the cathedral. All the biggest fashion chains have a branch on Avinguda del Portal de l'Àngel. At the beginning of the street, you'll always find a market selling artisanal products like jewellery, leather, glass and silver.
Plaça de Catalunya is home to El Corte Inglés, Fnac, an Apple store, and a Desigual. The El Triangle Shopping Centre, with 14,000 m2 of shops, can be found here too.
On one of the small streets that branches off the Portal de l'Àngel towards La Rambla sits Guantería Alonso, one of Barcelona's most beautiful shops. It still boasts the Modernist façade that was designed in 1905 and sells a wide range of fans, gloves and shawls, including  Manila shawls.
The bustle of Les Rambles
Barcelona's most famous street is lined with both souvenir shops and small clothes stores. On the central boulevard, you'll see ice cream stalls, sweet shops and flower stalls that have stood here al fresco for decades.
At the end of Les Rambles, you'll find the Maremàgnum Shopping Centre, crossing the bridge to the area reclaimed from the sea. There are shops of all kinds here, as well as plenty of entertainment options, including cinemas and bars. If you like small shops selling ethnic accessories, then don't miss El Raval, to one side of Les Rambles.
The unique shops of the Gothic Quarter
In the oldest part of the city some traditional businesses still open their doors, like the antique shops, bookshops and churrerías that are frozen in time, lending the neighbourhood its medieval atmosphere.
The Sombrerería Obach has been selling hats of all kinds since 1924. This is a family business that sits on a corner, with a window display that will transport you back to the beginning of the last century. Here, you could even buy a typical barretina, or Catalan hat. You might not believe your eyes, but this area is home to the world's oldest magic shop, dating from 1881. In the Rei de la Màgia you could purchase yourself a magic wand, sleight of hand tricks, and all kinds of interesting or amusing gimmicks. They also organise courses and workshops for different ages and levels.
These are just two examples, as the old town and its maze-like streets house more than 1,000 family businesses, amongst which the Herboristería del Rey, a herbalist dating from 1818, and the Cuchillería Roca, a knifemaker's, also stand out.
Barcelona's Markets
Barcelona's markets are a riot of colour and flavour. The traditional shopkeepers with their lace-trimmed white aprons have given way to revamped markets offering gourmet produce. Here, you can purchase all kinds of Catalan fare, like sausages, cheese and wine.
La Boqueria Market: This is the most popular, touristic market. It's been open since 1836 and has more than 200 stalls. Its Modernist entrance with ironwork is a symbol of the city.
Sant Antoni Market: This stands out for its Modernist iron structure, built in 1882. As well as the food stalls, you'll also find old books and collectables.
La Concepció Market. Another example of Modernism in the neighbourhood of Eixample, recently renovated.
Santa Caterina Market. Next to the cathedral, this market stands out for the food it has on offer.
Shopping centres in Barcelona
The Catalan capital has various unique shopping centres where you can spend a day browsing and enjoying yourself.
The Las Arenas Shopping Centre is one of the most original ones you'll see, as it's built in an old bullring, conserving its original façade and round structure. Located by the Plaça d'Espanya, it is home to dozens of shops, cinemas and restaurants. You can't miss the spectacular views from the roof terrace.
–El Diagonal Mar is on the seafront, at the end of the Avinguda Diagonal. It's a shopping centre with over 200 establishments offering fashion, food and fun. You can also make the most of the 3 hours of free parking.
The L'illa Shopping Centre is known as the first horizontal skyscraper. Located in the city's financial district, you'll find fashion, restaurants, a food market and a hairdresser.
Maremàgnum: We've already mentioned this large shopping centre by the port, perfect for taking a lovely stroll to contemplate the city from the water, with all kinds of entertainment options, including the Barcelona Aquarium.
Wherever you turn in Barcelona you'll find that, when it comes to shopping, the city has managed to meld tradition with modernity, without losing its identity.
Information of interest
Opening hours
Small shops: from 10:00 AM to 2:00 PM and 5:00 PM to 8:30 PM.
Touristic areas: 10:00 AM to 8:30 PM.
Shopping centres: 10:00 AM to 9:30 PM.
Barcelona Shopping Card: This is a free card that gets you discounts in more than 80 stores, a welcome drink, VIP treatment or gifts when you make purchases. You can download it here.
Related
plans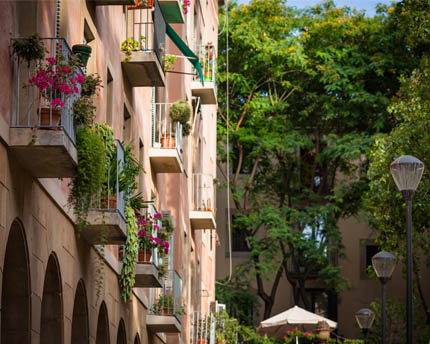 Places of Interest