The best restaurants
in Bilbao
Bilbao is without a doubt a must-visit city if not only for its food, as Basque cuisine is one of the most delicious and most distinct in Spain. Gastronomically speaking, pintxos are Bilbao's main attraction, so it wouldn't be out of place to discover some essential places for sampling tasty tiger mussels, gildas or a txangurro or two.
Eating well is synonymous with the Basque Country, and Bilbao is a fine example of this. Traditional cuisine has been fused with new techniques and the city's food scene has taken a 180 degree turn. Traditional restaurants still endure but the addition of some new names has served to liven things up.
What to eat in Bilbao
Fish reigns supreme in the Basque Country and cod, in all its many forms, is the star of the show: bacalao al pil pil (cod in a creamy garlic sauce), bacalao a la bilbaína (cod with garlic and parsley), the list goes on. Kokotxas (hake throat) are another one of the most popular dishes in Bilbao's many restaurants, and kokotxas in salsa verde is an essential Basque dish.
Elvers are a local delicacy in the region and prepared in a very simple way: in a terracotta pot with a glug of olive oil, a few sliced cloves of garlic and, finally, chopped chilli pepper.
Since this is the food of the north, we can't fail to mention the special stews that never fail to warm you up. A classic example is tuna marmitako, made with potatoes and vegetables cooked slowly over a low heat.
And of course where would we be without pintxos; these bite-sized morsels are the standout dish of the whole region. They come in all shapes and sizes but the classic ones to try are gildas (guindilla pepper, anchovy and olive), txangurro (stuffed crab) and gavilla (deep fried ham, cheese and béchamel sauce), among many others.
Traditional Basque cuisine also has a real sweet tooth with desserts such as canutillos de Bilbao, a traditional dessert made from puff pastry filled with crème pâtissière. Other favourites include bollos de mantequilla, which are very similar to bollos suizos (brioche buns originating from Madrid) but filled with buttercream, and pastel de arroz, which although it translates as rice cake curiously doesn't contain any rice, but is instead made from puff pastry and cream.
Ibaizabal Restaurant. Hotel Barceló Bilbao Nervión
For a riverside dining experience right in the city centre, head to the elegantly-designed contemporary Ibaizabal Restaurant located on the ground floor of Hotel Barceló Bilbao Nervión. Expect exquisitely prepared local cuisine, made with top-calibre ingredients, and best enjoyed with some wine from the sizeable and formidably-crafted wine list.
Choose from the à la carte menu or the incredibly priced daily menu, offered both at lunch and dinner, from Monday to Sunday – a sure-fire recipe for a phenomenal culinary experience.
Eating out in Bilbao's Casco Viejo
For the most authentic Bilbao experience, there's nothing quite like dining in a restaurant in the city's Casco Viejo quarter. Having explored its maze-like streets, strolled along the banks of the Estuary of Bilbao and browsed its great selection of independent shops, now is the time to eat.
One great option is Restaurante Kasko (Andra Maria Kalea, 16), where you can enjoy food that is a blend of traditional and modern Basque cuisine. The produce is bought locally and is of the highest quality. They also offer tempting updates of traditional dishes. However, the best thing about the establishment, in addition to its food, is its live music and the temporary and permanent exhibitions that it offers—a wonderful place to eat and enjoy a culture-filled ambience.
El Kiosko (Tiboli Kalea, 8) is perfect for eating well if on a budget. It serves Mediterranean-style food with modern touches and has a menu del día (a daytime set menu). If the weather permits you can also eat outside for a different and charming perspective of the city.
Football fans are also in store for one of the most authentic experiences that Bilbao has to offer at the supporters' club Restaurante Peña Athletic de Bilbao (Pilota Kalea, 7), a small and cosy establishment with top-quality food. Although it only used to serve the club's season ticket holders when it first opened in 1973, today it is open to the general public, so there's no excuse not to sample its excellent traditional pintxos and football atmosphere.
At Taberna Iñakiren (Barrenkale Barrena, 14), a traditional establishment with typical decoration, the order of the day is both quality and quantity. Here you can sample the region's most traditional food in a warm and inviting atmosphere.
Restaurants in Bilbao
The city's best eating options are not restricted to the Casco Viejo. On the other side of the estuary the choice of restaurants increases and the innovations on offer here have taken hold of the city.
We are of course referring to restaurants such as Bocadero (Gardoki Kardenalaren Kalea, 6), a restaurant with exquisite décor—the handiwork of the interior designer Lázaro Rosa-Violán—and a menu that blends produce from both land and sea. The final result are dishes such as duck and wild mushrooms in a rice broth, which just has to be tried at least once.
A little further up is Atelier de Etxanobe (Juan Ajuriaguerra, 8), a Michelin-starred restaurant, and next door is its more casual counterpart Despensa de Etxanobe, which means there's an option for everyone. Booking is recommended and you mustn't leave without trying dishes such as the grilled scallop ragout with basil.
Close by is Mula de Moscú, a firm favourite in the city. Its unusual ambience makes you feel as if you were at home in your living room and matching its wine to its food is one of its specialities. Be sure to try their Bloody Mary.
If what you're after is a grill house, Asador Ibañez de Bilbao (Ibañez de Bilbao Kalea, 6) is the thing for you, where you can enjoy dishes cooked in a wood fired oven to obtain the most traditional flavours. Sucking pig, spring lamb, rib-eye steak, sirloin steak and much more.
Eating options in the city are varied and of the finest quality, which is why there's nothing better than eating out at any one of Bilbao's many restaurants and enjoying both its traditional and fusion cuisine in a unique atmosphere.
Related
plans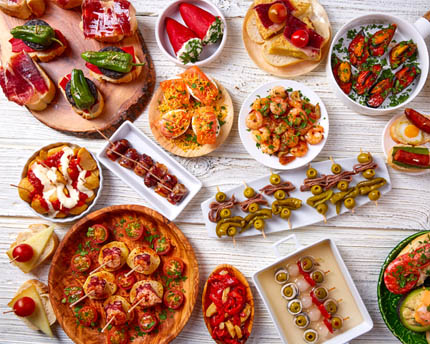 Food and Drinks