The Bilbao Fine Arts Museum:
the Eden of art lovers
Art has become one of the great attractions of Bilbao, a city that has been able to revamp itself and show off its best side over recent years. If visiting the city after a long period of time, you will hardly be able to recognise the grey and industrial place that it once was.
The Bilbao Fine Arts Museum is not excluded from this transformation and is a far cry from the inaugural spaces of the original Bilbao Fine Arts Museum (1908) and the Modern Art Museum (1924), which merged together their collections in a single building in 1945. However, their evolution didn't stop there; in 1970 a modern building was added, and in 2001 important rehabilitation work took place, restoring the splendour of this important artistic space in the capital of Biscay.
Form and content of a museum with its own identity
The refurbishment project of the Bilbao Fine Arts Museum was chosen by a jury comprised of architects of such calibre as Rafael Moneo, Norman Foster and Álvaro Líbano. Luis Uriarte and a team made up of Borja Arana, José Ramón Foraster and Borja Pagazaurtundua was commissioned with the final project. Particularly notable innovations are the gallery that links together to the museum's two buildings, the optimisation of services (reception, café, restaurant, book/gift shop, library, teaching department and auditorium) and the expansion of the exhibition spaces, among others.
This arrangement is in accordance with the principles of the public entity, whose goal includes the promotion of activities and the education of society in addition to the conservation and exhibition of works of art.
The permanent collection of the Fine Arts Museum
The collection of the Bilbao Fine Arts Museum has increased over its more than 100 years of history by means of purchases and important donations of artworks. The permanent collection is comprised of over 10,000 pieces, including paintings, sculptures, works on paper and applied arts. This extensive patrimonial collection spans a period starting in the thirteenth century up to the present day. A journey through its rooms allows you to contemplate important works of ancient, modern and contemporary art by such renowned artists as Bacon, Menz and Tàpies. The Spanish School of Painting plays a prominent role and boasts works by such distinguished artist as El Greco, Morales, Ribera, Murillo, Zurbarán, Paret and Goya. The collection of works by Basque artists is one of the notable in the world, both for its documentation and art collections.
Great works of art at the museum
When visiting the art gallery be sure not to overlook some of its masterpieces, such as: Lucretia by Lucas Cranach "the Elder", The Rape of Europa by Martin de Vos, The Annunciation by El Greco, Lot and his Daughters by Orazio Gentileschi, San Sebastian cured by the Holy Women by José de Ribera, The Virgin and Child with the Infant St John the Baptist by Francisco de Zurbarán, Saint Peter in Tears by Bartolomé Esteban Murillo, Portrait of Martín Zapater by Francisco de Goya, Seated Woman with a Child in her Arms by Mary Casatt, Laveuses à Arles by Paul Gauguin, Kissing the Relic by Joaquín Sorolla, Lying Figure in Mirror by Francis Bacon, The Irons of Temblor II by Eduardo Chillida, Large Oval by Antoni Tàpies, Des potirons by Miquel Barceló and The Majesty of Christ on the Cross by an anonymous Catalan artist.
Temporary exhibitions
The current setup of the Bilbao Fine Arts museums allows for temporary exhibitions, which means every visit to Bilbao is an opportunity to enjoy new works and retrospectives. Its rooms have been host to exhibitions on great masters such as El Greco, Pablo Picasso and Rembrandt. Catalogues on past exhibitions can be bought at the shop, which is the perfect way to take a bit of art away with you as a memento.
Eating at the museum
The last significant renovation of the Bilbao Fine Arts Museum not only adapted the art spaces, but also the other rooms that help to make a visit more comfortable. On the ground floor, and with independent access, is a café where you can have breakfast, a mid-morning snack or, even, some pintxos or deep fried squid on the weekend. Another of its merits are the large windows that look out onto Doña Casilda Park, an important place in Bilbao.
A joint history with Doña Casilda Park
The history of the Bilbao Fine Arts Museum is closely linked to Doña Casilda Park, as the building dating from 1945 was built on part of its land. After a long day of art, there's nothing better than strolling through this green space that was created in 1907 as a romantic English garden. By ambling along its paths you will come to a lovely pond, which used to be home to ducks and swans (even giving it the name Parque de los Patos—Spanish for duck park), a classic style carrousel, a fountain, the pergola (where performances are held), and some basketball courts. In summer, families come in search of the fresh air provided by the over 1,500 trees and the vegetation and have picnics on the grass.
Information of interest
How to arrive:
Metro: Moyua station.
Tram: Abandoibarra and Guggenheim stops.
Bilbobús:

Lines 1, 10, 13 and 18 (Museo Plaza stop).
Lines 13, 27 and 48 (Alameda Rekalde stop).
Lines 26, 27, 38, 48, 56, 72 and 77 (Gran Vía stop).
Bizkaibus. Line A3247 Bilbao – Airport (Plaza Moyua stop).
Access:
Access to the museum and the different floors is adapted for people with reduced mobility.
Related
plans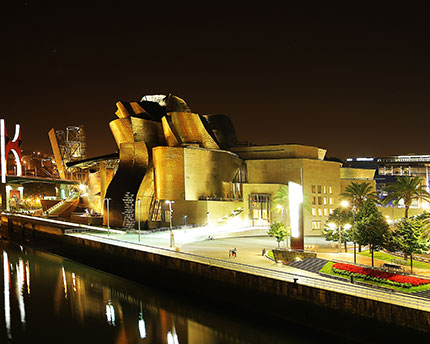 Places of Interest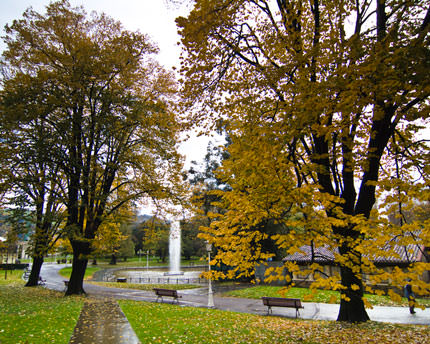 Places of Interest