Diving in Gran Canaria:
the best scuba diving spots
Seasoned and novice divers alike will be treated to an unparalleled experience when discovering the treasures of the waters of Gran Canaria.
The entire west coast of the island was declared a Biosphere Reserve in 2005. It represents 35% of the island and is home to several protected species and a remarkable biodiversity.
Gran Canaria offers more than 230 km of coastline for divers to explore – not surprising it is a top diving destination. Another advantage Gran Canaria offers is the ideal water temperature, ranging between a warm 18 to 22°C all year round.
Gran Canaria is also a great destination for anyone looking to do their first open water dive for its calm, idyllic waters. Read on to discover the top diving spots in Gran Canaria.
Diving in Canarias: a gift from Mother Nature
The volcanic origin of the island is most noticeable underwater. The unique relief of the seabed and ecosystems that thrive in Gran Canaria offer a true paradise for divers. Experts agree that Gran Canaria offers a little taste of all the seas of the world in this privileged underwater setting.
One of the advantages of Gran Canaria is its tropical climate – not only enjoyed by divers but also the local fauna. The natural phenomenon responsible for these warm waters is the Gulf Stream, a warm Atlantic Ocean current that originates in the Gulf of Mexico and stretches to the North Atlantic Ocean.
The warm water means there is no need to suit up in thick wetsuits to venture into the depths! However, the true advantage is the abundance of species that can be found here. You can see moray eels, barracudas, turtles and enormous shoals of fish as you swim by the artificial reefs that were put in place to ensure life continues to thrive.
Divers will also be thrilled to discover wrecks of sunken ships – one of the most fun activities when diving. The island and its wonders are ready to welcome you at any time of the year.
Diving spots and schools in Gran Canaria
Here is a list of the top diving spots in Gran Canaria. Read on to see which ones best suit your level and preferences:
El Cabrón
Located off the coast of Agüimes, this is one of the most popular diving spots of the island. It is a great place for both seasoned and novice divers, given its easy access from the beach of El Cabrón, and is also perfect for snorkelling. Once you reach a depth of 12 metres, there is gentle 23-m drop where you will discover a plethora of species. The crevices and caves give shelter to moray eels, while salmons and grunts rest on the sandy ocean floor, and barracudas swim mid-depth.
La Catedral
This is probably one of the most spectacular diving spots of the island. It is located about 20 minutes by boat from the Port of Las Palmas. Once you reach La Isleta peninsula, this is where the adventure begins. On reaching a depth of 10 m, you'll come across a huge cave. Light and shadow play across the volcanically-formed arches in the mass of tunnels and caverns. You'll be accompanied by small fish as you explore this stunning natural monument that has a depth of 40 m.
Risco Verde
This diving spot is located north of the beach of Arinaga, not far from the beach of El Cabrón. It is an ideal spot for those looking for an easy dive. It has a maximum depth of 20 m and makes an absolutely stunning night dive. If you do decide to dive at night, you'll get the chance to float among stingrays and monkfish.
Baja de Pasito Blanco
All it takes to reach this unique 60-m wide reef is a 5-minute boat ride from the Port of Pasito Blanco, just off the southern coast of Gran Canaria. The reef is mainly composed of volcanic basalt rock, giving it a moonlike appearance. You'll be able to spot stingrays, monkfish, blowfish and the speedy tuna.
The sunken ships of Mogán
If you are interested in exploring a wreck, this is your destination. There are two purposely sunk ships off the coast of Mogán. The best conserved of the two is the 30-m long fishing vessel, Cermona II, that was sunk in 2002. You can explore the entire wreck, including the hold and the machinery room. The vessel is home to several species of crustaceans, molluscs, stingrays and many other species of fish, such as the funny-looking trumpet fish. Take a 5-minute boat ride from the Port of Mogán and then dive to a depth of 20 m to discover this beautiful underwater world.
The artificial reef of Arguineguín
This artificial reef is composed of several concrete structures and is located 20 m underwater, just off the beach of Montaña Arena. This structure was put in place in 1991 to help marine species thrive. It is an absolutely amazing experience to swim by shoals of stingrays and spot sand eels on the ocean floor. You may even see the mighty electric ray but be sure to keep a safe distance. They can give off powerful electric shocks if they feel threatened.
These are just some of diving spots you can explore during your holiday in Gran Canaria. Sardina del Norte, Taliarte, the Arona shipwreck and the magnificent Baja Fernando are other wonderful not-to-be-missed diving spots if you have the time. There are several diving schools and centres throughout the island that offer excursions, such as Scuba Sur Gran Canaria, El Azul Dive Centre or Margullar.
Related
plans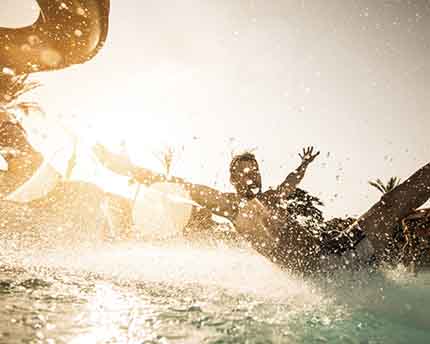 Leisure and Entertainment
Sea and Beaches