Northern Gran Canaria:
the wildest side of the island
The terrain in northern Gran Canaria is the most rugged and jagged that you will find on the island. All along the coast, there are breathtaking cliffs that take the constant battering of the Atlantic Ocean. Indeed, the sea has cut into the cliffs over time, leaving it peppered with small coves, outcrops, natural pools and delightful beaches. The sand on most of the beaches is black and it never fails to charm anyone visiting Gran Canaria. Further inland, the landscape is also harsh following centuries of erosion and volcanic eruptions.
In addition to being the area of Gran Canaria with most water (a resource that Canarians use with utmost care), there are also important remains from the original indigenous population. It is also the area with the largest forests, stretching from the plains in Arucas to the rather fabulous pine forest in Tamadaba. The humidity of the tropical breeze has helped create huge natural spaces with dense forests of laurel, juniper and palm trees.
There are many places to see but, when you travel to Gran Canaria and visit the north, don't miss Arucas, Firgas, Moya, Santa María de Guía, Gáldar and Agaete.
A guide to northern Gran Canaria: Arucas and other towns
If you're travelling around northern Gran Canaria, you will definitely drive through Arucas, one of the most beautiful towns on the island. It is in the heart of a lush, green valley where there are abundant banana tree plantations. The town is about twelve kilometres from Las Palmas and it has a strong agricultural background. The old quarter is well worth a visit and it has been officially protected since 1976. The main square, San Juan, is right next to the rather impressive San Juan Bautista church. Indeed, it is so impressive that it is commonly referred to as a cathedral. You can see items from the workshop run by well-known 17th-century sculptor, Pedro de Mena, inside.
The beaches in Arucas are Bañaderos-El Puertillo and San Andrés but they are not all that the town has to offer. For example, the headquarters of what was the local water management alliance (Heredad de Aguas de Arucas y Firgas) makes for an interesting visit. You can see it from anywhere in the city. Next to the local council building, there are some rather beautiful gardens where you can enjoy flora from across the continents. There is also a museum all about rum (Museo del Ron).
Gran Canaria Experiences
Landscapes of Gran Canaria
from

58€
It is in Arehucas distillery that was set up by the Gourié family from France in 1884 to produce sugar, rum, alcohol and derivatives.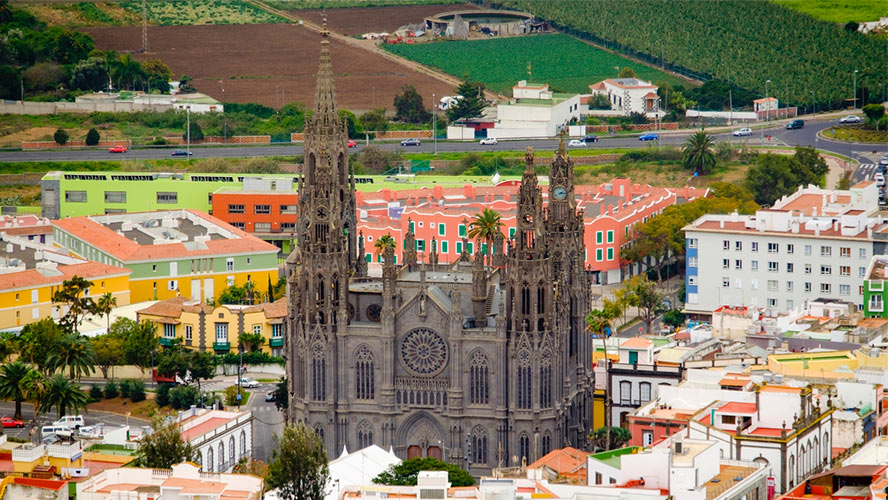 Moya and the natural parks
Moya is twelve kilometres from Arucas. It is known as the 'green town' of Gran Canaria and it is famous for being the home town of Doramas, an indigenous leader. Head to the local church, if you can. It houses a beautiful 15th-century image of the Virgin of Candelaria and other works by Canarian sculptor Luján Pérez. Again, the local water management alliance building (Heredad de Aguas del Chorro) and council buildings are well worth seeing. There are also numerous natural parks in the area, making it incredibly popular with hikers. Los Tilos de Moya is one of them. It is one of the largest laurel forests on Gran Canaria and it has a huge variety of other plants and also springs with properties that are beneficial for your health.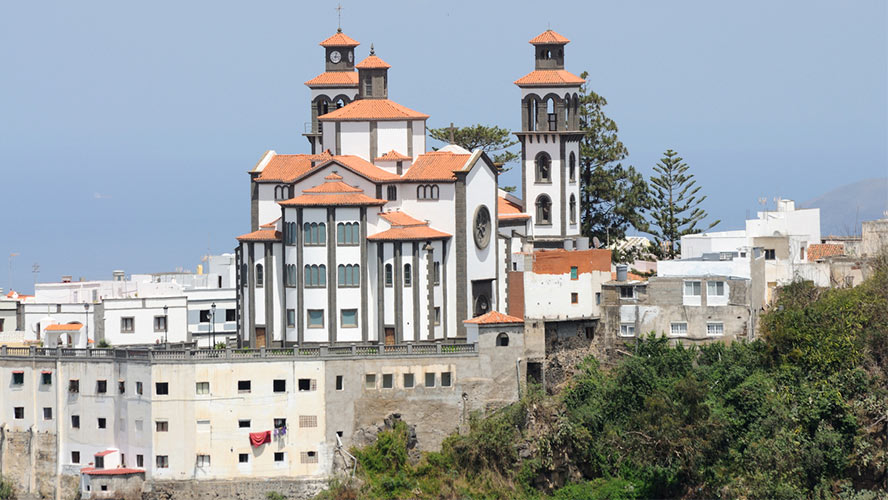 Doramas Natural Park
This large park was once used for agricultural purposes. It is where you will find unique places such as Los Tilos de Moya and La Montañeta and Doramas cave archaeological sites.
Gran Canaria Experiences
Buggy safari tour
from

130€
Santa María de Guía: famous for its cheese
Santa María de Guía is around ten kilometres from Moya. This coastal town is full of pretty, colourful houses. It has become very well known for its cheese that is commonly called 'flower cheese' because the milk curd is made using the flower from a cactus. It is also known for ceramics and engraved knives. The town is surrounded be fertile plains and it has one of the few remaining working hydraulic mills in northern Gran Canaria (Say-Say). French composer, Camile Saint-Saens, lived there for a while. Don't forget to take a walk around the old quarter. The buildings will remind you of Andalusia. There are some interesting 17th and 18th-century buildings such as the Town Hall and Casa del Capitán Gonzalo de Quintana.
Gáldar: beaches and natural pools
This part of northern Gran Canaria has the largest number of beaches (don't miss Sardina beach!) and natural pools. It is only about two kilometres from the Santa María de Guía and Gáldar necropolis, which was uncovered by chance in 1934 by some local fishermen, and the Painted Cave are in the vicinity. The latter is now a museum showcasing the art of the original indigenous people who inhabited the Canary Islands.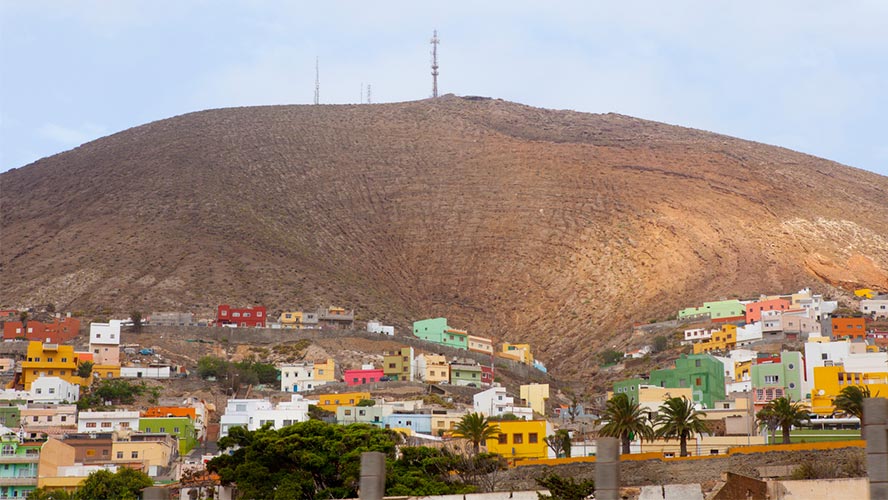 Agaete: archaeological sites
The large number of archaeological sites that have been found in Agaete, in the north of Gran Canaria, is an indication that this was an important ancient settlement. These sites include the Malpaís necropolis, Vizvique caves, the structures built into Juncal gorge, El Candil caves and Roque Partido tombs. Agaete also boasts salt lakes and natural pools that are great way to have some family fun. Don't miss Nieves port and Tamadaba Natural Park, either.
Gran Canaria Experiences
Historic Gran Canaria
from

45€
Cenobio de Valerón
This is one of the most significant indigenous Canarian rock constructions. It was initially thought to be a monastery but researchers now believe that it was used to store grain from the harvest. There are over 300 caves cut into the rock in Valerón grain store and there are a range of different carvings and embossed images on the walls.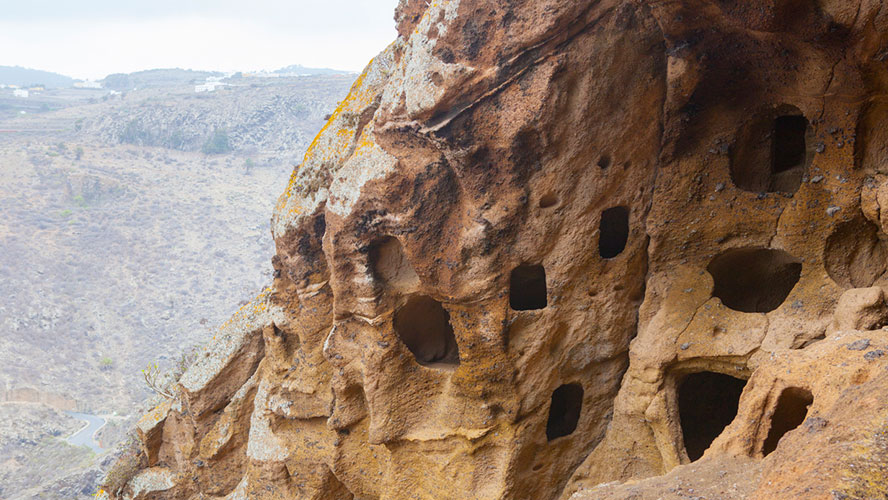 De Silva Bridge
This is the largest bridge on Gran Canaria. It takes its name from Diego da Silva, a Portuguese pirate, who invaded the island. According to the documents that are on display in the Canarian Museum, he was pardoned and taken to the beach where he was ordered to take his ships and return back home.
Related
plans