Puerto Rico:
guaranteed sun on Gran Canaria
The island of Gran Canaria is known for its outstanding landscape diversity. You'll find everything from natural paradises to European tourist meccas and places where tourism and nature coexist. One such place is Puerto Rico, on the island's southwestern coast. The town is part of the municipality of Mogán, also known for its charming port.
Gran Canaria's west coast is one of the island's least populated areas and somewhat off the beaten track. As soon as you get out of Maspalomas and start heading west, the landscape changes and the coast becomes more rugged.
There are just a few places along the way – Anfi del Mar, Arguineguín and Mogán – before the landscape prevents the road from snaking any further around the island. Puerto Rico is one of the last stops before the end of the road.
Puerto Rico, a hidden corner of Gran Canaria
The first buildings in Puerto Rico de Gran Canaria were constructed in the 1960s, against a backdrop of valleys and ravines that open out onto the Atlantic. The town clings to the hillside, and the location has a unique microclimate on an island that already enjoys great weather all year round. Puerto Rico is one of the sunniest parts of Gran Canaria, and the mountains in the centre of the island protect it from the trade winds.
This is a place where life revolves around the sea, regardless of the time of day.
What to do in Puerto Rico
Relaxation, beaches, water sports… Puerto Rico has it all. Read on for our suggestions of how best to enjoy Puerto Rico.
Beaches at Puerto Rico
Puerto Rico has two beaches. Playa de Puerto Rico is an artificial beach right in Puerto Rico itself. It was created when the first buildings in the town were constructed and has everything you'd expect from an urban beach, including a promenade and various restaurants and terraces on the beach front. The breakwaters at either side create a small bay and calm the waves that roll in from the Atlantic.
Further west is another artificial beach called Playa de Armadores, separated from Puerto Rico by the hilly landscape. Playa de Armadores is also partially enclosed by two breakwaters and you'll feel like you're in a swimming pool that flows into the sea. Around the beach you'll find plenty of restaurants and parking space.
Water sports
The year-round good weather in Puerto Rico makes it a perfect water sports destination. It has everything from jet skis, kayaking, boat rentals and catamaran trips to fishing, dolphin watching and parasailing.
Puerto Rico is a great place for seeing cetaceans: its waters provide a habitat for 29 of all 87 species that exist. It's also one of the best spots in the whole of the Canary Islands for fishing and the venue for a Deep-Sea Fishing Contest certified by the International Game Fish Association. Dozens of boats swarm around the coast by Puerto Rico for this international competition.
For a more relaxed experience, hop aboard the ferry from Puerto Rico to Puerto de Mogán.
Where to eat in Puerto Rico de Canaria
Despite its tourism fame, the bars and restaurants in Puerto Rico still serve a range of local cuisine. One of the best is Balcón Canario. It serves exquisite local dishes at good prices – choose from papas con mojo (tiny potatoes served with a sauce), pork dishes, fish and Canarian cheeses.
Another well-known establishment is Olas Locas, on the port breakwater. Grab a seat on its terrace and enjoy some papas, rice dishes or grilled fish and meat.
Then there's Don Quijote and La Taberna de María Salinas, both of which have exceptional à la carte menus.
All in all, Puerto Rico is the perfect place to spend a day frolicking by the sea on the south coast of Gran Canaria. For information on other destinations, check out our guide to Gran Canaria.
Information of interest
How to get there:
By car. You can get to Puerto Rico along Gran Canaria's main road, the GC-1. The road starts in Las Palmas (in the north-east) and ends in Mogán (in the south-west), taking in many points of interest along the island's coast: Las Palmas, the airport, Vecindario, Maspalomas, Arguineguín, Puerto Rico and Puerto de Mogán.
Main distances from Puerto Rico:
Puerto Rico – Las Palmas: 73 km, 50 minutes by car.
Puerto Rico – Puerto de Mogán: 10 km, 15 minutes by car.
Puerto Rico – Maspalomas: 18 km, 20 minutes by car.
Puerto Rico – airport: 47 km, 35 minutes by car.
By bus. Puerto Rico is served by several public busses (the local word for bus is guagua). The 33 and 39 run from Playa del Inglés, and the 91 stops in Las Palmas, Maspalomas and at the airport.
Related
plans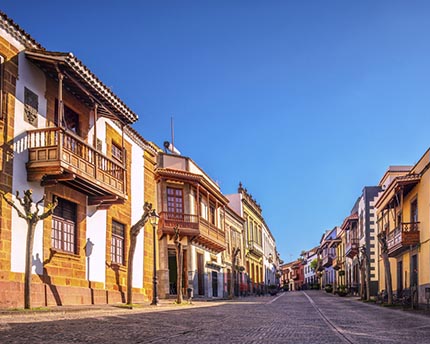 Places of Interest