Anfi del Mar:
an idyllic beach in Gran Canaria
What makes Gran Canaria such a great holiday destination is the stunning marked contrasts and unique landscapes. The northern and southern parts of the island are as different as night and day. In fact, the southern part of the island boasts some of the most heavenly sandy slices in the world and is just waiting to be discovered.
If you are looking to unwind while taking in the best that southern Gran Canaria has to offer, then don't think twice and hop on a plane! There are irresistible beaches, such as Playa del Inglés; the aweinspiring expanses of sand at the natural reserve of Maspalomas Dunes; and the picturesque fishing village of Puerto de Mogán. There is also one of the top tourist attractions in the area: the beach of Anfi del Mar. Located between the towns of Puerto Rico and Arguineguín in the municipality of Mogán, this artificial beach has an interesting story behind its inception. Read on to discover its secrets.
Gran Canaria Experiences
Treasures of Gran Canaria
from

49€
Anfi del Mar: Gran Canaria's Caribbean aspirations
Anfi del Mar is also known as Playa de la Verga as it sits at the end of the Verga ravine. The southern part of the island comprises a series of peculiar ravines and a Norwegian businessman decided to build the Anfi del Mar Resort by the beach at the end of one of these ravines in the 1990s. He wanted to recreate the look and feel of a Caribbean beach on Gran Canaria and to do so he imported over 1000 tons of white sand from the Bahamas. The area also boasts the best year-round climate and pristine waters. So, once the sand arrived and a few palm trees were planted, Europeans could enjoy the pleasures of the Caribbean without even crossing the Atlantic.
The waters of the idyllic lagoon are even calmer thanks to the breakwater that was built, making it an ideal destination for families holidaying with children. The resort offers many more advantages that will make your holiday extra special.
Beach activities at Anfi del Mar
Anfi de Mar is considered to be a paradise for lovers of water sports thanks to the ample offering for all levels and tastes. Some of the most popular include kid friendly activities, such as:
Boating excursions: One of the best activities to enjoy with children is a boating excursion from Anfi del Mar. There are several different options available, including: motorboats, speedboats, sailboats and pedalos. The latter is definitely a favourite with children.
Parasailing: This is an absolute must for thrill-seeking families. What better way to get panoramic views of the ocean than from high up? You are accompanied at all times by monitors and the highest level of safety precautions is rigorously applied.
The banana: Come test your balance on a banana boat and see how long you can stay on as a high-speed motorboat spins you around. You're in for an exhilarating ride!
Crazy sofa: All ages will get a kick out of this ride. No couch potatoes please! Hang for dear life as you are dragged across the water on an inflatable at breakneck speed!
Paddle surf and kayak: Athletic families can get their burn on the water even when on holiday. Enjoy the pleasures of the ocean paddle surfing or kayaking in the gorgeous lagoon.
Adrenaline junkies can also find activities that will provide a rush. Check out the following activities that will leave your heart pumping:
Jet-skiing: If you are in the need for speed, hop onto one of these crafts. You'll feel the exhilaration the minute you hit the gas pedal.
Flyboard: This is one of the hottest trends right now. Get ready to 'fly' as you are thrust into the air by water jet propulsion. You'll be able to do as many flips in the air as you like – a truly sensational experience!
Waterskiing: Stick to the traditional skis, or opt for a board to surf the wake as you are pulled by a speedboat. This is a great workout for your legs!
Scuba diving: Gran Canaria offers some of the best underwater experiences thanks to the spectacular marine ecosystem. You can even explore sunken ships. There are several companies offering different types of activities for all levels, including snorkelling.
Gran Canaria Experiences
Tour of Gran Canaria on the Afrikat
from

73€
The Anfi del Mar beach club
After partaking in one of the water activities, you are sure to be hungry. Anfi del Mar offers a wonderful selection of restaurants for all tastes and wallets.
On the tiny, heart-shaped island of Maroa, you'll find the Beach Club Maroa. This restaurant serves contemporary cuisine and offers patrons a chill-out area where they can enjoy a relaxing cocktail in the company of friends or that someone special. Head to Mar de Tapas if you are in the mood for some delicious tapas. Italian food lovers will be spoilt at Bella Pasta and for those seeking authentic local cuisine, check out Puerto Vista.
Gran Canaria Experiences
Camel ride in the Maspalomas dunes
from

15€
There are also several supermarkets if you'd rather have a picnic and spend as much time as possible at the beach. Shopaholics will also be able to indulge in some shopping at the fashion boutiques without giving up any beach time.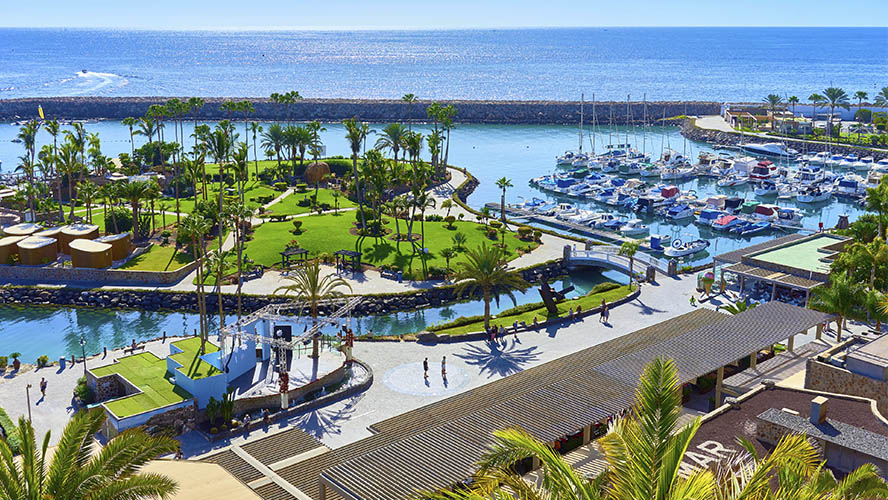 If you are looking to discover the surrounding area on foot, take a leisurely 30-minute walk to the soft sands of Playa de Patalavaca and the charming seafaring town of Arguineguín. If you happen to take this walk along Playa de Las Marañuelas at sundown, you'll be treated to one of the most beautiful sunsets the island has to offer. What better way to add a romantic touch to an already perfect day?
Information of interest
How to get there:
By car: Take motorway GC-1 towards Arguineguín from anywhere on the island. Once in Arguineguín, take motorway GC-500 towards Puerto Rico. There will be road signs right after Playa de Patalavaca indicating how to get to Anfi del Mar.
There are several public car parks located at the roundabout right before Anfi del Mar. Once inside, there are private car parks but the parking charges vary from one to the other.
Related
plans