The curtain is raised: a tour
of Madrid's theatres
Madrid is a city of theatre. Since the sixteenth and seventeenth centuries, when the corrales de comedia—open-air theatres—were packed out with the stars of Spain's Golden Age, going to the theatre has always been the favourite pastime of local people, from the plebs to the king. Greats from the world of dramatic arts such as Lope de Vega and Calderón de la Barca have passed through the mentideros madrileños—everyday theatres in which to see and be seen—and works by more recent classic Spanish dramatists, such as Benito Pérez Galdós, Jacinto Benavente, Federico García Lorca and Ramón del Valle-Inclán, to name just a few, have been premiered on their stages. Such theatrical tradition has continued until the present day and the capital boasts dozens of theatres, which have managed to survive despite the crisis and limited support for culture from institutions. A passion for letting yourself be transported to other worlds when the lights go out has nothing to do with money or profit. Read on to find out more about the oldest and most important theatres in Madrid.
Las Letras neighbourhood: Madrid's most traditional theatres
The neighbourhood with most theatrical tradition in Madrid, where great names from the literary world lived, such as Cervantes, Quevedo and Lope de Vega, is home to some of the most prestigious venues in the capital, where great theatrical classics and operas were performed for the first time. The oldest is the Teatro Español, which can be traced back to a sixteenth-century corral de comedias, formerly known as the Teatro del Príncipe. With an eventful history—it burnt down twice in 1802 and 1975—it has undergone countless reconstructions and extensions, whilst staying true to productions of great Spanish classics. Another prestigious theatre in the neighbourhood where classics from the Golden Age and contemporary works have been performed is the Teatro de la Comedia, opened in 1875 on the same street (Calle del Príncipe) and now the current headquarters of the National Classical Theatre Company.
The third great theatre is the Calderón, a beautiful Baroque building opened in 1917, which, due to its large capacity, specialised in lyrical performances—opera and zarzuela—although it has centred more on big musicals for some years now. We also cannot forget to mention the Modernist Teatro Reina Victoria, which opened in 1916 specialising in alta comedia, a flexible and fun comedic genre in which the small vices of the Spanish gentry were lambasted.
The best operas at the Teatro Real
On Plaza de Oriente, in front of the Royal Palace stands Teatro Real [Royal Theatre], one of the most prestigious opera theatres in Spain. Opened in 1818 by King Ferdinand VII, the institution celebrated its 200th anniversary in 2018 and the 20th anniversary of its 1997 reopening after complex restoration work. The best tenors and sopranos have tread the boards of this magnificent venue, and it is a leading place for great classic operas—Madama Butterfly, The Magic Flute, Falstaff—as well as the best, contemporary, cutting-edge artists.
Gran Vía: the invasion of the musicals
Over the last two decades, Madrid's main thoroughfare has undergone a gradual transformation, turning it into the street for musicals, and even becoming known as Madrilenian Broadway. Converting some of its old cinemas and adapting historic theatres to the most successful genre of our time has resulted in a wide range of musicals on offer. The Teatro Lope de Vega, which opened in 1949, has become a leading musical theatre at a global level, premiering great productions, such as Beauty and the Beast, Jesus Christ Superstar, Les Misérables and the ever-popular The Lion King, which has been showing for eight years. The same goes for Teatro EDP Gran Vía, which housed Cines Gran Vía cinema from 1944 until it changed hands in 2004 and turned its focus to a more profitable business: musicals, concerts, dance and comedy shows. The legendary Cine Teatro Capitol, which opened in 1933 and is famous for being located in the iconic Edificio Carrión building—the one with the neon Schweppes sign—has also began to offer musical comedies and other large-scale shows, which it combines with film screenings, much like other cinemas such as Teatro Rialto, which opened in 1930 as Cine Astoria, and Teatro Coliseum, originally opened in 1932.
Teatro Lara: a 100-year-old gem hidden away in Malasaña
For many the most beautiful theatre in Madrid, the Lara is perhaps the oldest theatre to have remained active almost continuously, except for a break in the 1980s. Opened in 1880, it is a small and intimate theatre—its main hall has capacity for 460 people—that was a theatre par excellence for the well-off during the twentieth century. Its pretty Paris-inspired exterior, which gives on to Calle Corredera Baja de San Pablo, and its entrance adorned with cast-iron columns particularly stand out. It has preserved the royal box used by Kings Alfonso XII and XIII, who were both very fond of the entertainment world. Productions of Los intereses creados [The Bonds of Interest], by Jacinto Benavente (1907), and El amor brujo [Love, the Magician], the ballet by Manuel de Falla (1915), both premiered at Teatro Lara. Since it reopened in 1994, its bill has become more commercial with musicals, concerts and other theatre productions.
Fun and mayhem at Teatro La Latina
Teatro La Latina, an old remodelled cinema on the site of what was once a former hospital for four centuries, was one of the most popular venues throughout the twentieth century in Madrid. The heart of the neighbourhood of La Latina, it has become a leading place for comedy and, more specifically, the revista genre, which combines music, dance and theatrical sketches influenced by burlesque, vaudeville and cabaret. The theatre has close ties to the actress and leading lady Lina Morgan, who owned the venue for over 30 years and starred in numerous legendary revista shows in Madrid, such as the famous Vaya par de gemelas (1981–83). At present, the theatre's programme combines comedies, vaudeville and even musicals.
Teatro de la Zarzuela, a genre still on trend
Finally, we cannot forget Teatro de la Zarzuela, which takes its name from the Spanish musical theatre genre, created in the seventeenth century, in which it specialises. The genre consists of tales of everyday life and popular themes combining singing, traditional dance and comedy. Opened on 10 October 1856, the birthday of Queen Isabella II, the theatre is an integral part of Madrid's history and is well worth a visit to see classic works from Spanish folklore such as Doña Francisquita and El barberillo de Lavapiés. The venue also includes concerts, dance and flamenco shows on its bill.
Information of interest
Para más información sobre obras en cartelera y estrenos teatrales en la capital, se recomienda visitar la agenda de teatro oficial del Ayuntamiento de Madrid.
Related
plans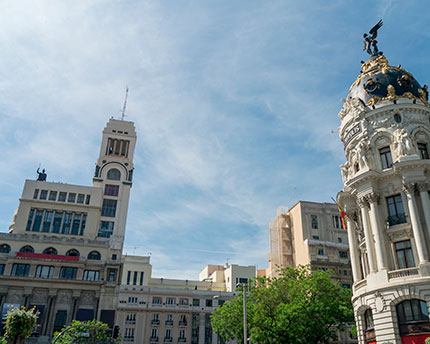 Leisure and Entertainment