Cala Macarella,
the Minorcan paradise
Have you ever dreamed about enjoying a day at the beach in a beautiful rocky cliff surrounded by pine trees? Cala Macarella is proof that you do not have to go to the Caribbean to spend a day in paradise: just fly to Minorca, an island with wonderful landscapes; this beach is one of them and one of the most surprising in the Mediterranean. Do you want to know why this cove is so special? Read on!
Cala Macarella, an unforgettable experience
Bring your camera because we know that you will want to immortalise your experience and, when looking at the photos, you will recall your days in this Minorcan paradise. The cove, one of the island's most famous beaches, is flanked by up to 30-metre-high rocky cliffs with a large variety of pine trees and other local trees. Nature has eroded the rocks, creating small caves which were used as shelters in years gone by.
You will enjoy the cove's unique natural landscape, its fine golden sand and its water which reflects the blue of the sky. Swimming there will be one of the most incredible experiences the island has to offer. Fortunately or unfortunately, there are few services at the cove, so you should be proactive and go there with enough food and drinks if you plan to stay the whole day, although there is a small beach bar where you can recharge your batteries.
If you are a traveller who loves enjoying a perfect day at the beach, remember that Cala Macarella has a "small sister" called Cala Macarelleta, a smaller beach which is within a 10-minute walk from its big sister. This cove is very well known because, given its small size and secluded location, it is frequented by nudists.
Cala Macarella and Cala Turqueta: the perfect combo
If you have a passion for coves or you simply enjoy being surrounded by idyllic landscapes, you cannot leave Minorca without going for a swim in another well-known and valued beach on the island, near Cala Macarella. It is called Cala Turqueta and is hidden among the pine trees. It is named after the colour of its water, an intense turquoise blue which promises to be etched on your memory. It is a slightly bigger cove but, even so, you should get there early to get a good spot, especially during the summer months.
Macarella and Turqueta compete for the top position among the best beaches in the island of Minorca, with the incentive that you can walk from one to the other. If you want to make most of your day at the beach, you can enjoy both on the same day: one during the morning and the other in the afternoon or evening, enjoying the sunset… but remember to take it slowly. As we already said, they are close to each other, barely 2 kilometres set them apart, and you can take a pleasant walk from one to the other.
Enjoy the coves from a boat
Another excellent way to enjoy Cala Macarella is to hire a boat trip and visit not only one or two coves but three or even more during the crossing. You can also hire a speedboat, which is very easy for nearly everyone to drive, with capacity for 4 people, which will help you plan your day depending on the group's needs and tastes. We also encourage you to visit Cala Galdana, a larger beach, with a family atmosphere and very calm water. Unlike Macarella, this cove has many services such as beach bars, kiosks and sunbeds, and gives you the opportunity to practise water sports (it has a diving centre nearby and you can also, for example, hire a kayak).
More options? You can stay near the cove, at any of the beautiful and best equipped resorts in Minorca: a good way to stop worrying and just enjoy the charms of this island paradise.
Information of interest
How to get to Cala Macarella
By bus: There is a local shuttle bus every 20 minutes from Monday to Sunday during the peak season. You can buy the tickets online: one way costs €4.50 (the return trip is €8.20). Children under 4 travel free. This option is recommended during the summer season.
By car: From Ciudadella, take the RC1 road. It is not very far (barely 17 km) but it takes around 35 minutes to cross the island since there are narrow sections and speed limits. Nevertheless, if you visit the cove during the summer, you may have to go by bus since you should avoid using a car as a result of the influx of tourists. There are two car parks within a 5-minute and 15-minute walk, respectively.
On foot: It is worth walking from Cala Galdana along the trail connecting both beaches, known as stage 13 of the Camí de Cavalls route (a 45-minute walk).
Related
plans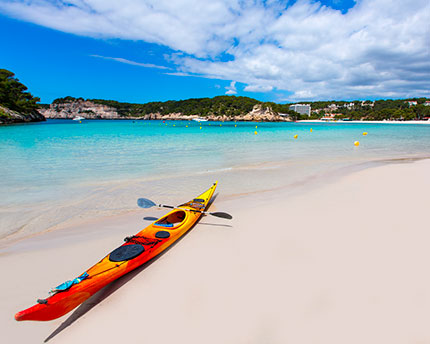 Sea and Beaches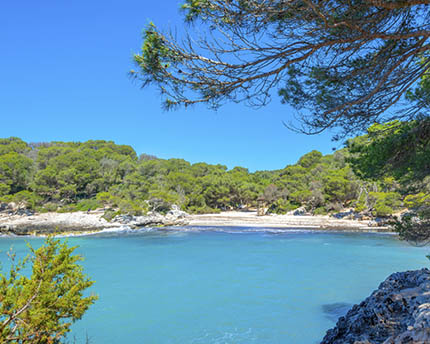 Sea and Beaches